Introducing JAE's EV Charging Connector Actively Used In The E-mobility Market
As part of an environmentally conscious movement, regulations of exhaust emitting vehicles have tightened and there is a fast movement of electric vehicles (EVs) being released into the market. As an essential part of recharging EVs there is a fast movement of installing charging infrastructure around the world. JAE has developed an EV charging connector, KW Series, as an important part of the charging network.
Current Status of EV Charging
Currently there are multiple charging standards in the world. The CHAdeMO standards was the first to be introduced to the world, as CCS (Combined Charging System) standards began to spread throughout Europe and GB/T standards in China followed. Vehicles of different standards are driven in different regions, and charging systems are used to accommodate these different standards.
Charging systems play a key roll in supporting the power grid. More recently, to promote the introduction of renewable energy sources with large output fluctuations, the practical application of advanced systems such as V2G (Vehicle to Grid) and V2H (Vehicle to Home), which control the charging and discharging of EVs, have begun.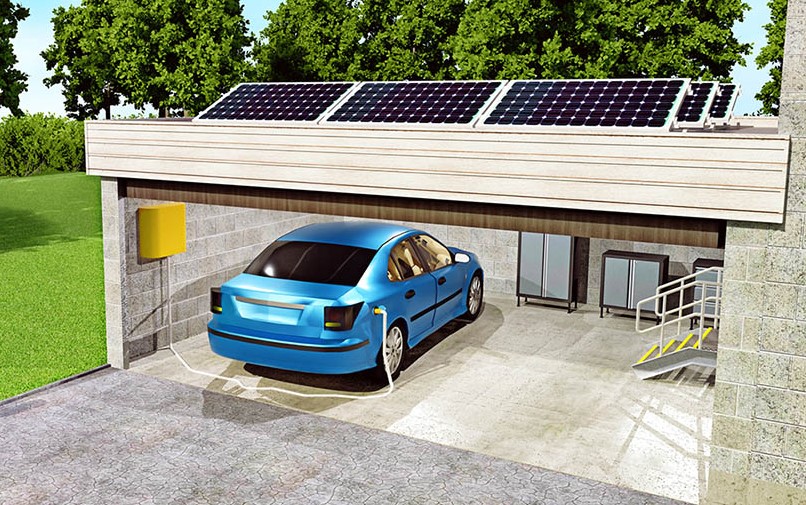 Wide Variety of KW Series Connectors for EV Charging
JAE has been developing the KW series connectors for EV charging since 2010, the dawn of EV popularization. Our first development, the KW1 Series, is a quick-charge connector that meets the CHAdeMO standards and has a long track record since its launched in 2011. In response to the worldwide diffusion of following CHAdeMO standards, UL and CE-certified products have been added as product variations, and are now widely used in throughout Europe, North America and Asian nations.
KW02/KW03 Series connectors are compact and lightweight products which utilizes KW1's field experience while maintaining high reliability. It also meets the V2H guidelines established within the CHAdeMO standards. Our answer to the CCS Type-2 standard's quick-charge connector, the KW04 Series was introduced and is now becoming increasingly popular throughout Europe. This product was designed to reduces field maintenance costs as the use of public chargers continuously increase.


Product
Standard
Rated
Current
Rated
Voltage
Approvals
Operating Temp
Charging
Type

KW1

CHAdeMO 1.2
IEC62196-3
125 A
500 VDC
UL /CE
CE: -30°C∼ + 50°C
UL: -30°C∼ + 40°C
Quick Charge

KW1C

CHAdeMO 1.2
IEC62196-3
MAX.150 A
* Note1
500 VDC
CE
CE: -30°C∼ + 50°C
Quick Charge

KW02

CHAdeMO 1.2
V2H Guideline 2.1
IEC62196-3
25 A
450 VDC
CE
CE: -30°C∼ + 50°C
Slow Charge
(w/V2H, V2G)

KW02C

CHAdeMO 1.2
V2H Guideline 2.1
IEC62196-3
MAX.37 A
* Note1
500 VDC
CE
CE: -30°C∼ + 50°C
Slow Charge
(w/V2H, V2G)

KW03

CHAdeMO 1.2
V2H Guideline 2.1
IEC62196-3
80 A
500 VDC
UL /CE
CE: -30°C∼ + 50°C
UL: -30°C∼ + 50°C
Mid-Charge
(w/V2H, V2G)

KW04

CCS Type-2
IEC62196-3
150 A
200 A
1000 VDC
CE
CE: -30°C∼ + 50°C
Quick Charge
*Note1:Depends on temperature range
KW02 Series Market's First CE-certified V2H Connector
KW02 Series is a charge/discharge systems connector that complies with CHAdeMO V2H Guideline 2.1. This connector utilizes the large-capacity batteries installed in EVs as a V2H discharge system for homes and offices, and V2G to regulate power supply and demand over a wide network. CHAdeMO has lead the standardization in charge/discharge systems, such as V2H, and are now in practical use in Japan. As demonstration projects are proceeding in Europe and other countries, JAE has been the first company in the industry to acquire the CE marking for the KW02 series*.
This product uses stainless steel for the lock mechanism and other important mechanical components, while being housed by a highly weather-resistant resin to minimize weight yet remaining highly durable. In addition, superior operability can be expected through a simple, single-action, insertion and extraction operation combined with a highly ergonomic grip.
(*According to market survey as of October 2019)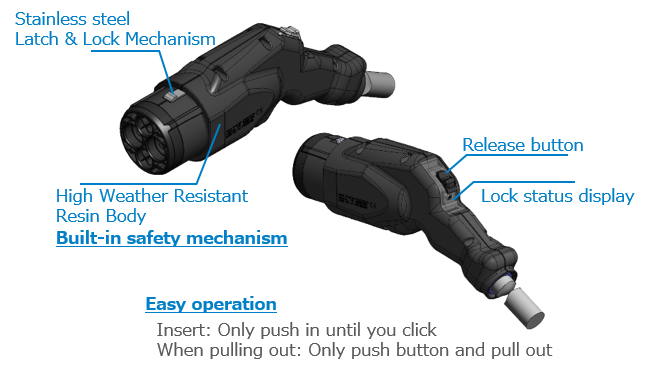 KW04 Series CCS Type-2 Connector With Interchangeable Mate Face
KW04 Series is a quick-charging connector that complies with the CCS Type-2 standards.
It is compatible with charging vehicles facilitated with CCS standards inlets, vehicles that are becoming increasingly popular in the European market, where the shift to EV is increasing quickly. It is anticipated that the frequency of public chargers use will increase sharply in the future as EVs become more widespread. The EV charging connector that has reached its service cycle will normally require replacement of an entire cable harness assembly.
In order to reduce the total cost, this product has a structure that allows only the mating part of the connector to be replaced. To ensure safety, the double insulation structure protects the liveb components of the connectors from water. This structure prevents short circuits caused by water ingress even if the exterior is damaged due to unexpected circumstances. A safety-design structure adopted from development of the CHAdeMO connectors, and proves to be highly reliable.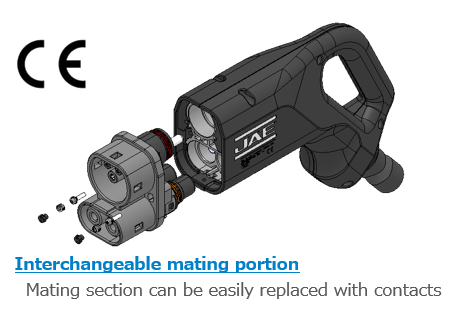 KW04 Series CCS Type-2 Connector Replaceable Structure
KW Series EV Charging Connector Catalog Download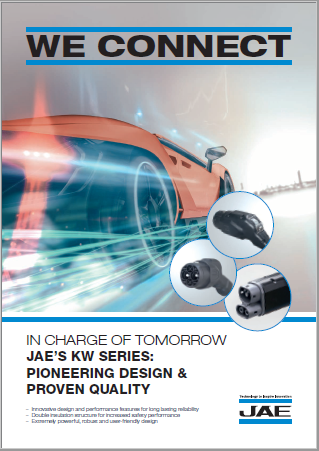 WE CONNECT
KW Series EV Charging Connector Catalog Download
Please complete the form to download the catalog (PDF).