DX07 Series USB Type-C® Certified USB4® EPR Harness
Capable of 40Gbps High Speed Transmission and 240W Power Supply
September 14, 2022

JAE has acquired USB4 EPR certification (40Gbps maximum transmission speed, 240W maximum power supply) for its USB Type-C harness.

USB4, the latest USB standard released in September 2019, is capable of double (40Gbps maximum) the transmission speed of USB 3.2 (20Gbps maximum) and it is starting to be installed on devices that require transfer of large volumes of data and high-speed transmission.
Moreover, a new extended power range (EPR) mode has been established in the USB Power Delivery Revision 3.1 standard released in May 2021. Support for EPR was included in the USB Type-C Cable and Connector Specification Release 2.1 that was released at the same time. EPR raises maximum power delivery capability from the conventional 20V/5A (100W) to 48V/5A (240W). It is expected to be used for power delivery and charging applications for gaming PCs, 4K monitors, and other devices that require large amounts of power.

This product acquired certification as a USB4 EPR harness in June 2022 as a harness that enables 40Gbps high-speed transmission as well as 240W power supply. This harness features high performance and reliability, utilizing the only plug specified by USB-IF for use as the USB4 Golden Plug certification test tool. Going forward, we will proceed with considering mass production.

As a leading manufacturer of connectors and harnesses, JAE has been involved in the establishment of the USB Type-C Connector and Cable standard from the beginning, and we will continue to meet the wide-ranging needs of our customers by improving the design flexibility of devices and boards. This product will be displayed at CEATEC 2022 (booth number K004) that will be held at Makuhari Messe starting Tuesday, October 18.

Note) USB4®, USB Type-C

®

and USB-C

®

are trademarks of USB Implementers Forum, Inc.
Features
USB4 40Gbps compatible
Universal Serial Bus Type-C Specification Release 2.1 compatible
USB Power Delivery Revision 3.1 compatible (240W maximum)
TID Number: 7919
Harness Length: 1m
---
To learn more about USB4 and USB PD EPR and the status of our efforts, please read our white paper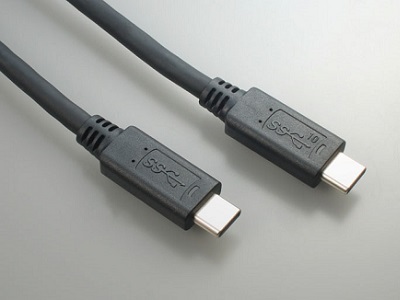 ---
Information and details given here are as of the date of publication. Please note that the details may be changed.