JAE to Participate in CEATEC 2022 - The First Live Real Event in Three Years
September 1, 2022
JAE will participate in "CEATEC 2022" to be held from October 18 (Tuesday) to 21 (Friday).
With the theme "Toward Realization of a Sustainable Society," the JAE booth will feature demonstrations, products for emphasis, and new technologies in five key areas where JAE aims to create social value through collaborative creation effort with its customers.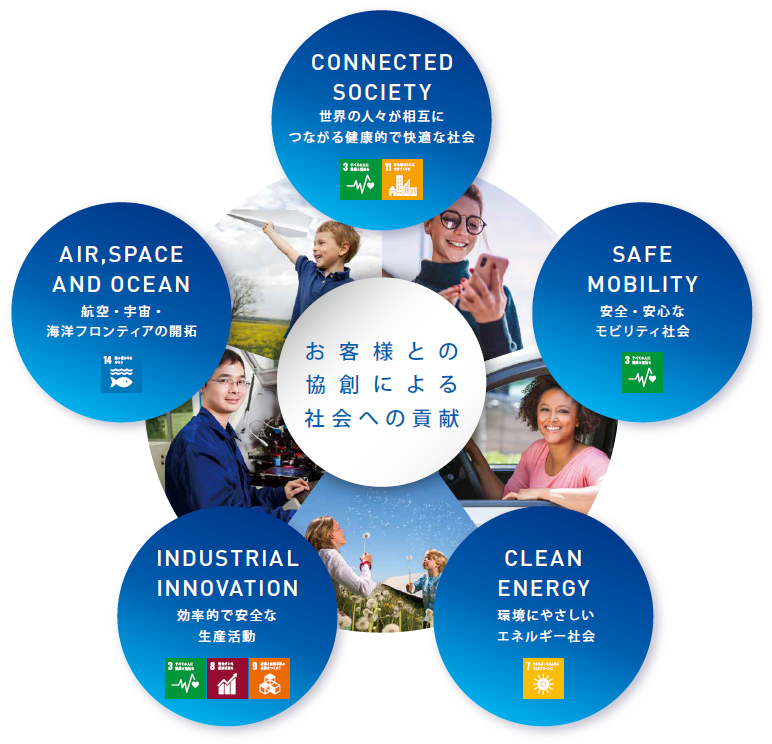 CEATEC 2022 ONLINE will start on Saturday, October 1.
We sincerely look forward to your visit and online access.
CEATEC 2022 Online
■Trade Show Date

Sat. Oct 1st – Mon. Oct 31st, 2022 (JST)
■Booth

General Exhibit Area https://online.ceatec.com/booth/9304
* If you have already registered as a pre-visitor through CEATEC 2022 ONLINE, you can visit our booth directly from the above.
■JAE CEATEC Special Website

https://www.jae.com/en/sp/ceatec/
* Scheduled to open on Oct 1st 10:00 (JST)
CEATEC 2022
■Trade Show Date

Tue. Oct 18th – Fri. Oct 21st, 2022
10:00 - 17:00 (JST)
■Location

Makuhari Messe 2-1, Nakase, Mihama-ku, Chiba-city, 261-8550 Japan
■Booth

Hall 5 Key Technologies Area No.K004
■Exhibits

Highlights
◇ Demonstrations and exhibition of the latest products in 5 fields !
We will showcase the values to be offered to society in cooperation with our customers which are organized into 5 fields: "Connected Society," "Safe Mobility," "Clean Energy," "Industrial Innovation," "Air, Space and Ocean." And we will introduce our new products.
◆Connected Society
We present proposals for communication infrastructure and devices that support a society in which people in the world are connected with each other, and introduce examples of product development through collaborative creation.
 – Connector for mobile devices
 – Connector for networks
 – Compact high-performance antenna
◆Safe Mobility
Introducing the application scenarios and connection examples of our products, helpful to building a safe, secure, and comfortable mobility society
 – High-speed transmission compatible connector for connected car / infotainment
◆Clean Energy
The field contributing to a society that uses environmentally friendly energy introduces the products that can be used in V2H systems for homes and offices, etc.
 – High-current / charge and discharge connector
◆Industrial Innovation
Introduction of our products and technologies for robots and industrial equipment which are available for efficient and safe production activities
 – High-speed transmission, floating connector
 – Interface connector for robots
 – Demonstration of AGV (Automated Guided Vehicle) power supply
◆Air, Space and Ocean
Proposing sensor systems that support the IoT, utilizing products and technologies the JAE group has been cultivating for many years in the air, space fields
 – Highly reliable flight controller for Industrial drones, radar altimeter
 – Industrial IMU and sensor / undersea probe-dedicated inertial navigation system and sensor package
◆Design UI/UX
Exhibition of technologies for reducing reflection of metal mesh sensors for large screens and for reducing visibility of fingerprints.
In addition, as a new concept, we will demonstrate non-contact sensors based on capacitive sensor technology, printing technology, and converting technology.
Contact Us
Feedback
Japan Aviation Electronics Industry, Ltd.
Corporate Planning and Investor Relations Div.
21-1, Dogenzaka 1-chome, Shibuya-ku, Tokyo 150-0043, Japan
Tel : +81-3-3780-2711 Fax : +81-3-3780-2733
Information and details given here are as of the date of publication.
Please note that the details may be changed.