D sub Series (Compact, Rectangular Connector)
Compact, Rectangular Connector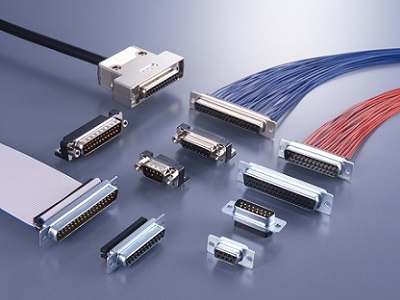 Compact, rectangular connector
Benutzerhandbuch Handhabungshinweise
entsprechendes Werkzeug Anwendbare Werkzeuge
Feature Eigenschaften
Supports various connections
D sub series includes crimping, IDC, connection with solder and types for board insertion that are compatible with each other in mating, enabling various connections when combined.

Anti-reverse insertion structure
Solid steel shell and trapezoidal polar connection entirely prevent reverse insertion.

5 types of shell sizes
Compact rectangular connector with 5 standard shell sizes: 9, 15, 25, 37 and 50. In addition, special pin pattern connectors using special contacts such as coaxial are also available.

Combination of pin type and socket type

Various accessories
Various accessories including cable clamp and stationary parts for mating can be shared for use.

Allgemeine Daten Allgemeine Anforderungen
| | |
| --- | --- |
| Number of Positions | 9, 15, 25, 37, 50 |
| Rated Current | 1, 3, 5 A |
| Dielectric Withstanding Voltage | 600, 1000, 1250 VACr.m.s. (1 minute) |
| Insulation Resistance | 1000, 5000 megohm min. |
| Contact Resistance | 2.7, 4, 4.5, 6, 10, 13, 15, 20 milliohm max. |
| Operating Temperature Range | -65 deg. C to +125 deg. C, -55 deg. C to +105 deg. C, -55 deg. C to +125 deg. C |
| Applicable Wire Size | solder type: strand cable finer than #20 AWG, crimp type: #30 to #18 AWG (stranded), IDC type: 1.27 or 1.38 mm pitch FRC |
Für Produktproben Produktbeispiele
Für Produktproben, kontaktieren Sie bitte Ihren Umgang mir, wir haben unsere Stecker Ihres Kauf Fenster. Für Produktmuster wenden Sie sich bitte an Ihr jeweiliges Verkaufsbüro (JAE oder Vertriebspartner),
※ Wenn kein Kauffenster von Geschäften ist, (wir werden Sie durch das Verkaufsschaufenster) kontaktieren Sie uns bitte von Ihrem Telefon · Fax oder Form.
Tel:03-3780-2717
FAX:03-3770-3869
Request for Connectors manual
Connectors manual download - request transmission completed. The URL link will be sent (from jcs@jae.co.jp) to your chosen email address very soon. Please wait for the email to arrive in your inbox.
If you do not receive a email, it is most likely due to an error in the return email address you have provided above.
Or, usually the problem is a spam filter somewhere along the path and not a lack of response.

Terms of Use
When requesting, receiving, and/or downloading Connectors manual from JAE, you are agreeing to comply with and be bound by the following terms and conditions of use. The terms of use are subject to change at any time without notice.
Connectors manual provided by JAE may be deleted or revised at any time without notice.
Connectors manual provided by JAE is meant solely for the use of the original individual the data was requested by.
Connectors manual provided by JAE is copyrighted by JAE and is not to be altered or shared with outside parties.
Downloaded Connectors manual is to be used only for dimension confirmations and reference purposes only.
You acknowledge that such information and materials may contain unintended inaccuracies or errors and we expressly exclude liability for any such inaccuracies or errors to the fullest extent permitted by law.
Your use of any information or materials on this website is entirely at your own risk, for which we shall not be liable. It shall be your own responsibility to ensure that any products, services or information available through this website meet your specific requirements.
This website contains material which is owned by or licensed to JAE. Reproduction is prohibited other than in accordance with the copyright notice, which forms part of these terms and conditions.
Unauthorized use of JAE 's Connectors manual may give rise to a claim for damages and/or be a criminal offence.
The content of the pages and data provided on this website is for your general information and use only. It is subject to change without notice.
JAE does not share your contact information with any outside parties. Your provided contact information may be used for marketing and business operation purposes by JAE. However, you can request to not be included in marketing e-mails, phone calls, mails, etc. by contacting info@jae.com.

Your provided contact information may be used for marketing and business operation purposes by JAE. However, you can request to not be included in marketing e-mails, phone calls, mails, etc. by contacting info@jae.com .
Personal information provided by you shall be used and handled at JAE in strict accordance with the following Privacy Policy:



PRIVACY POLICY


This is an important notice regarding your privacy and the way in which Japan Aviation Electronics Industry, Limited (referred to as "we", "our", "us" or "JAE" in this policy) collects and makes use of your personal data. We want to be open and transparent with you, and therefore encourage you to contact us if you have any questions about this policy or the ways in which we use your personal data.

We take our privacy responsibilities seriously and are committed to protecting and respecting your privacy.

This policy sets out the basis on which any personal data we collect from you, or that you provide to us, will be processed by us. Please read the following carefully to understand our views and practices regarding your personal data and how we will treat it.

For the purpose of applicable privacy legislation, the data controller is Japan Aviation Electronics Industry, Limited of 21-1, Dogenzaka 1-chome, Shibuya-ku, Tokyo 150-0043, Japan.

Questions regarding this policy should be directed to LD_Personal_Info_Contact@jae.co.jp . Any questions about the operation of this policy or any concerns that the policy has not been followed should be referred in the first instance to LD_Personal_Info_Contact@jae.co.jp .



1.What information do we hold about you?
We may collect, store and use personal data about you (referred to throughout this privacy policy as personal information):

personal information you provide to us via our website, for example, by using this "Request for Connectors manual" form.
Any personal information you provide to us during your interactions with us.
Information gathered by cookies used on our website. Our website uses cookies to distinguish you from other users of our website. This helps us to provide you with a good experience when you browse and also allows us to improve the way our website works. For detailed information on the cookies we use and the purposes for which we use them please refer to our Cookie Policy (https://www.jae.com/en/cookies-law/ ).
Information provided to us by third party service providers we work with, for example, analytics providers.

2.How will we use your personal information and what is the legal ground we rely on for doing so?
We will only use your personal information when the law allows us to. When we use your personal information, we must have a legal ground for doing so. The following are (amongst others) the legal grounds by which we can use your personal information:


Where you have provided us with your consent for us to do so;
Where we need to perform the contract we have entered into with you or to take steps to enter into a contract with you;
Where we need to comply with a legal obligation to which we are subject;
Where it is in pursuit of our legitimate interests (or those of a third party) and your interests and fundamental rights do not override those interests.

More specifically, we will use your personal information in the following circumstances:


Your contact details to provide you with information on our products and services. This may include technical information and/or marketing information - in pursuit of our legitimate interests in keeping you informed about our products, services and business updates.
Dealing with your enquiry made via this "Request for Connectors manual" forms on our website - in pursuit of our legitimate interest to ensure your enquiry is dealt with promptly and efficiently.
Your contact details to facilitate business between your company and ours - in pursuit of our legitimate interest of daily business with your company.
To administer our website and for internal operations, including troubleshooting, data analysis, testing, research, statistical and survey purposes - in pursuit of our legitimate interests (to better understand how people interact with our website and solve any issues it may have).
To transfer to third party service providers - in pursuit of our legitimate interests (in outsourcing for effectiveness and efficiency).
To contact you if we wish to use your information for a purpose not set out in this policy - to comply with a legal obligation.
Your contact details to provide you with information on our products and services. This may include marketing information - where you are a consumer and have provided us with your consent for us to do so.

3.What happens if there is a change of purpose?
We will only use your personal information for the purposes for which we collected it, unless we reasonably consider that we need to use it for another reason and that reason is compatible with the original purpose. If we need to use your personal information for an unrelated purpose, we will notify you and we will explain the legal basis which allows us to do so.


4.Which type of third parties might we share your personal information with?
We require third parties to respect the security of your personal information and to treat it in accordance with the law. For example, where we instruct third party service providers, we carry out due diligence on those providers to ensure they treat your personal information as seriously as we do.
We may share your personal information with the following types of third parties:

Technical support providers, for example, assisting with our website.
Professional advisers such as lawyers, accountants and business analysts.
Providers which help us collate and organise information effectively and securely.
Third party software hosting companies which provide us with software solutions.
Providers which host our servers in their data centres in UK, USA and Taiwan.
Cloud storage providers in order to back-up our data.
Our subsidiaries in order to respond to your requirement effectively.

5. Data retention How long will we use your personal information for?
We will only retain your personal information for as long as necessary to fulfil the purposes we collected it for.
We assess the appropriate retention period for different information based on the size, volume, nature and sensitivity of that information, the potential risk of harm to you from unauthorised use or disclosure of that information, the purposes for which we are using that information, applicable legal requirements for holding that information, and whether we can achieve those purpose(s) through other means.

Business contacts

The period we keep your personal information depends on a number of circumstances. For example:
Where we have collected your personal information during the course of your and our organisations doing business, we will keep your personal information for as long as this business continues, or for as long as we have a commercial interest in holding your personal information, for example, with a view to doing business in the future.
Where you use our website and one of our cookies are activated, that cookie will operate for the duration set out in our Cookie Policy.

6. Where we store your personal data
Electronic versions of your personal information are stored on our servers in Japan. We may also transfer personal data to our servers in UK, USA and Taiwan. We have put in place appropriate safeguards between our Japan and UK entities to provide for the lawful transfer of personal data outside of the European Economic Area.
Where we use third party service providers to assist us, your personal information may also be stored in accordance with their practices and procedures. We require third parties to respect your personal information and to treat it in accordance with the law.


7. Rights of access, correction, erasure, restriction, and transfer Your rights in connection with your personal information
Under certain circumstances, by law you have the right to:

Request access to your personal information (known as a "data subject access request"). This enables you to receive a copy of the personal information we hold about you and to check that we are lawfully processing it.
Request correction of the personal information that we hold about you. This enables you to have any incomplete or inaccurate information we hold about you corrected.
Request the erasure of your personal information. This enables you to ask us to delete or remove personal information when there is no good reason for us continuing to process it. You also have the right to ask us to stop processing personal information where we are relying on a legitimate interest and there is something about your particular situation which makes you want to object to processing on this ground.
Request the restriction of processing of your personal information. This enables you to ask us to suspend the processing of personal information about you, for example if you want us to establish its accuracy or the reason for processing it.
Request the transfer of your personal information to another party.

If you want to review, verify, correct or request erasure of your personal information, object to the processing of your personal data, or request that we transfer a copy of your personal information to another party, please contact LD_Personal_Info_Contact@jae.co.jp .
8. No fee usually required
You will not have to pay a fee to access your personal information (or to exercise any of the other rights). However, we may charge a reasonable fee if your request for access is clearly unfounded or excessive. Alternatively, we may refuse to comply with the request in such circumstances.


9. What we may need from you
We may need to request specific information from you to help us confirm your identity and ensure your right to access any personal information (or to exercise any of your other rights). This is a security measure to ensure that personal information is not disclosed to another person who has no right to receive it.


10. Right to withdraw consent
In the limited circumstances where you may have provided your consent to the collection, processing and transfer of your personal information for a specific purpose, you have the right to withdraw your consent for that specific processing at any time. To withdraw your consent, please contact LD_Personal_Info_Contact@jae.co.jp .
Where we are providing you with marketing information, you can also change your marketing preferences by using the unsubscribe button at the bottom of our marketing e-mails sent to you.
Once we have received notification that you have withdrawn your consent, we will no longer process your personal information for the purpose or purposes you originally agreed to, unless we have another legitimate basis for doing so.


11. What happens if you fail to provide personal information?
If you fail to provide certain information when requested, we may not be able to perform the contract we have entered into with you (such as providing you with our products or services), or we may be prevented from complying with our legal obligations (such as to ensure the health and safety of visitors to our premises).


12. Right to complain
You have the right to make a complaint if you wish to do so. The organisation with oversight of our processing is the Information Commissioner's Office, which can be contacted in writing at Information Commissioner's Office, Wycliffe House, Water Lane, Wilmslow, Cheshire, SK9 5AF, by telephone (0303 123 1113) or by e-mail (casework@ico.org.uk ).


13. Changes to this privacy notice
We may change, modify, add or remove portions of this policy at any time, and any changes will become effective immediately.
Any changes we make to our privacy policy will be posted on this page and, where appropriate, notified to you.


Namensliste Liste aller Teile