FLEXCONVERT™
What is FLEXCONVERT™
"FLEXCONVERT™", our new technology brand expands converting technology to correspond flexibly the needs of diversified and advanced user interface.
Japan Aviation Electronics Industries, Ltd., based on the corporate philosophy of "Develop, Creation, Practice", with its unique innovative and creative high technology and development capabilities.
We are expanding three divisions "Connector", "User Interface solutions", "
Motion Sensor Solutions", in global.
In the "Interface Solutions Business", we provide products that corresponding to customer needs for human-device interface (user interface) with core technologies such as operation touch technology and touch input technology. Converting technology (*) based on printing technology has been registered under the name "FLEXCONVERT™".
Technology that creates new values by combining elemental technologies such as printing, coating and laminating
"FLEXCONVERT™", a new core technology, creates user interface solution by combining our technology such as printing and bonding with superior materials.
Through the development of "FLEXCONVERT™", we will transform the electronics manufacturing process with our unique converting technology and respond flexibly to the diversified, sophisticated user interface and needs.
Origin of the name and logo design
The naming "FLEXCONVERT™" is an expression of the unlimited potential of this technology. The branding logo is a visual that multiple layers overlap, expressing the converting technology itself and the accumulation of technology and knowledge. The rippling form has an image of flexibility.
In addition, the appearance of the right of X jumping out of the frame expresses the rise to the future and the infinite possibilities.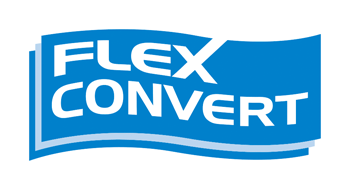 Our spirits on "FLEXCONVERT™"
The speed of technological innovation is fast on a global basis, and changes in life and society are not limited. The role required for user interfaces is also changing constantly.
As a manufacturer engaged in technology development focusing on "the contact between people and equipment", we will continue to produce products constantly from this "FLEXCONVERT™" and meet the expectations.