USB Type-C™ Connector "DX07 Series" Has Been Developed
The next-generation USB Type-CTM has been defined by the USB-IF (Note1) as an I/O connector specification for mobile phones, various PC, and imaging devices.
The USB Type-CTM specification connector features a reversible plug orientation that enables insertion and removal without minding front and back of the plug and supports SuperSpeed USB 10Gbps communication and 5A max. power supply.

As a manufacturer taking part in the specification of the connector through the USB-IF, JAE will release the "DX07 Series" USB Type-CTM total package including plugs, receptacles, and harnesses. The products will be released one after another as soon as they are developed.


Note1) USB Implementers Forum, Inc. is a non-profit corporation founded by the group of companies that
developed the Universal Serial Bus specification.

"USB Type-C™" is a trademark of USB-IF.
---
:: Products Planned to be Released
Plug : Product lines with paddle cards and E-markers will be available.


Receptacle : 2 rows SMT type and a hybrid (SMT and through-hole) type will be available.
On-board type and mid-mount type will be available according to the shape of the mounting terminal.


Cable : Cables with the USB 2.0 and USB 3.1 compatible Type-C plugs on the both ends, and cables with a Type-C plug on one end and a Standard A plug on the other end will be available.
---
:: Features
Compliant with Universal Serial Bus Type-C Specification Release 1.1.
Compatible with 10Gbps SuperSpeed communication (USB 3.1 Gen 2 Compliant)
Supports 5A max. power supply. (Compatible with USB Power Delivery)
Reversible plug orientation enables insertion and removal without minding front and back of the plug.
Superior EMI / EMC characteristics.
Design to secure mechanical strength of both receptacle and plug.
---
:: Applicable market
Mobile phones, smartphones, tablet PC, notebook PC, TV, compact LCD displays, digital still cameras,
digital video cameras, and other compact hand-held devices
---
:: General specifications
| | | |
| --- | --- | --- |
| 1. | No. of Contacts | : 24 pos |
| 2. | Rated Current | : 5A max |
| 3. | Rated Voltage | : AC20V r.m.s. |
| 4. | Contact Resistance | : 40m ohms max.(initial) |
| 5. | Dielectric Withstanding Voltage | : AC100Vr.m.s for 1 minute |
| 6. | Insulation Resistance | : 100M ohms min.(initial) |
| 7. | Operating Temperature | : -30 Deg. C to +80 Deg. C |
| 8. | Life Time | : 10,000times |
---
DX07 Series (PLUG) (For more details) >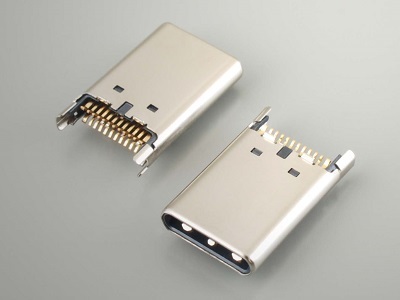 ---
Information and details given here are as of the date of publication. Please note that the details may be changed.