USB Type-C™ Certified "DX07 Cable Harness" Supporting USB 3.1 and USB Power Delivery 3.0 Now Available
JAE has begun mass-production of USB 3.1 Gen1 / Gen 2 and USB Power Delivery Revision 3.0 (hereinafter as USB PD 3.0) certified cable harnesses with a USB Type-C connector on both ends.
It will be made available to customers as part of the "DX07 Series" family of products, along with compatible receptacles and plugs.
The DX07 cable harness is compliant with the USB Type-C and USB PD 3.0 specifications and supports up to 10Gbps USB SuperSpeed Plus communication and 5A max. power supply as well as USB PD 3.0 features such as EMIC low-voltage drive (3V).
With this DX07 cable harness being compatible with the latest charging standard USB PD 3.0, it can be used to realize safe and secure power delivery. Furthermore it is compatible with the USB Type-C features enabling reversible mating with no need to worry about the plug orientation.
As a next generation interface standard, adoption of the USB Type-C connectors are increasing in various markets such as PCs, hand-held devices, audio visual devices, portable gaming devices and industrial equipment.
JAE has taken part in the development of the USB Type-C connector specification from the early planning phase and has contributed to the standardization. Using our past experiences we have expanded the line-up of the compatible plug and receptacle connectors in the "DX07 Series".
Through these activities the "DX07 Series" has achieved high quality and stable production. The receptacles, plug and harnesses are already adopted by a number of major companies worldwide.
With these proven results for high connection reliability it can be used with confidence, and the minimized connector hood area on both ends improves the degree of freedom of handling when connected with devices.
Moreover it is possible to correspond with original design requirements from customer's.
We will continuously work to expand product variations of the Type-C compatible DX07 cable harnesses to support a wide range of customer needs.
- USB Type-CTM is a trademark of USB Implementers Forum, Inc.
- EMIC Low-voltage Drive: an IC called EMIC (E marker) is equipped to the USB Type-C cable harness.
This drive voltage standard has changed from 5V min. to 3.0V min. along with the revision of the USB Power Delivery Revision 3.0.
Features of USB Type-C "DX07 Series" Cable Harness
Compatible with Universal Serial Bus Type-C Specification Release 1.3
Compatible with USB Power Delivery 3.0
Compatible with 10Gbps SuperSpeed Plus communication (USB 3.1 Gen2)
Supports 5A max power supply (Compatible with USB Power Delivery)
Symmetric interface which allows for the plug to be inserted upside down or right side up.
Superior EMI / EMC characteristics.
Lock structure with superior durability.
Realizes downsizing of hood.
Specifications
Connector Type
Type-C Plug on Both Ends
Product Number
DX07518S10N
18747
DX07518S20K
18747
DX07518B10N
19114
DX07518B20K
19114
Length
1m
2m
1m
2m
Rated Current
5A max.
3A max.
5A max.
3A max.
Applicable Standards

USB3.1 Gen2
USB3.1 Gen1
USB3.1 Gen2
USB3.1 Gen1
USB Type-C Rev. 1.3, USB Power Delivery Rev 3.0
Material / Color
(hood, bushing, and cable)
PVC / Black
TPE / Black
USB Certification
Certified
Now Planned
TID
5,200,000,570
3,200,000,113
-
-
No. of Contacts for Plug
24 pos.
Rated Voltage

AC20 Vr.m.s.

Contact Resistance
Initial 40mΩ max.
Dielectric Withstanding
Voltage
AC 100 V r.m.s. (for 1 minute)
Insulation Resitance
Initial 10MΩ min.
Operating Temperature
Range
+10℃ to +40℃
Mating Durability
10,000 times
Applicable Market
Mobile phones, smartphones, tablets, notebook PCs, TV, monitor, gaming devices, external storage mediums, digital cameras, and other small portable devices and industrial equipment
---
DX07 Series (PLUG) (For more details) >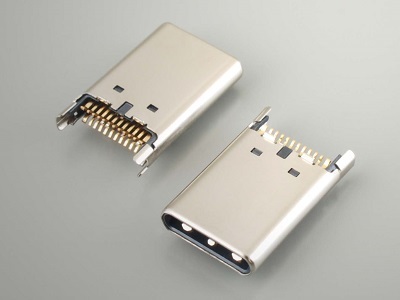 ---
Information and details given here are as of the date of publication. Please note that the details may be changed.