All-plastic Rectangular Connector KN02 Series for Industrial Equipment Has Been Developed
JAE has developed and begun production of the KN02 Series, an all-plastic rectangular connector. The KN02 Series is an ideal interface for industrial equipment, such as robotics, automated machinery and machine tools.
There has been a growing trend of automated production facilities, with the aim to improve productivity, production quality and cost efficiency, which is accelerating the implementation of robots and automated machines. As co-bots are increasing in popularity, the requirements for more compact, lightweight and low-cost equipment are a necessity in the market. Along with these growing trends, there are demands for connectors that are not only compact and lightweight, but capable of reducing the number of cables by combining multiple interfaces required to operate these equipment.
To cater to these market requirements, JAE has developed the KN02 Series, an all-plastic combo-type rectangular connector with an EMI countermeasure.
The KN02 Series' all-plastic shell allows the connector to be lightweight while providing an enhanced shielding performance with a metal plating on the outer plastic shell.
In addition, the outer shell adopts a one-touch locking mechanism with an integral molded lock spring that allows for superior unmating function while it remains reliable for use in shock and vibration environments.
The insert structure block insulator allows for two variation of pin-counts that can be customized to comply with various customer demands. The KN02 Series having signal dedicated insulator with EMI shielding can also be used as a complex connector combining both wires for signal and power in the same connector. The plug is available in straight and angle type, and either plug can be selected based on the requirement of the equipment and their wiring.
To comply with diversely functional equipment, such as robotics, automatic machinery and machine tools, the KN02 Series interface connectors can be used for a wide range of general devices that require multi-contact wiring, vibration resistance, while remaining lightweight and low-cost.
Features
All-plastic outer shell, light-weight and low-cost connector
EMI shielding with a metal plating applied to outer shell and internally shield components
Easy-to-operate, secure one-touch push-in locking structure
Arrangement of insulator block and insertion orientation allows for optimum pin count and arrangements
Insulator with EMI shielding as an option, to allow for a combination of power and signal lines within a single connector
Plug available in straight and right-angle types
Angle plug optional in 8 cable orientation
Threaded saddle clamp provides great cable retention
Applicable Markets
Factory automation equipment, such as robotics, automation machine and other machine tools, requiring environmental resilience.
Industrial and communication devices, medical equipment and general devices requiring multi-contact wiring connection.
Industrial equipment, communication devices, rail car and ground-level construction that require vibration resistance and waterproofing.
Specifications
Insulator
Type I
Type II
Arrangement

Inner
Insulator
Part Number
KN02S16PKS / KN02S16SKS
KN02S16PMS / KN02S16SMS
Number of Contacts

16 positions
16 positions
Rated Voltage
24VDC
24VDC
Rated Current
4A
2A
Withstanding Voltage

500VAC
500VAC
Main
Insulator
Part Number
KN02S12PGF / KN02S12SGF
KN02S30PMF / KN02S30SMF
Number of Contacts
8 positions
4 positions
24 positions
6 positions
Rated Voltage
250VAC (II/3)
24VDC
250VAC(II/2)
24VDC
Rated Current
13A
4A
2A
2A
Withstanding Voltage
1500VAC
500VAC
1500VAC
500VAC
Insulation Resistance
(Applied Voltage)
100 MΩ min.
(, 100VDC, 500VDC)
100 MΩ min.
(,100VDC, 500VDC)
Durability
30 times
Cable Retention Force
100 N min.
Operation Temperature Range
-10°C ~+85 °C
Standard Certification
TÜV (EN60521), cUL (UL1977)
---
KN02 Series (For more details) >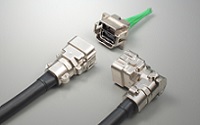 ---
Information and details given here are as of the date of publication. Please note that the details may be changed.