MA01 Series, Automotive Grade, 8Gbps High-speed Transmission, Two-point Contact Floating Board-to-board Connector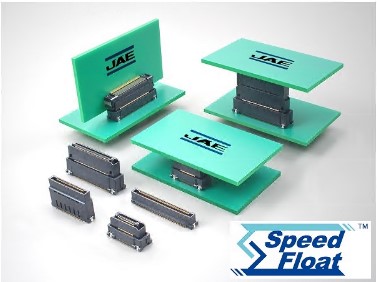 May 20, 2021
JAE has launched the MA01 Series floating board-to-board connector, which provides high-speed transmission and ensures high-contact reliability with two-point contacts, ideal for automated driving and other advanced on-board ECUs.

As automobiles' increase need for high-functioning features, such as with ADAS and automatic driving functions, there is a growing necessity to use multiple boards to process more signals in the ECU and this leads to the demand for multiple connectors to connect these boards. The connectors are required to support high-speed transmission in order to transmit signals without delay, as well as having good heat resistance and contact reliability to withstand the harsh operating environment specific to automobiles.

To cater to these trends we have developed the MA01 Series, floating type board-to-board connectors, for automotive applications that require supporting high-speed transmission (8Gbps+) with two-points of contact while being able to support automated assembly.

This product offers a maximum operating temperature of 125°C, making it a connector suitable for automotive applications. The connector has a floating structure of ±0.5 mm in both X & Y directions, which will absorb positional shifts and misalignments during mounting and assembly processes. This allows for the use of multiple connectors on a single board, which was difficult to realize with conventional rigid board-to-board connectors. Also, with mating guides included the connector is ideal for robot assembly.

The two-point contact structure provides a highly reliable connection and will ensure uninterrupted continuity even if one contact point is obstructed by contaminant. To improve operability this connector series implements a rolled-surface-contact structure, which reduces the higher insertion and removal forces generally found in conventional two-point contact connectors. In response to the growing demand for high-speed transmissions we have achieved transmission speeds exceeding 8 Gbps, being able to support the likes of 10GBASE-KR(*1) and PCIe Gen3(*2) specifications.

The initial release of the MA01 Series will be of 30 to 100 pin counts. Four variations to allow parallel mating of 14mm to 30mm stacking heights and two variations for vertical mating, offering 26 mating options in total. We plan to continue adding variations in the future, and for immediate consideration samples are available for all "MA01 Series variations".
Please contact us for availability and release dates.

Will be exhibited at the 2021 Automotive Engineering Exposition, which will be held virtually from May 26 to July 30.

Note 1) 10GBASE-KR: 10 Gigabit Ethernet transmission. One of the communication standards for building computer networks specified by IEEE specifying communication between printed circuit boards within equipment.
Note 2) PCIe Gen3 (PCIExpress 3.0): One of the serial bus standards specified by PCI-SIG and compatible with 8 Gbps transmission.
Floating Amount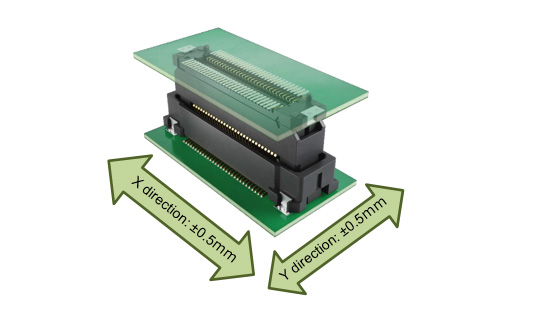 MA01 Series Variations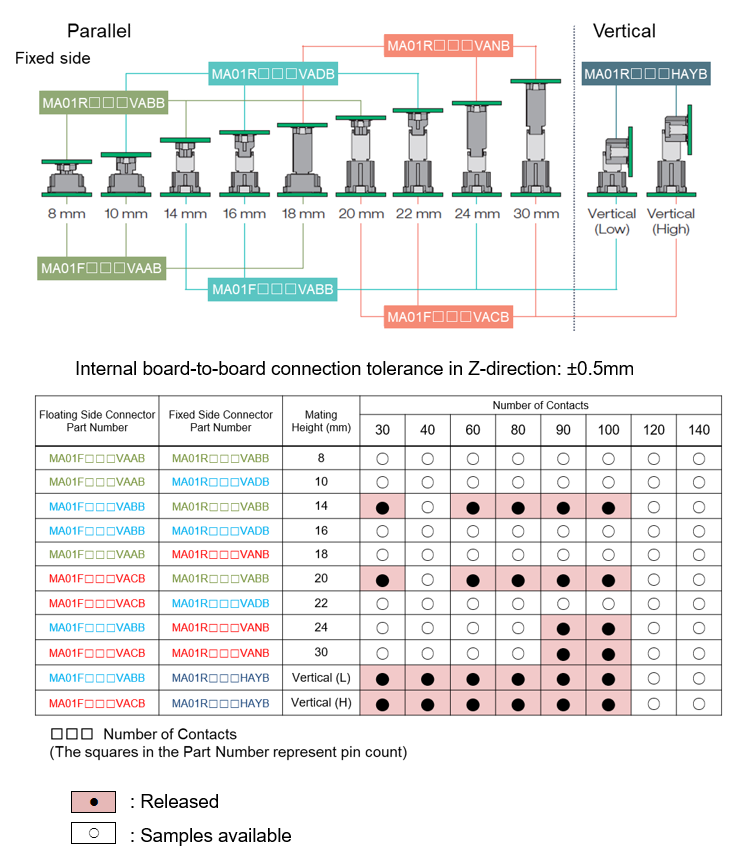 Features
Floating tolerance: ±0.5 mm in both X and Y directions
Stacking height tolerance between boards: ±0.5 mm in Z direction
Two-point contact structure ensures high contact reliability
Low insertion and removal forces achieved by rolled-surface-contact structure
Operating temperature range: -40°C to +125°C
8 Gbps+ high-speed transmission (10GBASE-KR and PCIe Gen3 equivalent)
Excellent mating process with large guides, supporting automatic assembly and mating (mating guide length: ±1.0 mm)
Supports automatic mounting
Allows for multiple connectors to be used on a single board
Keyed to prevent mis-mating
Clear visibility of solder joints for visual inspection
Applicable Market
On board equipment (ADAS-ECU, Central gateway, etc.), factory automation equipment, semiconductor manufacturing equipment, office machines, communication equipment, measuring equipment, broadcasting equipment and other various applications
General Specifications
Pitch
0.635 mm pitch
Number of Contacts
30 ~ 140 positions
Stacking Height
8 ~ 30mm
Floating Movable Amount
X direction: ±0.5 mm, Y direction: ±0.5 mm
Operating Temperature Range
-40℃~+125℃
(including conduction temperature rise)
Rated Current
0.5A
Rated Voltage
AC50V rms.
Materials and Finishes
Floating Connector
| Component | Material / Finishes |
| --- | --- |
| Fixed Insulator | LCP |
| Floating Insulator | LCP |
| Contact | Copper alloy / Au plating |
| Hold-down | Copper alloy / Sn plating |
| Cap | Stainless steel |
Fixed Connector
| Component | Material / Finishes |
| --- | --- |
| Insulator | LCP |
| Contact | Copper alloy / Au plating |
| Hold-down | Copper alloy / Sn plating |
| Cap | Stainless steel |
---
MA01 Series (Automotive Grade, High-speed Transmission, Floating Board-to-board Connector)
(For more details) >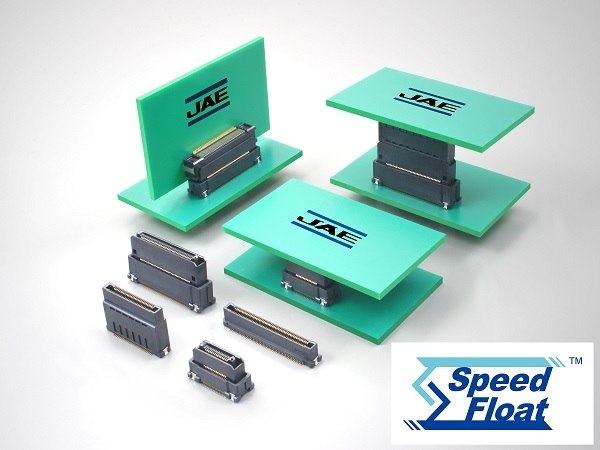 ---
Information and details given here are as of the date of publication.
Please note that the details may be changed.