JAE Electronics, Inc. Signs Partnership Agreement with the Los Angeles Angels of Major League Baseball
 Tokyo – Japan Aviation Electronics Industry, Ltd. (JAE), announced today that its US subsidiary JAE Electronics, Inc. (JAE US) signed a partnership agreement with the Los Angeles Angels of Major League Baseball for the 2018 season. JAE US, the North American Headquarters is located in California. The partnership is intended to support local sports activities as part of an effort to increase corporate recognition in US as well as to enhance JAE brand awareness in Japan. The performance of the new Japanese two-way phenom Shohei Ohtani will attract even greater attention to the Angels, both in the US and Japan.

Since establishing its Sales and marketing subsidiary in the US in 1977, the JAE Group has expanded its business in the US, including connector and sensor business for over 40 years. To further expand the business, JAE is focusing on expanding brand awareness and improving corporate image.

The Los Angeles Angels is a dynamic team possessing outstanding players including not only the two-way phenom Ohtani challenging the MLB's history, but also a two time MVP winner Mike Trout, and a slugger, Albert Pujols who recently recorded 3,000 hits and many more. JAE US decided to partner with this amazing team trusting that the partnership will significantly contribute to improving the brand image of JAE Group.

According to the partnership agreement, JAE Group advertisements will be posted on a rotational sign located behind homeplate at Angels Stadium in Anaheim after May 13, 2018. It will be posted in 60 games of the 2018 season including playoffs, a total of 64 half innings (front or back of the inning).

After this partnership agreement with the Angels, JAE US will enhance public relations and promotional marketing activities in the US.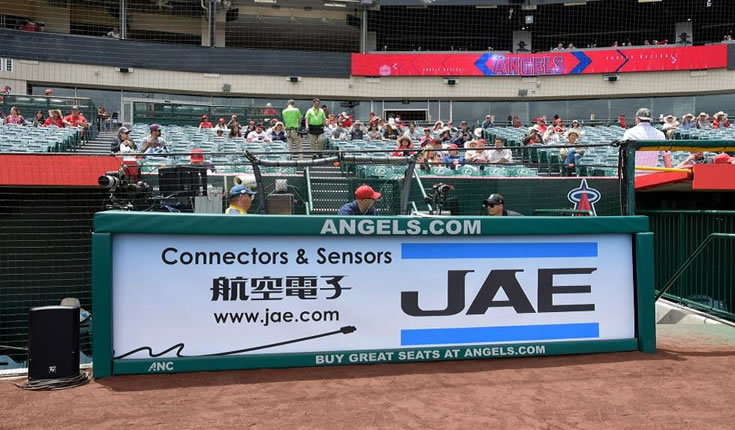 About Los Angeles Angels


The Los Angeles Angels joined Major League Baseball as an expansion team in 1961 and have since gone on to win nine American League Western Division Championships, host three All-Star games and capture the 2002 World Series Championship. Over its 57-year history, the franchise also boasts four MVP's, two Cy Young winners, two Rookie of the Year winners, 37 Rawlings Gold Glove winners and 154 All-Stars.
Visit the Angels online at www.Angels.com, follow on Twitter Twitter@Angels and like on Facebook at www.facebook.com/Angels, For media information, visit www.angelspressbox.com.

About Japan Aviation Electronics Industry, Ltd.


Established in 1953,

J

apan

A

viation

E

lectronics Industry Ltd. under the corporate philosophy of "Explore, Create and Practice", have successfully developed and globally expanded our three core business areas of connectors, user interface related devices, and aviation electronics supported by our outstanding development capability in innovative and creative technologies. JAE branded products are used in a broad range of fields such as connectors and touch panels for automotive, connectors for mobile devices and products for industrial and infrastructure.

| | |
| --- | --- |
| Representatives | Chairman Yasutaka Akiyama, President Tsutomu Onohara |
| Head Office | Shibuya-ku, Tokyo Japan |
| Consolidated net sales | 253.9 Billion Yen (fiscal year ending March 31, 2018) |
| Company's website | https://www.jae.com |

About JAE Electronics, Inc.

| | |
| --- | --- |
| Representative | President Noriyuki Konishi |
| Headquarter | Irvine, California, U.S.A. |
| Establishment | March 1977 |
Kontaktieren Sie Uns
Feedback
Japan Aviation Electronics Industry, Ltd.
Corporate Planning and Investor Relations Div.
21-1, Dogenzaka 1-chome, Shibuya-ku, Tokyo 150-0043, Japan
Tel : +81-3-3780-2711 Fax : +81-3-3780-2733
Information and details given here are as of the date of publication.
Please note that the details may be changed.