22 Position USB Type-C™ Plug Connector Has Been Launched
JAE has already released a wide variety of USB Type-C compliant "DX07 Series" connectors and cable harnesses. This time, we are releasing a new 22 position plug connector for cable harness applications to add to the line-up.
The implementation of USB Type-C connectors is increasing in various markets such as PCs, hand-held devices, audio visual equipment, and portable gaming devices. Along with this trend, there are increasing demands for compact plug connectors that enable flexible cable harness hood designs, and offer reliable transmission characteristics. To cater to these market requirements, JAE has developed and launched a USB Type-C plug connector, which has high mechanical strength while being compact in size.

The transmission characteristics of this product have been improved by removing two of the center terminals (pin B6 and B7) for standard USB cable assemblies and accessories which do not use these two terminals. In addition, a cut-out area on both sides of the shell ensures improved retention to the paddle card used in cable harnesses.

As a manufacturer who has taken part in the development and standardization of the USB Type-C specification, JAE will continuously work to expand product variations of receptacles, plugs, and cable harnesses in the DX07 Series.
Note) USB Type-C is a trademark of USB Implementers Forum, Inc.
Features
Compatible with Universal Serial Bus Type-C Specification Release 1.3
Compatible with 10Gbps SuperSpeed Plus communication (USB 3.2 Gen 2)
Supports 5A max. power supply (Compatible with USB Power Delivery 3.0)
Reversible plug makes it possible to insert both ways
22 position plug with further improved transmission characteristic
Superior EMI/EMC characteristics
Design for high mechanical strength and connection to paddle card
Lock structure with high durability
USB Type-C™ Connector DX07 Series Plugs for Harnesses
Applicable Market
Smartphones, tablets, PCs, televisions, small LCD displays, digital still cameras, digital video cameras, and other compact hand-held devices.
DX07 P022AA6 Specifications
| | |
| --- | --- |
| Number of Contacts | 22 position |
| Rated Current | Maximum 5 A |
| Rated Voltage | AC20V r.m.s. |
| Contact Resistance | Initial 40mΩ max |
| Dielectric Withstanding Voltage | AC 100 V r.m.s. (1 minute) |
| Insulation Resistance | Initial 100 MΩ min. |
| Operating Temperature Range | -30℃ ~ +80℃ |
| Mating Cycles | 10,000 times |
---
DX07 Series (PLUG) (For more details) >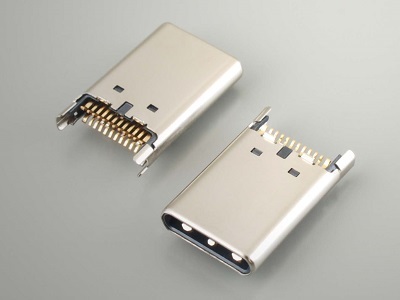 ---
Information and details given here are as of the date of publication.
Please note that the details may be changed.