Variation of USB Type-C™ DX07 Series Connectors Has Been Expanded Addition of VR Standard VirtualLink™ Compatible Products
(Front: 2-row SMT type On-board Receptacle, Back: Hybrid receptacle with 3.4mm center height)
JAE has added two new variations to the USB Type-C compatible receptacle connector line-up including a VR standard "VirtualLink" compliant type. We will supply these products as part of the "DX07 Series" family in addition to the existing receptacle and plug connectors and, cable harnesses.
As a next generation interface standard, adoption of the USB Type-C connectors is increasing in various markets such as PCs, smartphones, hand-held devices, audio visual devices, and portable gaming devices. To cater to these trending requirements, JAE has developed and launched two types of receptacles; one is a center height 3.4mm hybrid type compatible with the VR market next-generation standard "VirtualLink", and another is an improved version of the most common USB Type-C specification two row SMT on-board type.
"3.4mm Center Height, Hybrid Receptacle" (DX07S024XJ4)
Alternate Mode of the USB Type-C enables transmission of non-USB signals. This product is compatible with the new signal transmission standard VirtualLink specification (USB Type-C alternate mode).
The VirtualLink is a new standard for the VR market, which is expected to grow further in the future. It enables VR headsets equipped with high-definition displays, cameras, various censors, to connect with the main device (PCs, and set-top boxes) over a single Type-C cable. This product adopts dimensions with consideration for parallel connection with the standard USB Type-A receptacle connectors and HDMI receptacle connectors, having a compliant structure (center height: 3.4mm) so that the connector clearance height will be the same, to enhance design flexibility for customers.
"2-row SMT On-board Receptacle" (DX07S024JA1)
This product is a two row SMT on-board type receptacle with an improved resistance against twisting compared to our existing products. The two row SMT on-board type is the most popular type, which is in high demand for a wide range of markets.
Moreover, it facilitates the processing work of the connector mounting and can address the diversifying needs for our customers.
JAE has taken part in the development of the USB Type-C connector specification from the early planning phase and has contributed to the standardization. By using our past experiences, we will continue to expand the line-up of the compatible plug and receptacle connectors, and cable harnesses in the "DX07 Series".
Note) USB Type-C™ is a trademark of USB Implementers Forum, Inc.
Note2) "VirtualLink™" is a trademark of VirtualLink Consortium.
Features
Compatible with USB Type-C Standard
Supports 5A max. power supply. (Compatible with USB Power Delivery Revision 3.0)
Supports VirtualLink (Hybrid receptacle with 3.4 mm center height)
Applicable Markets
Smartphones, notebook PCs, digital still cameras, VR/AR devices, printers, and others
General Specifications
Connector Type
DX07 Receptacle Connector
Part Number
DX07S024JA1
DX07S024XJ4
Contact Configuration
2-row SMT type
Hybrid type
Center Height
1.57mm
3.4mm
Rated Current
5A max.
Number of Contacts
24 positions
Rated Voltage
AC20V r.m.s.
Contact Resistance
Initial 40mΩ max.
Dielectric Withstanding Voltage
AC 100V r.m.s. (for 1 minute)
Insulation Resistance
100MΩ min.
Operating Temperature Range
-30°C to +80 °C
Mating Durability
10,000 times
---
DX07 Series (PLUG) (For more details) >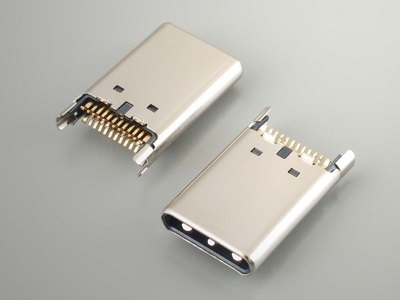 ---
Information and details given here are as of the date of publication. Please note that the details may be changed.