JA-5 TYPE Ⅲ Accelerometer
Quartz Servo Accelerometers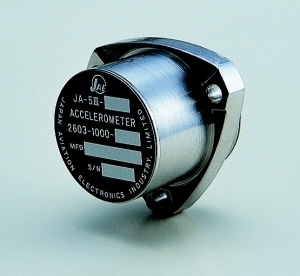 The JA-5 Type III accelerometer is the highest navigation grade servo balanced quartz accelerometer JAE has been producing. The JA-5 Type III accelerometer provides excellent bias long term stability and bias temperature coefficient. JAE quartz accelerometers are today used in a variety of inertial navigation and guidance systems in Japanese aerospace industries.
Technical information provided including specifications, drawings and schematics are for reference only.
Information provided is subject to change without prior notice.
Please contact your local sales representative with any questions before ordering.
Features
Excellent bias long term stability
Current output, voltage output easy adjustable with readout resistor
Applications
Inertial Measurement System
Inertial Reference Syst
Attitude and heading reference system
Technical data
Environmental
Operating temperature
-54℃ to 96℃
Shock
100G
Electrical
Input voltage
±15V(DC)
Input current (Quiescent)
5.0 mA max.
Performance
Range
±20.0G
Resolution
1μG max.
Scale factor (Nominal@25℃)
1.33mA/G
Bias (Nominal@25℃)
±4.0mG
Bias temperature coefficient
±30μG/℃ Max.
Frequency response
300Hz Min.
Functional
Self-test
Current / Voltage
Mechanical
Diameter
Φ25.5mm
Height
24.6mm
Weight
80 grams max.
Note
Exportation
Accelerometers must only be exported in accordance with all relevant regulations.
Export license from Japanese government is needed for JA-5 TYPEIII.