AX01 Series

Floating Board-to-Board Connectors
What is a Floating Connector?
A "Floating Connector" is an electro-mechanical interconnect that absorbs misalignments in both "x" and "y" directions, that commonly occur when the interface is mounted on a PCB.
With the help of a floating structure within a connector, damage to individual elements of a PCB (such as solder points and further connector interfaces) can be prevented.
In particular, misalignments in the PCB mounting and assembly processes in "x" and "y" directions are absorbed.
As part of the overall PCB design process it is important to take into consideration all relevant dimensions and associated tolerances.
To name a few: screw holes, floating and rigid connector side, and the interface between the PCB and SMT connector contacts.

The miniaturization megatrend is driving the need for decreasing dimensions, which has limited PCB realestate. This has driven the necessity for automated robotic assembly, and finer pitch connectivity solutions.
What are the Features of a Floating Connector?
Mating Guide Construction (X/Y ±1 mm)
This floating connector features a special mating guide construction (X/Y ±1 mm) which enables proper alignment during PCB assembly.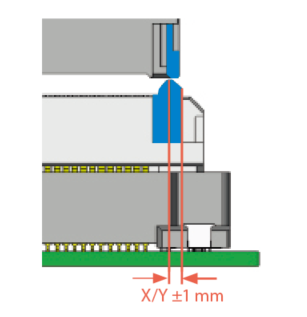 Floating Range (X/Y ±0.5 mm)
The effective x and y directional floating range (±0.5 mm) allows for the insulator to move and properly mate with the opposing side.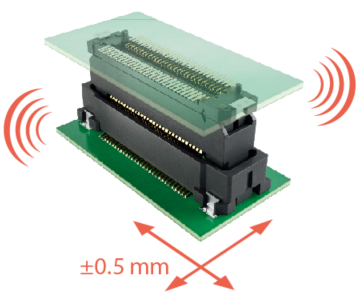 What are the Benefits of a Floating Connector?
The usage of floating connectivity solutions offers the following advantages:
(1) Absorbs Misalignment of PCB Mounted Connectors
Various components are mounted on a typical PCB, where placement precision is a must.

Floating connectors allow excellent visual control, and ensure a production friendly structure.

This connectivity solution can absorb tolerances which makes the highly efficient and cost-effective automated PCB assembly process possible.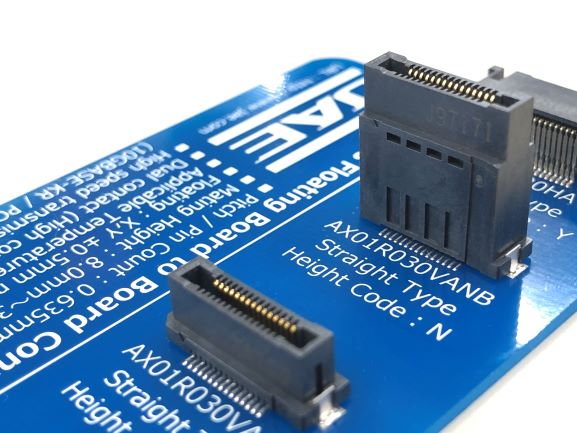 (2) Accommodates Multiple Board-to-Board Connectors on a Single PCB
Floating connectors are also useful when connecting PCBs with multiple connection points. In the case of when multiple non-floating connectors are used, where there are tolerances between each interface and the PCB, managing accurate alignment becomes very challenging.

Thus, it is not recommended to mount multiple non-floating connectors on a main PCB.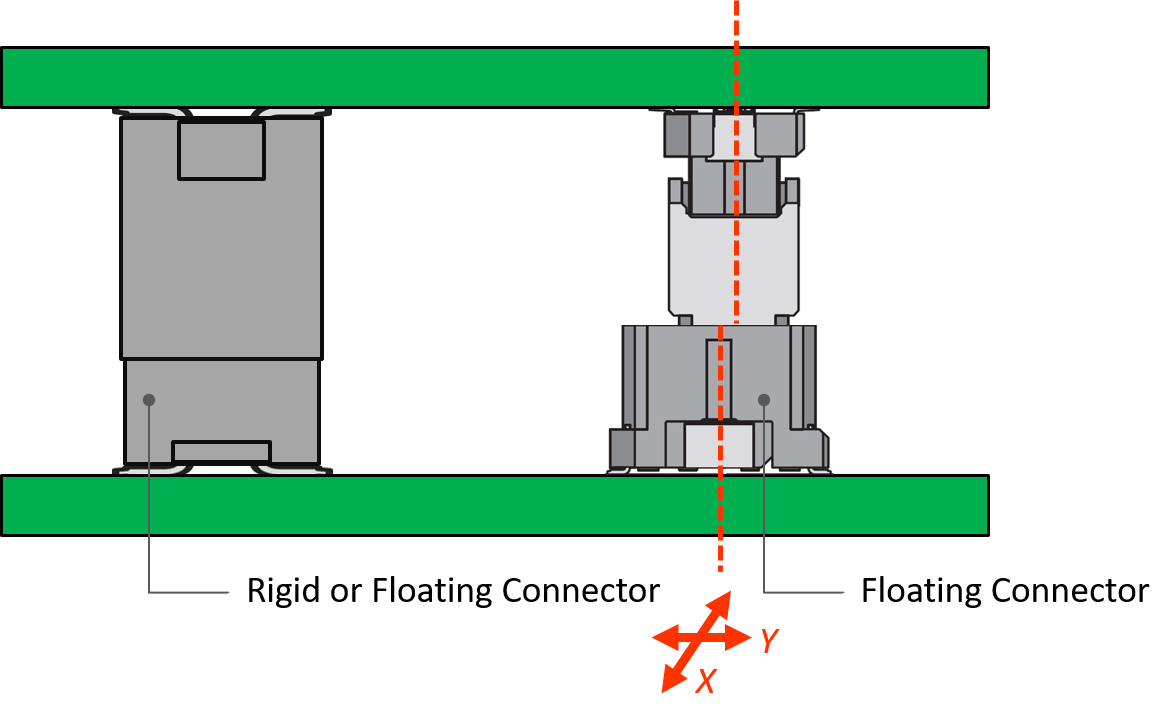 (3) Absorbs Misalignments During Assembly
Due to imperfections in production accuracy during the assembly process misalignments may occur.

This makes it necessary for the overall design to take into consideration the accumulated tolerances. With the help of floating connectors, this challenge can easily be resolved.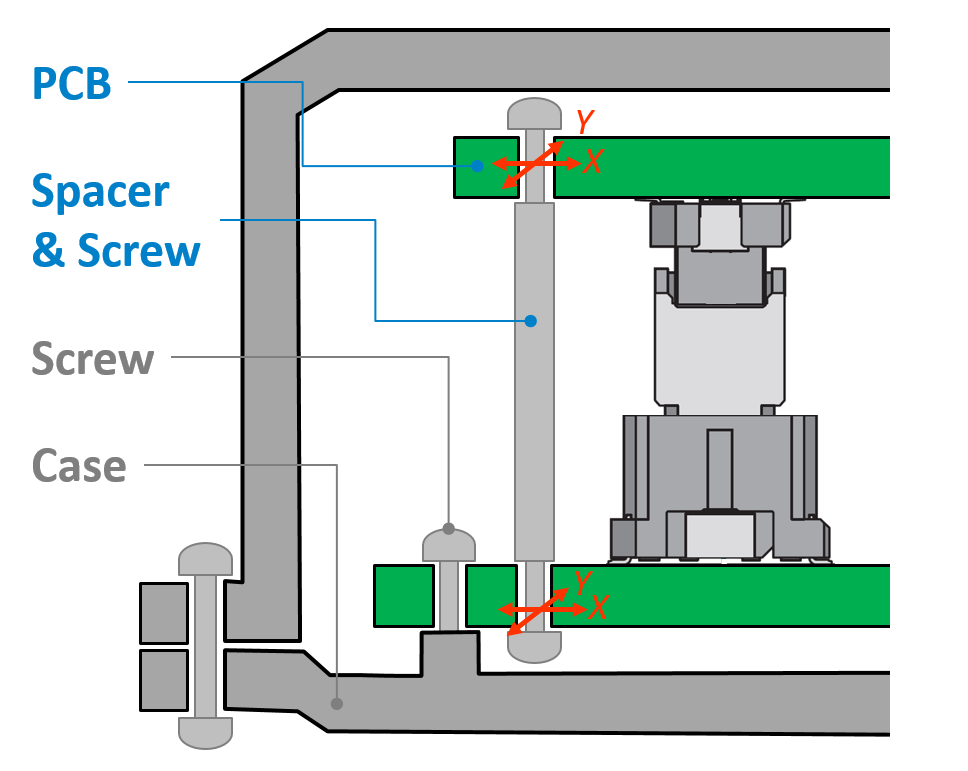 (4) Reduces Connector Stress after Mounting
Even a small amount of misalignment is enough to apply a small force on a non-floating connector causing stress. As the stress accumulates over long periods, it can be transferred to the PCB, other connectors, and solder joints, which can cause an irreversible failure of the main unit. Floating connectors remedy this issue by removing structural stress through absorbing misalignments.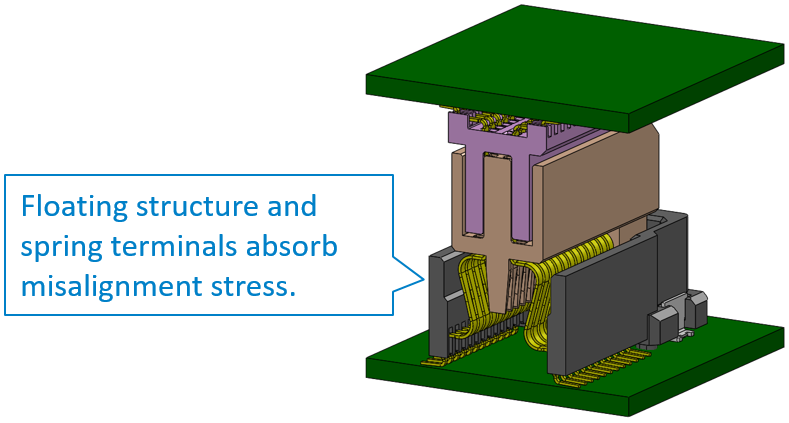 (5) Increases Design Flexibility
As the total number of components increase, accounting for misalignment and tolerances, the overall design becomes more challenging. Where finer tolerance management can increase cost to production. Floating connectors not only help reduce misalignment, they also increase the freedom in the overall design solution.
What Applications Use Floating Connectors?
Floating connectors are used in various industrial markets.
Industrial Applications
PLCs, CNCs, industrial PCs, Sensor Units and Controllers.
Automotive Applications
Car Navigation Systems, Audio Modules, and Wireless Modules.

What are Todays Requirements of a Floating Connector?
High-speed signal transmission in industrial equipment, such as smart factories and 5G communication require higher data transmission rates (10GBASE-KR, PCIe Gen3).

There is also a growing need for a connector solutions that provides high contact reliability.
JAE's Advanced Floating Board-to-Board Connector Solution
Taking advantage of floating technology, we have designed the AX01 board-to-board connector series.
This product family achieves both high-speed transmission and an innovative two point contact technology.
Conventional floating board-to-board connector :
If the two-point contact structure would have been used with a conventional connector solution, the contact insertion force would have been too high, causing plating abrasion and challenges with the contact reliability.
JAE's AX01 Series :
With AX01 board-to-board connector series, JAE was able to create a solution that meet customer demands of
Reliable Contacts and High Speed Transmission.
Floating Board-to-Board Connector Compatible with 2-point Contact and High-speed Transmission
Rolled Surface Contact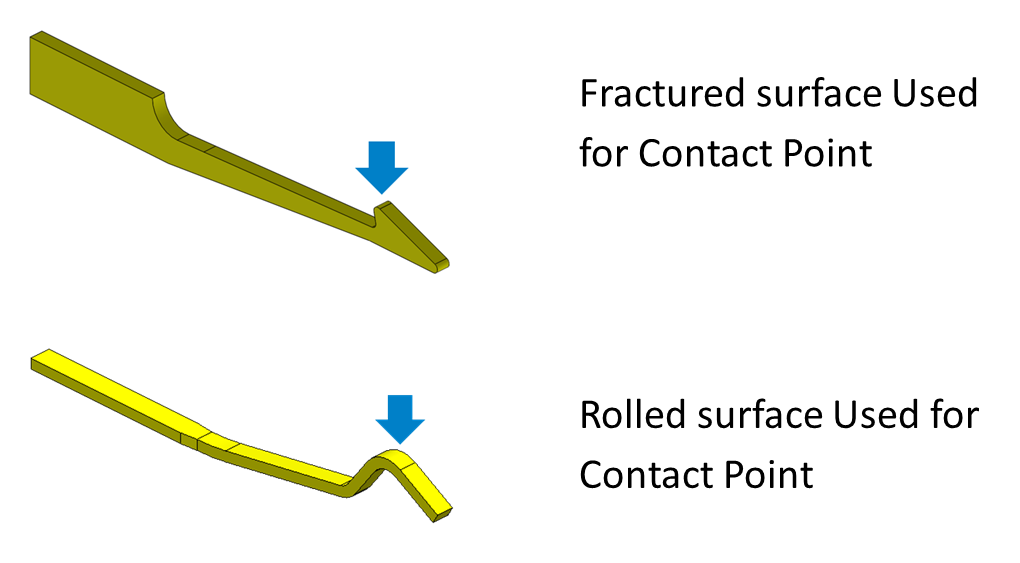 The use of a rolled surface instead of a fractured surface for the terminal contact reduces wear and ensures long-term contact reliability.
2-Point Contact Terminal
JAE's AX01 floating board-to-board connector has a unique terminal structure, where there are two contact points per terminal, and they are set apart from each other for greater reliability.
Due to the contact points/areas being separated, even if contaminates adhere to one contact point, the other contact point remains connected.

---
Is it true, that a failure due to poor contact point cannot be identified?

"A contact failure has occurred and even if one opens the unit and removes the board-to-board connector, it is still not possible to identify the defective part..."
---
Contamination on the contact points can move away when disassembling the unit, to where traces and root causes cannot be clearly identified. Leading to counter measures not being easily specified.
However, by using a board-to-board connector with a two point contact structure, removes the risk of failure caused by contaminance.
---
2-Point Contact Structure Compatible with High-speed Transmission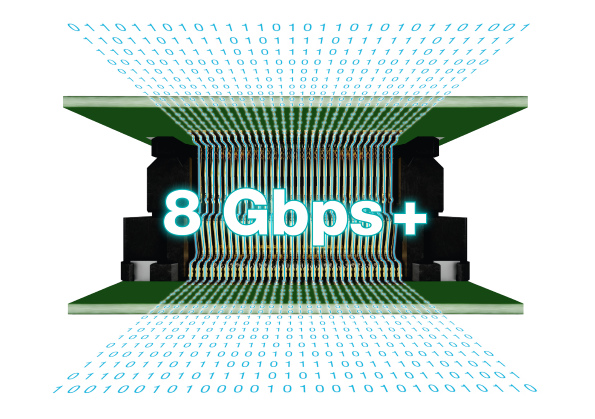 Increasing the number of contact points per terminal improves the contact reliability, but has a negative effect on the signal integrity, making it more difficult for use in high-speed data transmission applications. JAE's AX01 floating board-to-board connector has solved this challenge by adopting a stub-less two-point contact structure that does not hinder the flow of electric current.
It is a new floating board-to-board connector that has both two-point contacts and excellent high-speed transmission performance.
Other Features of AX01 Floating Board-to-Board Connector
Special cap protection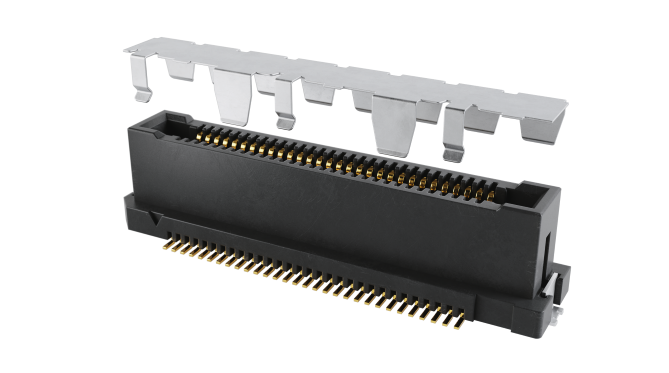 A special cap protects the connector's mating area prior to usage and facilitates pick and place automatic assembly.
Easy to mount, all SMT design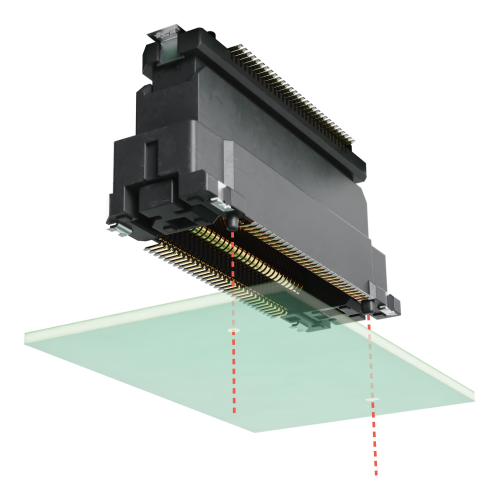 The alignment pegs help easy assembly. The hold downs are the same SMT design as the signal terminals that require reflow process only.
AX01 Floating Board-to-Board Connector Variation
The AX01 floating board-to-board connector is available in a variety of product types, ranging from 30 to 140 positions. The family allows for PCB stacking heights between 8 mm and 30 mm.
The items marked in the table below are available, those without the mark are under development.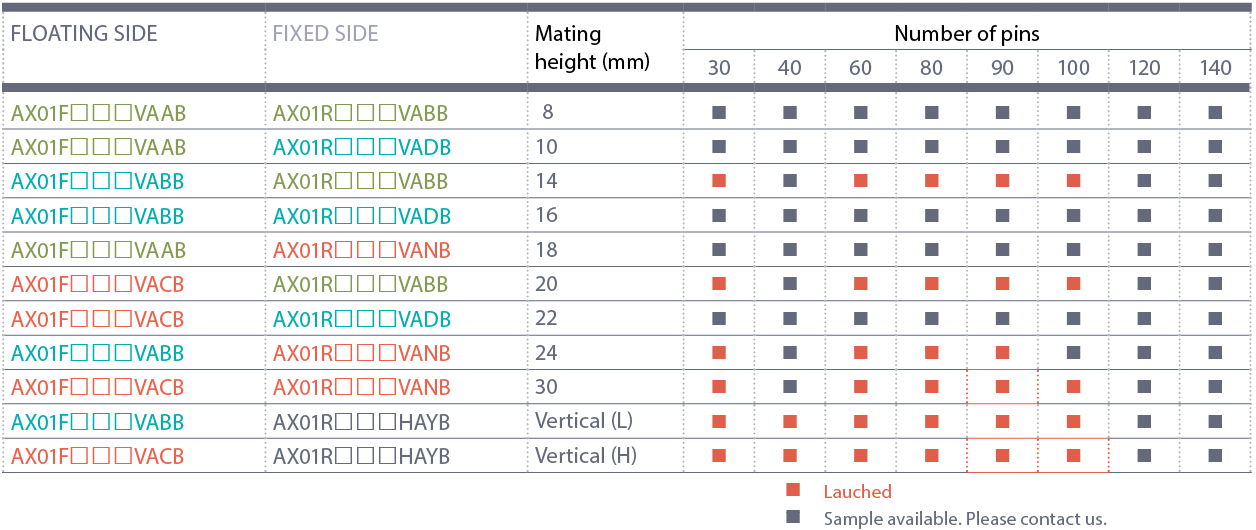 In addition to variations of parallel connection between PCBs, we also have two types of vertical type board-to-board connector.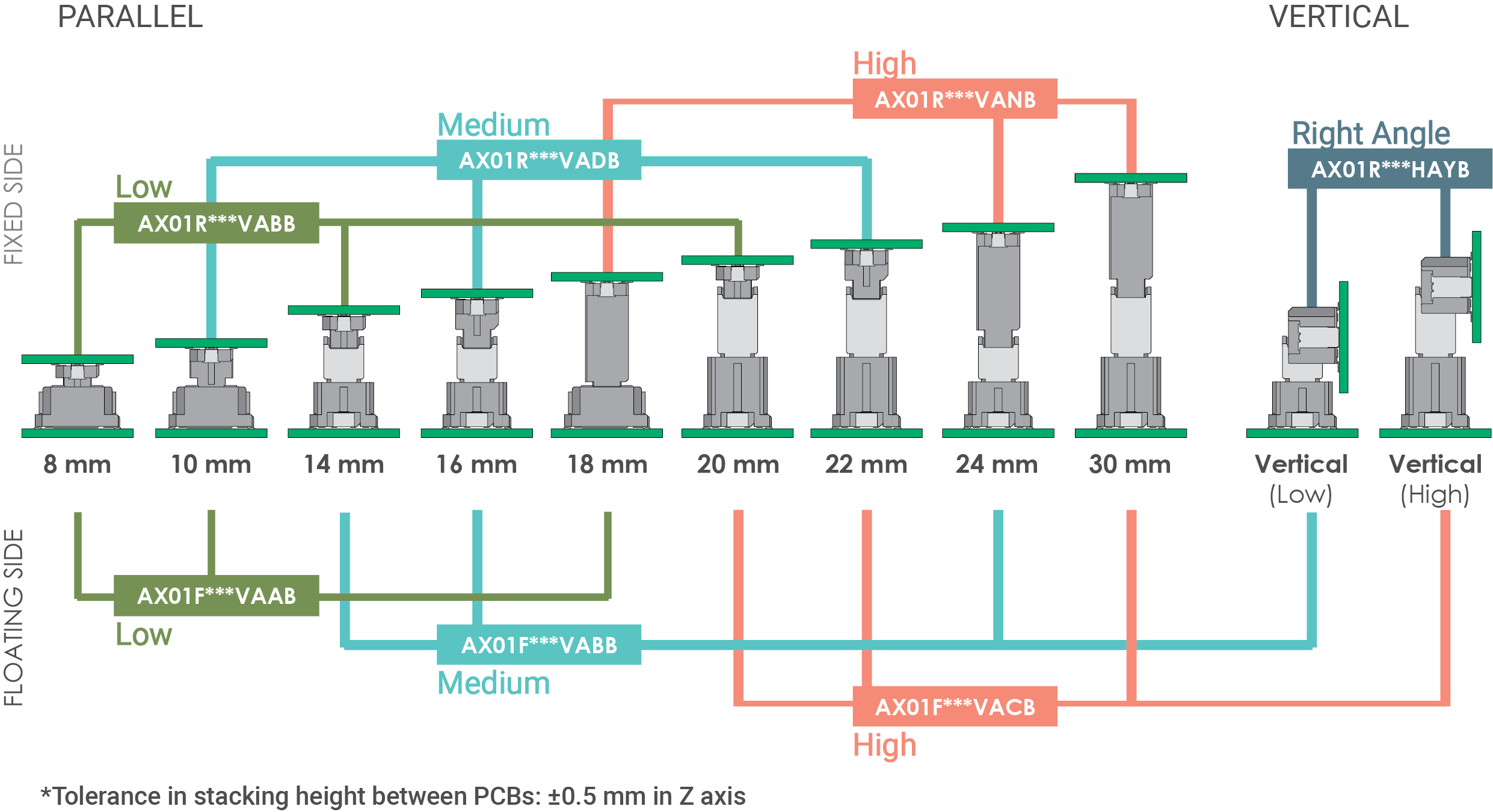 Download Floating Board-to-Board AX01 Brochure
WE CONNECT
BOARD-TO-BOARD HIGH SPEED TRANSMISSION FLOATING CONNECTORS
Download our comprehensive brochure to learn more about AX01 series high speed floating board-to-board connector.
---
Subject to change without notice. Errors and omission excepted.