Environmental Report 2011
JAE Group Forest
The JAE Group Forest was established as a symbol of the group's environmental policies in order to improve environmental awareness by providing experiences in forest preservation for group employees, including the protection of the Okutama forest and its watershed.
Ninety percent of Okutama-machi, Tokyo is covered in forest, and in the center lies Tokyo's crucial water source, which has a small river dam where water turtles make their home. However, hills that are left stripped bare after tree cutting are on the rise due to the slowdown in the forest industry in recent years, and there are worries that the region's ability to function as a water source will decrease.
JAE, which has a plant in Akishima-shi, was the first to join the Corporate Forest Program being promoted by the Tokyo Development Foundation for Agriculture, Forestry and Fisheries, in an effort to improve the environmental awareness of group employees, protect the Okutama forest, and preserve it as a watershed. This was due to the fact that the company relies on underground water, including municipal water, for the water resources it uses in its production activities. In June 2004, it established the JAE Group Forest as a symbol of its environmental policies.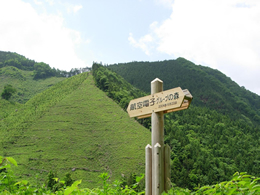 Employees of various JAE Group companies have planted some 3,500 trees, including those that provide beautiful seasonal color such as Prunus jamasakura (Mountain Cherries), Acer mono (Painted Maple), and Magnolia kobus, and others that are native to Okutama forest and provide food for the animals that live there, including Quercus serrata, Japanese zelkova, Japanese horse chestnut, Japanese walnut, and Japanese cypress. This is expected not only to protect the forest, but also to help preserve the biodiversity there.
The JAE Group Forest is primarily used for giving employees the hands-on experience they need to improve their environmental awareness. Thus far, more than 320 employees have planted trees, cleared underbrush while saplings grow, and placed nets for protecting against damage from deer.
The employees who participated got a strong sense of the importance of protecting nature through work that they normally would not have an opportunity to do.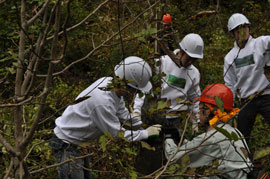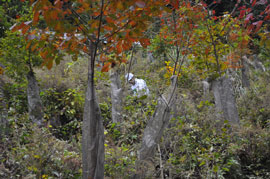 In FY 2010, work was conducted to remove vines that were impeding tree growth by clinging to trunks and branches. Although this was unfamiliar work for our employees, guidance provided by the Tokyo Forestry Union helped ensure the work was completed without any accidents or injuries.
Unfortunately, a light rain fell that day, but the employees who participated got a strong sense of the importance of protecting nature from the work they did amid the beautiful natural surroundings, which included autumn foliage that was just starting to change color.
Plans call for improving the environmental awareness of group employees, with the JAE Group Forest as the cornerstone, while at the same time pursuing activities with related bodies to protect the forest and its watershed.

Overview of JAE Group Forest
Location
Aza Osawairi, Hikawa, Okutama-machi
Area
1.33ha
Overview
•A third-party profit-sharing afforestation agreement between the JAE Group, forest owners, and Tokyo Development Foundation for Agriculture, Forestry and Fishery Term: Fifty years starting in 2004
•Tree types: Japanese cypress and broadleaf trees, such as Japanese cherry and Magnolia kobus.
Symbol of Group's Environmental Policies
Environmental Management
Environmental Performance
Environmental Accounting
Group Sites