JAE Releases the MA07 Series of In-vehicle USB 3.2 and DisplayPort 1.4 Compatible Board-to-Cable Connectors
September 20, 2023
JAE has developed and released the MA07 Series of high-speed connectors and harnesses compatible with USB 3.2 and DisplayPort 1.4 transmission, enabling next generation in-vehicle applications.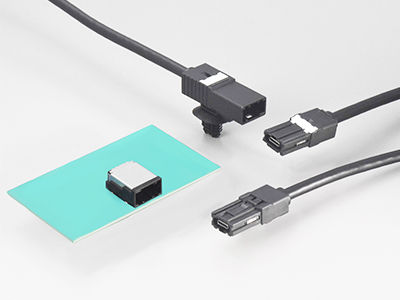 Enhancements to in-vehicle infotainment (IVI) have progressed in recent years, and the need for video signal transmission between ECUs and displays as well as for communication with PCs, smartphones, and gaming devices is increasing. The introduction of high-speed USB transmission for automotive applications has begun, and in anticipation of the popularization of in-vehicle USB transmission around the world, JAE has developed the MA07 Series of board-to-cable connectors, compatible with USB and DisplayPort transmission.
This product is compatible with USB 3.2 and DisplayPort 1.4 data transmission standards and will be able to accommodate the faster transmission speeds that will become necessary as data volumes increase. Also, since this series is designed based off of other JAE internal connector structures that have already been proven in the market, contact reliability and robustness are ensured, as well as the environmental resistance necessary for in-vehicle connectors.
Features
Evaluated against the USCAR2 specification
Transmission signal: USB 3.2 Gen 2 × 2: Maximum data transfer speed 20Gbps (10Gbps × 2 lanes)
DisplayPort 1.4: Maximum bandwidth 32.4Gbps (8.1Gbps × 4 lanes)
Receptacles are supplied in tape and reel packaging and can accommodate through-hole reflow
Plugs and relay receptacles are supplied as complete harnesses
Robust structure employs outer housing that prevents insertion at an angle
Four key variations prevent mis-mating
Relay harness option is available, and a chassis mounting clip can be added
STP cable employed in high-speed communication lines
Applicable Markets
In-vehicle infotainment (IVI) (Example of use: Connection between head unit and I/O box)
General Specifications
| | |
| --- | --- |
| Number of Contacts | 24 positions |
| Operating Temperature Range | −40°C to +105°C |
| Insulation Resistance | 10MΩ or more (mated state) |
| Rated Current | GND 3A / Signal 0.25A |
| Rated Voltage | 20V |
| Dielectric Withstanding Voltage | 100VAC(when applied for one minute in mated state) |
| Applicable PCB Thickness | t 1.2–1.6mm |
| Applicable Wire | Specialized cable used |
Part Number
Receptacle
| | | |
| --- | --- | --- |
| No. | Part Number | Key Code (color) |
| 1 | MA07S024XD1R100 | A (black) |
| 2 | MA07S024XD2R100 | B (gray) |
| 3 | MA07S024XD3R100 | C (green) |
| 4 | MA07S024XD4R100 | D (blue) |
Plug and Relay
Specifications such as cable length need to be adjusted for the plug and relay harness, so please contact us with any special requests.
Information and details given here are as of the date of publication. Please note that the details may be changed.