New Release: Fast Charging Standard CCS Type-1 Compliant KW11 Series Connectors for EV Charging
August 22, 2023
JAE has developed and released the KW11 Series CCS*1 Type-1 fast charging standard compliant connectors for EV charging.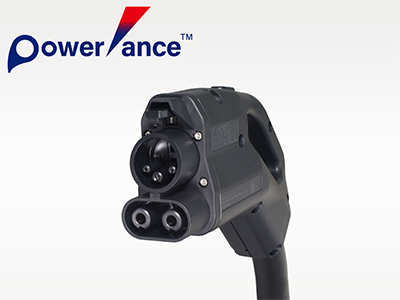 The global shift toward EV (electric vehicles) adoption is accelerating rapidly, and many countries are making plans to establish infrastructure for fast charging. JAE has been developing the KW Series for EV charging infrastructure since 2010, when EVs started to gain popularity, and has continued to bring connectors compliant with various standards, including the CHAdeMO*2 standard, to market. In order to respond to the demands of the global market, we have released the KW11 Series connectors to support CCS Type-1 fast EV charging infrastructure.

From a safety perspective, the KW11 Series connectors have acquired UL*3 recognition. Additionally, the latch used to keep the connector engaged with the inlet on the EV side, is reinforced with a metal core to prevent damage to the latch, which is a common failure point in the field. The connector body has a double insulation structure that provides waterproof protection of live components within the connector, so that even if there is ingress of water due to damage to the exterior, short circuits (shorts) are prevented. In this and other ways, we create specifications that reflect our company's unique know-how while accommodating the needs of the EV charging infrastructure market through the proven performance of our KW series products.

JAE markets EV charging connectors, which combines durability and high-quality performance, under the Powerlance™ brand. A brand which aims to deliver products that are safe and easy to use, while also providing high environmental durability.
JAE will continue to meet the wide variety of customer needs by expanding the lineup of KW Series EV charging connectors.

Features
Compliant with the CCS Type-1 fast charging standard
UL recognized
Improved latch with a patented metal core reinforcement
Safe design that protects live components in the connector in case of water ingress
Handle design that is easy to grip even while wearing thick cold-weather gloves
Highly reliable design using durable environment-withstanding materials
Applicable Markets
Fast charger for EV (CCS Type-1 compliant)
General Specifications
Item
KW11 Series Connectors
Number of Contacts
2x DC contacts
1x PE (Ground)
2x Signal contacts
Rated Current
125A & 200A power supply, 2A signal
Rated Voltage
DC 1000V power supply, AC 30V signal
Insulation Resistance
5 MΩ min.
Dielectric Withstanding Voltage
AC 3,000 V for one minute
Durability
10,000 cycles
Insertion Force
75 N max.
Operating Temperature Range
−30°C to +50°C
*1: The CCS (combined charging system) is a charging interface standardized by CharIN e.V. (Charging Interface Initiative)
*2: CHAdeMO is a brand name of the fast charger protocol proposed as a standard specification set by the CHAdeMO Association.
*3: UL is a laboratory who standardizes product safety and is widely trusted in North America and globally.
Information and details given here are as of the date of publication. Please note that the details may be changed.