IEC60601-1: 2012 Compatible New Release of Anti-shock D-sub Pin Contact for Medical Devices
JAE has expanded our D-sub Series lineup by introducing an anti-shock D-sub specifically to be used for medical devices, such as electrocardiography.
For years we have been offering the D-sub Series, a representative of a highly-reliable connector used in a variety of electrical devices. We have developed a D-sub connector with an anti-shock feature for medical equipment (Class I and II devices).
In an electrocardiography machine, connectors are used to connect the main unit of the device to the lines lead to the patient. To prevent electric shock to patients, a new code, IEC60601-1: 2012 (8.5.2.3), has been implemented for medical devices as a safety standard.
This product corresponds with the anti-shock features satisfying the above safety standard by having a resin insulated tip on the pin contact. This patent pending pin contact utilizes a unique structure originated by JAE.
This product is compatible with our existing D-sub socket contact connectors. It ensures equivalent electrical characteristics as our existing D-sub Series with proven results and now with added safety assurance.
Features
Compliant with IEC60601-1: 2012 clause 8.5.2.3
Electric shock prevention structure utilizing a resin insulated pin contact tip. (Patent pending)
Insulator tip pressure strength: 10N max.
Equivalent electrical characteristic with same form factor and effective contact length as our existing pin contact D-sub Series.
Compatible with our existing D-sub Series socket contact connectors.
Applicable Markets
Only for Class I and II medical devices
General Specifications
| | |
| --- | --- |
| Number of Contacts | 15 position |
| Contact Resistance | 4.0mΩ max. (initial), 8.0mΩ max. (posttest) |
| Dielectric Withstanding Voltage | AC500Vr.m.s for 1 minute |
| Rated Current | 5A per position |
| Insulation Resistance | 5000MΩ min. |
| Durability | 500 times |
| Operating Temperature | -55°C to + 105°C |
Materials and Finishes
Component
Material / Finish
Insulator
PBT
Pin Contact
Main Body
Base material: Copper alloy
Contact area/ terminal area: Au plating over Ni
Pin Contact Tip
PPS
Shell
Steel
---
Dsub-ME Series (For more details) >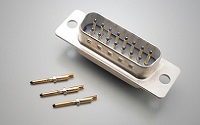 ---
Information and details given here are as of the date of publication. Please note that the details may be changed.