HB03 Series Compact Cable In-line Connectors for Industrial Equipment Has been Developed
JAE has developed the HB03 Series compact cable in-line connector for easy cable wiring. This connector series caters to a wide variety of industrial equipment, such as robotics and automated machinery.
There has been an increased trend in factories becoming automated, which has led to many robots and automated machines being implemented in manufacturing facilities. The same trend requires devices to have smaller profile for increased space efficiency. Each generation of the devices are becoming increasingly sophisticated and due to the functional complexity they allow less amount of internal space for routing cables.
To cater to these trending requirements, JAE has developed the HB03 Series compact in-line connector which is ideal for threading cables through limited spaces efficiently. The connector features a sophisticated one-touch lock mechanism where the locking tab does not protrude from the connector, maintaining the space conscious design.
When the connector is used in-line as intended it is necessary to thread the connector through the equipment before mating. However, when a path is tight the locking tab may interfere with the connector being fed through. The locking tab of the HB03 Series is streamline with the connector, as shown in the figure below.
With no protruding tabs the connector can pass through tight spaces inside a device with relative ease.
Additionally, the connector's secure locking can be ensured by the tactile click even when mating cannot be confirmed visibly. The HB03 is a UL recognized connector series and can be used with safety assurance.
Features
Compact cable in-line "One-touch Lock" connector
Space efficient shape with the locking tab being streamline with the connector
Multiple contact variations: 2, 4 and 8 positions (8 position scheduled to be released in fall 2018)
UL recognized Products: File No.E67741
Applicable Markets
Industrial equipment, such as robotics, automatic machines, machine tools, and general equipment
General Specifications
Number of Positions
2, 4, 8 (specs for all positions)
Rated Current
(per position)
Contact Size
Current Value
#28
1A
#24
2A
Rated Voltage
250VAC, 250VDC (Voltage Category: II, Pollution Level: 2)
Applicable Cables
Contact Type
Wire Size
Insulation Outer Diameter
#28
#30 ~ 28 AWG
⌀0.6 ~ 1.2mm
#24
#26 ~ 24 AWG
⌀0.9 ~ 1.5mm
Contact Resistance
10 mΩ x. (initial), 20 mΩ max. (post-test)
Insulation Resistance
1000MΩ min. (initial), 1000MΩ min. (post-test)
Dielectric
Withstanding Voltage
1500VAC (for 1 minute)
Terminal Retention
Strength
3N min.
Durability
100 cycles

Operating

Temperature Range

-25°C to +105 °C (including temperature rise)
Note: 8-position products are scheduled to be released in fall of 2018
Material and Finishes
| | |
| --- | --- |
| Component | Material / Finish |
| Contact | Copper alloy/Au plating over Ni |
| Insulator | Synthetic resin |
---
HB03 Series (For more details) >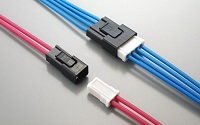 ---
Information and details given here are as of the date of publication. Please note that the details may be changed.