Straight Receptacle Has Been Added to Our 12G-SDI Compatible Coaxial Connector BNC0 Series
JAE has developed a straight receptacle to add to the variation of the BNC0 Series line-up. The BNC0 Series is a coaxial connector with superior mounting feature and high-frequency performance, compatible with 12G-SDI (SMPTE ST-2082 1), which is ideal for 4K uncompressed transmission. It will cater to a wide range of applications along with our existing right angle receptacles.
Recently there has been an increase in high-resolution 4K/8K video equipment used in various applications such as broadcasting equipment, network cameras and medical equipment. This has led to an increase in video data volume, which requires an increase in transmission speeds. To comply with this industry trend, there has been great demand for corresponding interfaces, including connectors. Conventionally, 4K uncompressed video transmission required the use of four 3G-SDI channels. However, there were industry concerns about the space and wires required for the interface. To alleviate these concerns, there is a growing demand for a 12G-SDI standard connector that is capable of transmitting uncompressed video through a single channel. Therefore, in 2018, we developed a BNC-coaxial connectors that complies with this standard and industry requirement and are gaining popularity. Now, in order to address the widening range of needs we have developed the straight receptacle to add to the line-up.
For this product, being straight type; allowing vertical cable exit from the board, while maintaining the features of the BNC0 Series in terms of high-frequency characteristics and superior mounting, it is especially suited for use in cameras, monitors, etc. where there are restrictions for directions of the cable exit and the lengths in depth.
In addition to the right angle type, the BNC0 Series in total can meet a wide range of needs.
We also provide our customers supporting data for circuit design to reduce high-frequency designing work time from the customer's prototype stage.
This product can be used for a wide variety of 4K/8K applications, such as broadcasting equipment, various types of audio/video equipment, measuring equipment, network cameras and medical equipment. JAE is continuously developing high-speed transmission products to satisfy the increasing requirements for high-definition imaging.
Note 1) SDI (Serial Digital Interface): High-speed video signal Serial Interface standard
Note 2) 3G-SDI: SDI standard for transmitting 3Gbps
Note 3) 12G-SDI: SDI standard for transmitting 12Gbps
Note 4) SMPTE: Society of Motion Picture and Television Engineers
Note 5) ST-2082-1: Specification for Electrical Characteristics Subdivided within SDI
Features
Designed with sufficient electrical characteristics margin to comply with 12G-SDI
standard even with the use of general FR-4 board
Space saving design by minimizing the inner panel portion of the connector body
Minimum pitch between adjacent connectors is 16mm when multiple connectors are mounted
Durability: 5,000 mating cycles
Screw mount from outer panel surface using a standard screw (M2.6)
Compact shell allows for reduced time for mounting (e.g., pre-heating time)
Applicable Market
Broadcasting equipment, various types of AV equipment, measuring equipment, network cameras and medical equipment.
General Specifications
| | |
| --- | --- |
| Rated Voltage (AC) | 250Vr.m.s |
| Rated Current (DC) | 1A |
| Operating Temperature Range | -40°C ~ + 85°C |
| Storage Condition | -20°C ~ + 50°C Relative humidity: 90% RH or less |
Materials and Finishes
Component
Material / Finish
Insulator
Heat-resistant resin
Shell

Zinc alloy/Ni plating

Shell terminal (4 terminals)/ pre-solder coating

Contact
Copper Alloy/Au plating over Ni
---
BNC0 Series (For more details) >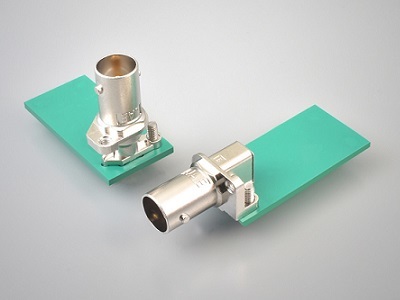 ---
Information and details given here are as of the date of publication. Please note that the details may be changed.