MX72A/B Series Self Rejecting AK2 Squib Connectors for Airbag Inflators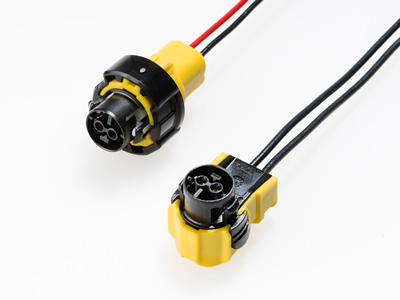 JAE has developed the AK2 standard compliant MX72A/B Series squib connectors with improved workability. The AK2 standard interface is now becoming a global standard for automotive airbags.
In order to improve automotive safety, there has been importance placed on the introduction of safety features to protect the passengers as well as pedestrians. In addition to the usual driver's seat and passenger's seat, airbags are being installed in many other areas of vehicles such as on the side, the rear seats, and in the front of the vehicle for pedestrian safety. The number of airbags is expected to continue to increase further in the future.
The AK2 type squib (igniter) connector has been adopted as the standard interface for automotive airbag inflators in Europe and North America, and is growing in popularity globally. However, a lot of these connectors are designed to ensure complete mating by inserting a component called a CPA (connector position assurance) after the connectors are mated, which requires a secondary operation. In addition to requiring an additional step during installation, if the airbag is located in an area where the connector engagement cannot be visually confirmed by the operator, there is a risk of incomplete mating due to mis-insertion of the CPA device. In order to make the installation process faster and more reliable, JAE has developed the MX72A/B Series AK2 squib connectors which ensures a fully reliable connection in a single operation.
The MX72A/B Series are connectors that eliminate incomplete mating with a spring operated self-rejection structure. It provides a positive audible and tactile feedback, which allows for confirmation of complete engagement in a single operation. Therefore, the MX72A/B Series improves workability and reliability of the airbag system by preventing incomplete engagement.
Three mis-mating key options, compatible with USCAR and ISO standards, are available in case multiple connectors are on one board.
Other products for airbag applications from JAE include the MX67 Series ECU connectors, and the MX36 and MX37 Series in-line connectors. JAE will continue to provide reliable connectors for use in airbag applications which are expected to further increase in the future.
Note 1) This product is sold only as a cable harness and is not provided as an individual connector.
Note 2) CPA: Connector Position Assurance (a method of inserting a separate component in the last step of the connector mating process to confirm if the connector is completely engaged)
Features
Ensures complete mating without the use of a CPA
Serviceable connection (insertion and removal possible)
Mis-wiring inspection possible using terminal check hole in the connector
Three polarization / key codes with different colors
Reliable and stable terminals with three contact point each and gold plating
Applicable wire sizes are 0.35 sq to 0.5 sq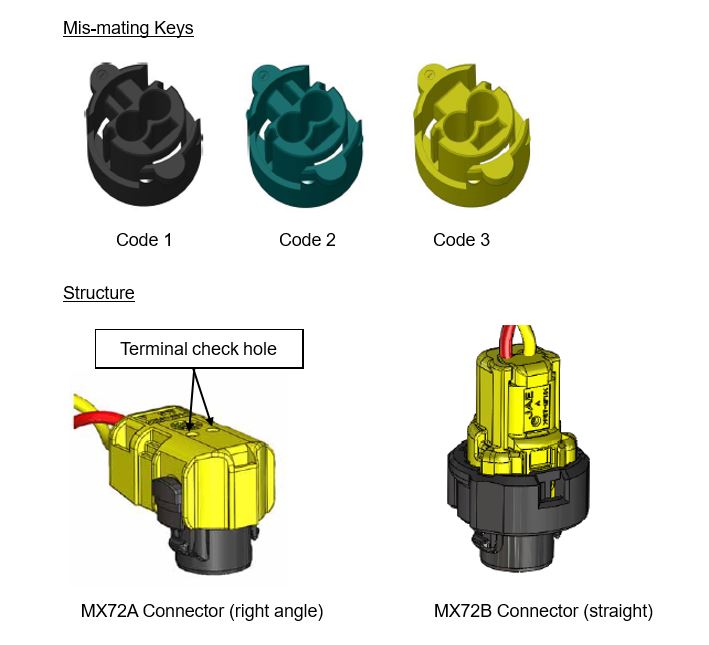 Applicable Market
Inflator for airbags
General Specifications
| | |
| --- | --- |
| Number of Contacts | 2 positions |
| Applicable Standard | USCAR-2, USCAR-21 |
| Operating Temperature Range | -40℃~+100℃ |
| Connector Insertion Force | 45 N max. |
| Contact Resistance | 10mΩ max. |
| Applicable Wire | FLRY A, B 0.35 sq, 0.5 sq |
Materials and Finishes
MX72A Right Angle Socket Connector
| Component | Material / Finish |
| --- | --- |
| Socket Housing | PBT-GF15% |
| Cover | PBT-GF15% |
| Slider | POM |
| Spring | Music Wire |
| Ferrite | NiZn |
MX72B Straight Socket Connector
| Component | Material / Finish |
| --- | --- |
| Socket Housing | PBT-GF15% |
| Cover 1 | PBT-GF15% |
| Cover 2 | PBT-GF15% |
| Slider | POM |
| Collar | POM |
| Spring | Music Wire |
| Ferrite | NiZn |
Socket Terminal
| Component | Material / Finish |
| --- | --- |
| Socket Terminal | Copper alloy / partial Au plating |
---
MX72A/B Series (For more details) >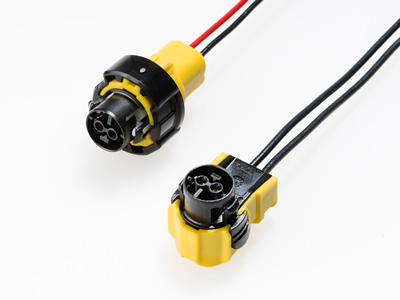 ---
Information and details given here are as of the date of publication. Please note that the details may be changed.