New Release: FO-BD7D Series Weather-resistant Optical Connectors Compatible with On-site Harness Assembly
October 3, 2023
JAE has released the FO-BD7D Series waterproof optical connectors with outstanding heat dissipation properties. They are intended for equipment installed outdoors, such as base stations and other equipment. Having the optical module incorporated into the plug connector and the ability to connect to customer provided LC harnesses provides simplified on-site serviceability.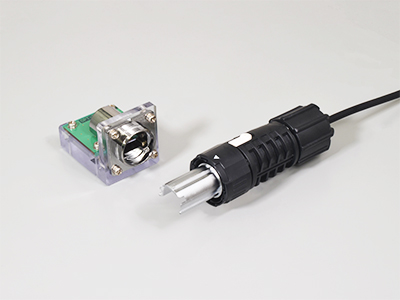 The advancement of base station installations is increasing with the global popularization of 5G communication services. Traditionally, optical modules incorporated into base stations for communication with the core network are easily affected by heat, and once the base stations have been installed, servicing the optical module in the field is extraordinarily difficult. In addressing this problem JAE has developed the FO-BD7 Series waterproof optical connectors, which improve heat dissipation and field serviceability by incorporating the optical module into the plug connector. The connector series are designed with weather resistance for equipment needing to be installed outdoors.
The preceding FO-BD7 Series also incorporates the optical module into the plug connector to address a common thermal issue when the optical module is located inside the base station enclosure. By incorporating the optical module into the plug connector, it can easily be assembled or replaced while the technician is safely on the ground rather than in the air such as on top of pylons where base stations are commonly installed. Customers in Japan already use the single-core FO-BD7 harnesses with great satisfaction.
The newly released FO-BD7D Series is compatible with customer provided LC duplex connections, and is more convenient to use. The harness can be assembled on-site, rather than having to rely on pre-assembled custom harness solutions.
In addition to base stations, this product can also be used in a variety of other equipment that are installed outdoors, such as in surveillance cameras.
Continually innovating with new products, JAE strives to accommodate the diverse needs of its customers.
Features
Allows for on-site assembly
Simplified field service of optical modules at a secure nearby location
Optimal thermal management provided by having the optical module mounted into the plug connector
IPX7 rated ingress protection
Outdoor environmental durability
Applicable Devices and Markets
Base stations for cellular communication and other equipment installed outdoors, such as surveillance cameras
General Specifications
| | |
| --- | --- |
| Item | Specification |
| Operating Temperature Range | −40°C to +85°C (connector alone) |
| Applicable Cable Diameter | Ø5 mm max (requires optical cable) |
| Durability | 500 cycles |
| Cable Clamp Strength | 100 N min. |
| Ingress Protection | IPX7 (in mated condition) |
| Corrosion Resistance | 1000 hours in salt spray |
Materials/Finishes
| | |
| --- | --- |
| Component | Materials/Finishes |
| Barrel | Zinc alloy with chrome plating |
| Gland nut | Weather-resistant resin |
| Bushing | Synthetic rubber |
| O-ring | Synthetic rubber |
External Dimensions
Information and details given here are as of the date of publication.
Please note that the details may be changed.