January 30~31, 2019 DesignCon, Exhibition.
■Exhibition Name
■Trade Show Date

January 30 to 31, 2019
12:30 - 18:00
■Location

Santa Clara Convention Center
Santa Clara, CA
■Booth

403
■Admission
■Exhibits

PAM4 56Gbps Ethernet
Internal High Speed Connectors
High Speed Automotive
Battery Management Systems
Cabling & Connectors
JAE Exhibits Information CLICK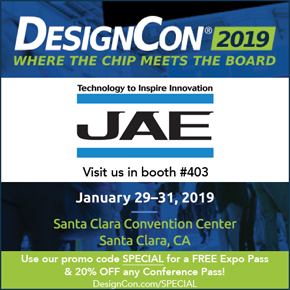 Contact Us
Feedback
Japan Aviation Electronics Industry, Ltd.
Corporate Planning and Investor Relations Div.
21-1, Dogenzaka 1-chome, Shibuya-ku, Tokyo 150-0043, Japan
Tel : +81-3-3780-2711 Fax : +81-3-3780-2733
Information and details given here are as of the date of publication.
Please note that the details may be changed.