Smart Textile Connector "RK01" Series Has Been Launched

JAE has launched the RK01 Series home washable connectors that are ideal for smart textiles used for wearable clothing devices.

The popularity of wearable devices is expected to grow as new technological innovation allows for remote monitoring and diagnosis of an aging society with longer life expectancy and lower birthrate. In particular, smart clothing, which is made from smart textiles using conductive fibers and other materials, is expected to be a major driver of innovation and market growth. Smart clothing can collect more advanced information at a medical level, such as electrocardiography and whole-body motion, which is difficult to achieve with other devices such as smart watches. With smart clothing becoming increasingly sophisticated with more sensors and wiring for simultaneous sensing of multiple biological information and detailed motion sensing, precise and stable high pin count connections to the transmitter and power supply are more important. In addition to a reliable connection while the transmitter is connected, it is necessary that the connection is easy to attach and detach regularly to allow washing of the clothing and replacement of batteries.

Amid expectations for the use of smart textiles in the medical / health care, home monitoring, and sports fields, we have commercialized and launched the RK01 Series connector for smart textiles.

Taking into account the expected use case, this product is compatible with JIS L 1930 (C4G) test for washing clothes. In addition, it features a unique structure that allows for one-action easy attachment and detachment of the connectors even with high pin counts. It also adopts a snap button type structure, which is widely used in apparel products, making it an easy to handle and user-friendly connector. At the same time, the contact area has been optimized for high contact reliability, which is difficult to achieve with the conventional snap button type contacts. These features enable stable measurements by devices such as electrocardiography, electromyography, respiration, bioimpedance, and motion sensors. In addition, by combining general-purpose contacts and custom insulators, we have a highly versatile solution that can be customized to suit a variety of smart textile materials and pin count requirements of our customers.

RK01 Series contributes significantly to the miniaturization and sophistication of smart textile products through high pin count compatibility and high connectivity reliability.

Smart textiles: strings and textiles made of electrically conductive fibers and ink
Smart clothing: clothing-type wearables using "smart textiles" described above
JIS L 1930 (C4G) test: Domestic washing test methods for textile products specified by the Japanese Industrial Standards (JIS)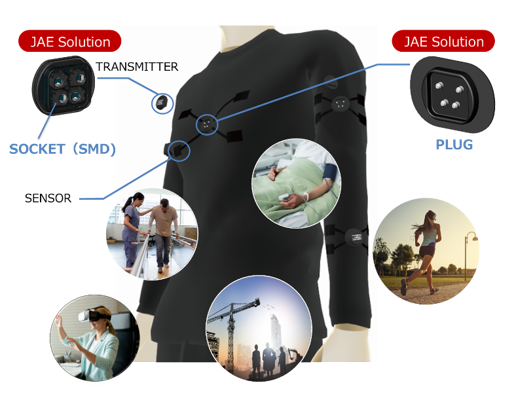 Features
Washable in a home washing machine (When transmitter is detached)
Proprietary contact structure which allows for multiple circuits to be attached and detached in one action
Highly versatile: supporting a wide variety of conductive materials and pin counts
Waterproof when the transmitter is mated
Applicable Markets
For products in various markets using smart textiles, such as smart clothing
General Specifications
| | |
| --- | --- |
| Operating Temperature Range | -20°C to + 50°C |
| Number of Contacts | 2 positions or more |
| Contact Resistance | Initial: 1Ω max., After test: 5Ω max. |
| Durability | 500 times |
| Wash Test | JIS L 1930 (C4G) |
Material/Finishes
| General Parts | Material |
| --- | --- |
| Plug Contact | Alloy |
| Receptacle Contact | Alloy |
| Customized Parts | Material |
| --- | --- |
| Bottom Insulator | PC |
| Top Insulator | PC, others |
Components
Transmitter side: Receptacle contact is mounted to the surface of the printed circuit board inside transmitter.
Textile side: General parts and customized parts are sold as a kit to comply with various designs that use different materials and number of contacts.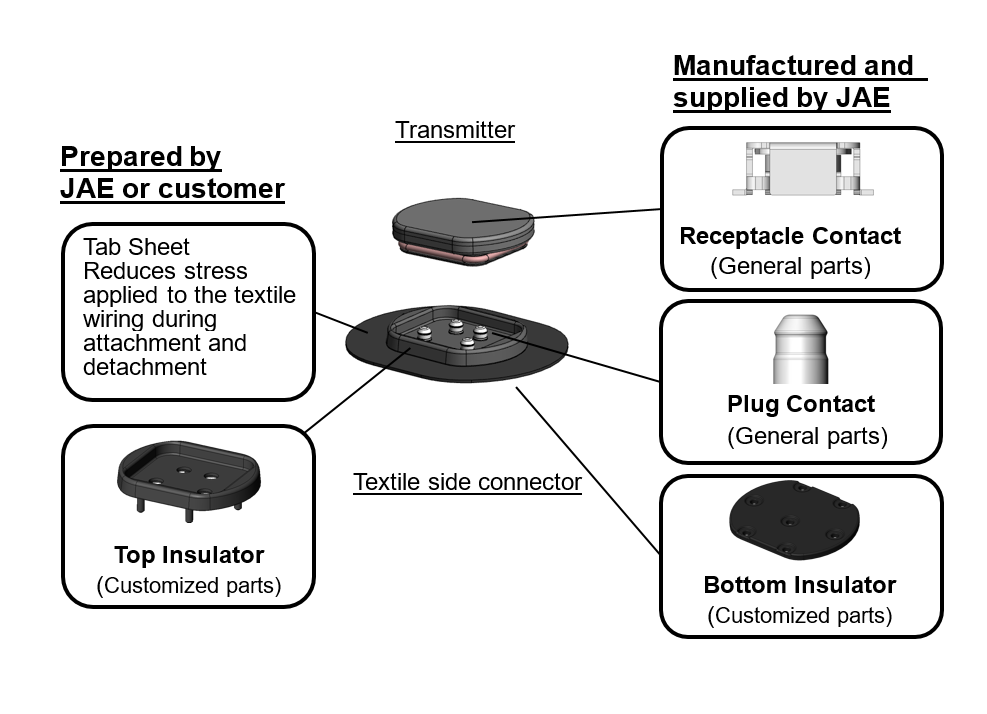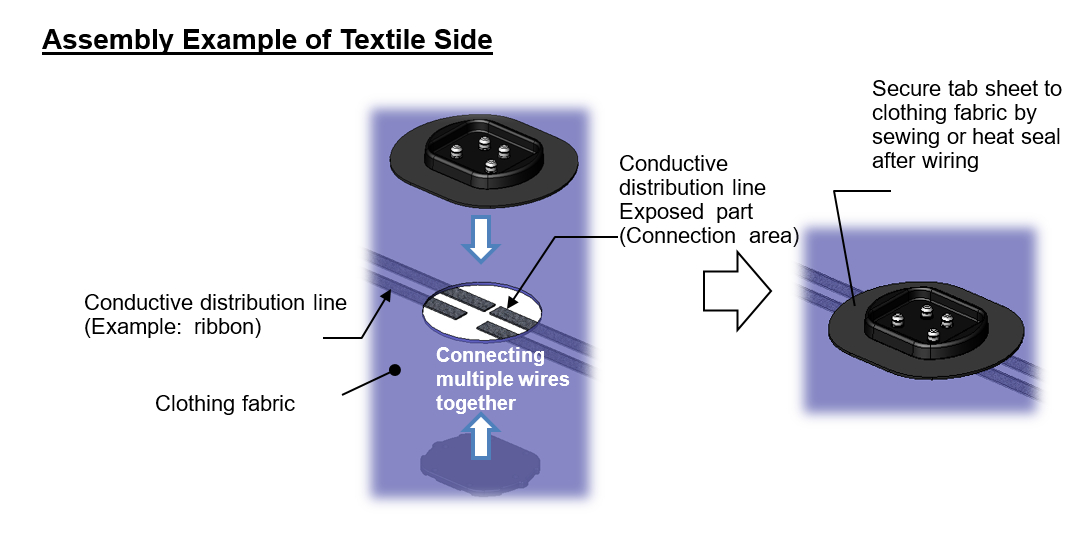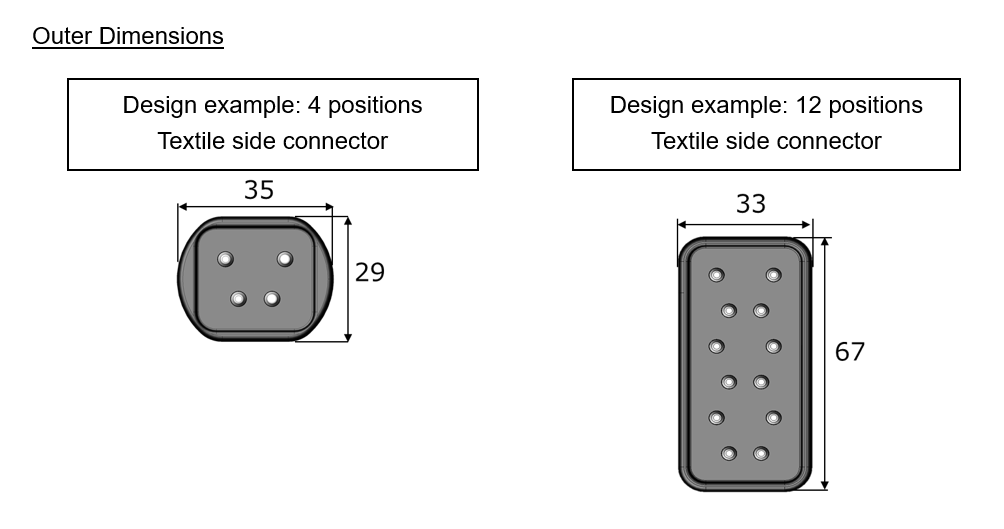 Information and details given here are as of the date of publication.
Please note that the details may be changed.