AX01 Series, Floating Board-to-Board Connector, Has Added New Pin Counts and Height Variations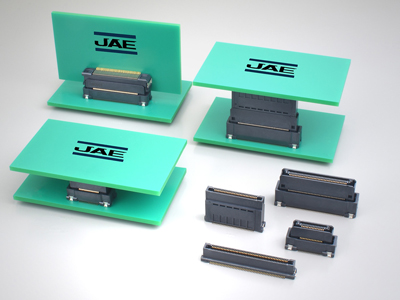 October 15, 2020
JAE has newly added pin count and stacking height variations to the floating board-to-board connector AX01 Series.

Automated production lines using robots and automated machines are becoming increasingly popular to improve productivity and quality, as well to reduce requirement in manpower. The requirement for floating board-to-board connectors is growing. A connector to support automated assembly, while ensuring vibration resistance and contact reliability. Also, with the increasing speed of information processing, along with the adoption of IoT and networking of industrial equipment, high-speed transmission is a key feature in connectors.

To cater to these trends we had previously launched the AX01 Series, two-point contact structure floating board-to-board connectors with 8Gbps+ high-speed transmission, specific to the 30mm stack height 100 pin count variation. Now we have added to the series with new pin counts and stacking heights.

This product has a floating structure of ±0.5 mm in both X & Y directions, which will absorb positional shifts and misalignments during mounting and assembly processes. Combine it with mating guides and the connector is ideal for robot assembly. Conventional rigid board-to-board connectors have difficulty with alignment when a single board uses multiple board-to-board connectors. This connector features a floating structure that can absorb positional misalignments during mating between boards and allowing the simultaneous use of multiple connectors on a single board.

The two-point contact provides a highly reliable connection and will ensure uninterrupted continuity even if one contact point is obstructed by a contaminant. To improve operability this connector series implements a roll surface contact structure, which reduces insertion and removal forces generally found in conventional two-point contact connectors. In response to the growing demand for high-speed transmission, we have achieved transmission speeds exceeding 8 Gbps, equivalent to 10 GBASE-KR(*1) and PCIe Gen3(*2).

Recently 31 new AX01 Series parts, with pin counts between 30 to 100 and stacking heights of 14mm to 30mm, have been added to the lineup and are now available. While in development, we can also offer samples of all variations of parallel and vertical types between 30 and 140 pin counts and stacking heights of 8 to 30 mm.

Note 1) 10 GBASE-KR: 10 Gigabit Ethernet transmission, one of the communication standards for building computer networks specified by IEEE, and which specifies communication between printed circuit boards within equipment.
Note 2) PCIe Gen3 (PCIExpress 3.0): One of the serial bus standards specified by PCI-SIG and compatible with 8 Gbps transmission.
Floating Amount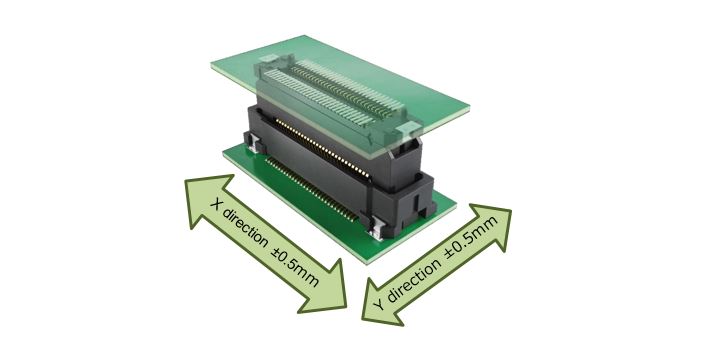 AX01 Series Variations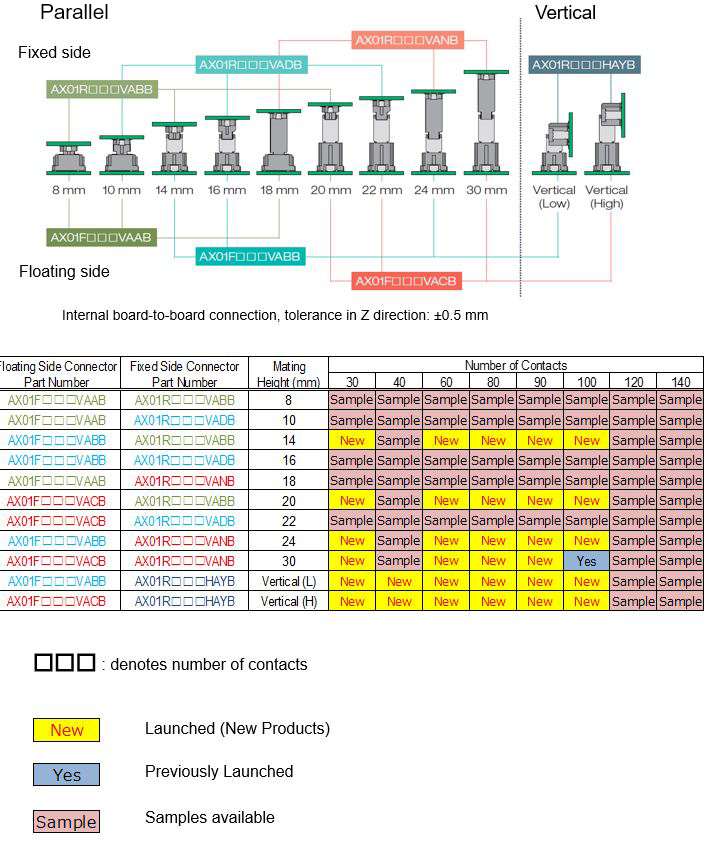 Note) Please contact us for details.
Features
Floating tolerance: ±0.5 mm in both X & Y directions
Stacking height tolerance between boards: ±0.5 mm in Z-axis direction
Two-point contact structure ensures high contact reliability
Low insertion and removal forces achieved by roll surface contact structure
8 Gbps+ high-speed transmission (10 GBASE-KR and PCIe Gen3 equivalent)
Excellent mating operability with large guides, and supports automatic assembly and mating (mating guide length: ±1.0 mm)
Supports automatic mounting
Allows for multiple connectors to be used on a single board
Keyed to prevent mis-mating
Clear visibility of solder joints for visual inspection
Applicable Market
FA equipment, semiconductor manufacturing equipment, office machines, communication equipment, measuring equipment, broadcasting equipment, gaming and arcade machines, and other various applications
General Specifications
Pitch
0.635 mm pitch
Number of Contacts
30 ~ 140 positions
Stacking Height
8 ~ 30mm
Floating Movable Amount
X direction: ±0.5 mm, Y direction: ±0.5 mm
Operating Temperature Range
-40℃~+105℃
(including conduction temperature rise)
Rated Current
0.5A
Rated Voltage
AC50V rms.
Durability
100 mating cycles
Materials and Finishes
Floating Connector
| Component | Material / Finishes |
| --- | --- |
| Fixed Insulator | LCP |
| Floating Insulator | LCP |
| Contact | Copper alloy / Au plating |
| Hold-down | Copper alloy / Sn plating |
| Cap | Stainless steel |
Fixed Connector
| Component | Material / Finishes |
| --- | --- |
| Insulator | LCP |
| Contact | Copper alloy / Au plating |
| Hold-down | Copper alloy / Sn plating |
| Cap | Stainless steel |
---
AX01 Series (Floating Connector)
(For more details) >
---
Information and details given here are as of the date of publication.
Please note that the details may be changed.