JAE Philippines honored with the prize "Hall of Fame for Outstanding Employer" by Philippines Economic Zone Authority: PEZA
December 24, 2020
JAE Philippines, one of manufacturing bases of the JAE Group, received the award "Hall of Fame for Outstanding Employer" from The Philippine Economic Zone Authority: PEZA.
The award "Outstanding Employer" is conferred on a prominent company operating in the Philippine Economic Zone, appreciated for excellent achievement in respect of creation of new jobs, welfare of employees, and good labor-management relations. JAE Philippines, in this field, has won this honor three times in the past, in 2014, 2017 and 2019. Also in 2020, JAE Philippines was highly appreciated for its prominence and was awarded "Hall of Fame for Outstanding Employer": the award conferred only to the three time winners of Outstanding Employer.
JAE Philippines, since its foundation in 1997, have been developing the business as a manufacturing base focusing on automobile connectors and harnesses, and in recent years, expanded the production including ICT harnesses such as USB Type-C® Connector DX07 Series. Meanwhile, by pursuing community-based activities, we have been growing good management-labor relations and contribution to society. On this occasion, we at JAE Philippines are determined to further expand our business and society contribution on a local basis.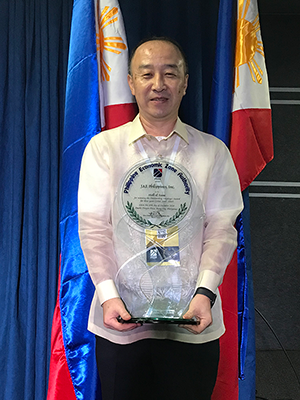 JAE Philippines President Satoshi Watanabe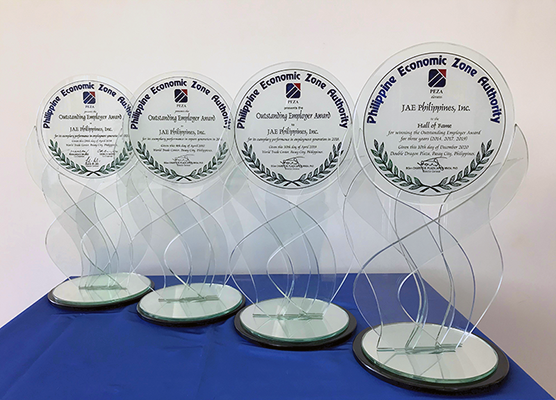 Trophies awarded since 2014
About JAE Philippines, Inc.
| | |
| --- | --- |
| Representative | President Satoshi Watanabe |
| Location | Cavite, Philippines |
| Establishment | June 1996 (Company start-up in 1997) |
| Premises | Total area 126,000 m2, plant's total floor space 49,000 m2 |
Contact Us
Feedback
Japan Aviation Electronics Industry, Ltd.
Corporate Planning and Investor Relations Div.
21-1, Dogenzaka 1-chome, Shibuya-ku, Tokyo 150-0043, Japan
Tel : +81-3-3780-2711 Fax : +81-3-3780-2733
Information and details given here are as of the date of publication.
Please note that the details may be changed.