2022/01/21
Solutions
Wide Range of Connectors Suit Various Applications
In the process of gathering information, the employee made a web search for 'USB4 certified USB-C', which led him to information on JAE's DX07 USB-C connectors. The manufacturer had not dealt with JAE before, but the product information section of the JAE website featured information on a wide range of high-performance connectors. After sharing this information with the purchasing division, the employee set about making enquiries with JAE and learning more from a marketing representative.
"I was really fortunate to hit on JAE. Because they are directly involved in defining USB standards, they were able to provide a proposal on the use of USB connectors backed up by expert knowledge. I realized that all I had to do was say what I was trying to achieve or what specification I was aiming for and JAE would provide several options from its extensive lineup," says the employee.
JAE also informed the employee that it had an optimized product development process due to the fact that it collaborates with major PC manufacturers from the product design stage.
The employee immediately consulted the designers on the project, and it was agreed that they would use one of the connector options proposed by JAE in the interests of quality, cost and delivery.
"I felt that the connectors we selected would both satisfy the designers' requirements and enhance product value. Users who we had evaluate a prototype praised its design and quality. When I later told JAE about our plans to develop products for outdoor applications, they even proposed a waterproof connector solution," says the employee.
In the future, to further refine the concept, the manufacturer will collaborate with JAE from the product planning stage on connector customization.
The DX07 series from Japan Aviation Electronics (JAE) includes a wide range of USB-C connectors. The JAE website also contains information on various types of high-performance connectors.
JAE was able to supply USB4 and Thunderbolt 4 certified connectors.
Because JAE is directly involved in defining USB standards, it was able to provide detailed advice on the use of USB connectors.
JAE was also able to provide customized components for those applications for which the components in its standard range would have been unsuitable.
JAE's USB Type-C® Connector Solutions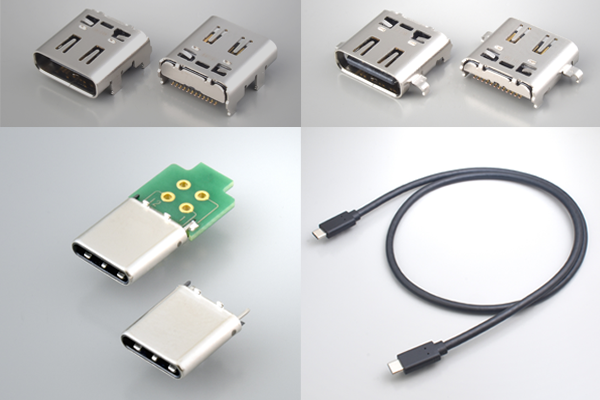 We are focusing on developing high performance connectors which meet each new version of the USB specifications including USB4™ and Thunderbolt™ 4.
Subject to change without notice. Errors and omission excepted.
※ USB4™, USB Type-C® and USB-C® are trademarks of the USB-IF (USB Implementers Forum, Inc.).
※ Thunderbolt™ is a trademark of Intel Corporation.