2021/09/17
FO-BD Series for 5G Base Stations
The fifth-generation mobile communication system (5G) is expected to be used in various fields by allowing for larger number of devices to be simultaneously connected and with low latency, capable of transmitting large-capacities over high-speeds. In addition to live distribution of 4K and 8K images and entertainment, such as VR/AR experience and watching various sporting events, it is believed that 5G will be utilized in the field of remote control technology and IoT, as commercial services for 5G have been in global use since 2019.

Japan Aviation Electronics Industry (JAE) has developed an innovative lineup of connectors for 5G base stations over the years. Below is an introduction of our new FO-BD Series optical connectors for use in 5G applications.
Overcoming Thermal Issues in 5G Base Stations
One of the key issues facing 5G base stations today is the 'thermal issue', associated with increased power consumption. Especially in the case of SFP transceivers, which perform optical to electrical conversion, where the performance longevity is largely affected by the operating temperatures. Cooling methods, such as heat sinks and cooling fans, become necessary in making effective thermal management and size reduction of base stations difficult.

The FO-BD7 series was designed as an external I/O which allows the SFP transceiver, which generates a lot of heat, to be physically located on the outside of the base station enclosure. This layout not only reduces the heat generated inside of the base stations but also contributes to the size reduction of base stations. Heat from other large heat sources inside the base station is transferred to the SFP cage through the board and radiated to the enclosure panel by way of the receptacle. This helps to prevent the SFP transceiver from being exposed to excessive heat. In addition, by using metal for the connector barrel that houses the SFP transceiver, heat can be more effectively transferred away from the SFP transceiver (Figure 1).

Through the implementation of the FO-BD7 series, the operating temperature of the SFP transceiver can be reduced by approximately 10°C compared with SFP transceivers which are housed inside of the base station enclosure (Figs. 2 and 3).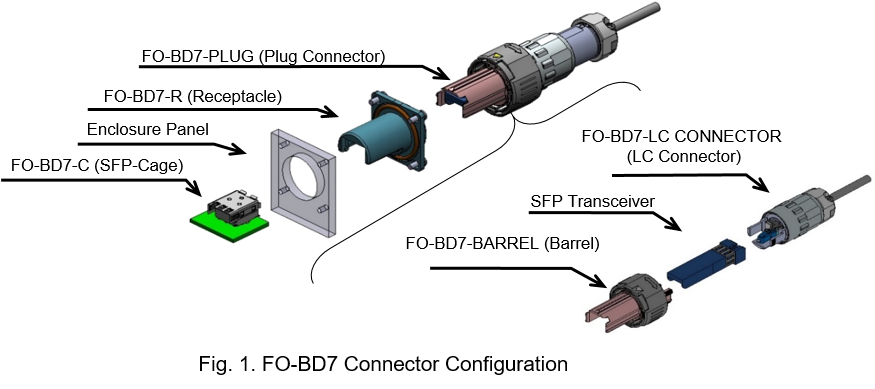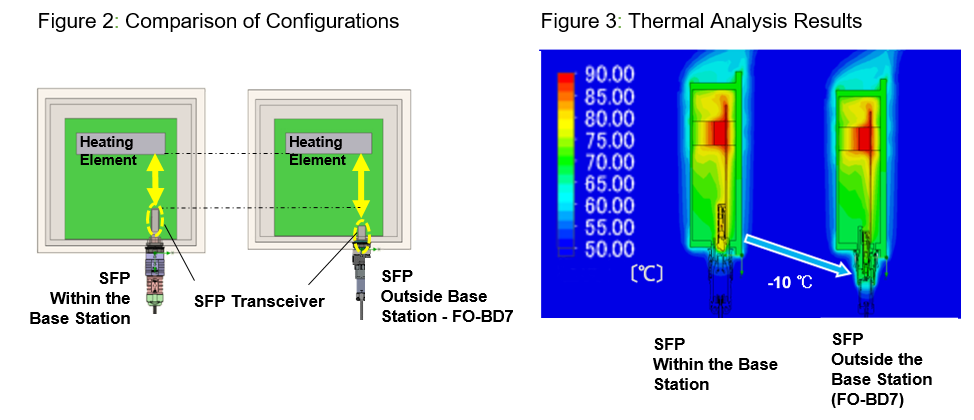 Wide Variety of Connector Variations for 5G Base Stations
JAE has been developing optical connectors for base stations since 2000 (Figure 4). Originally, we developed a "relay connector" that connects the base station enclosure panel and wires to the optical transceiver on the board, using optical fibers. In 2010 we developed the SFP direct connection connector to contribute to reducing the size and cost of base station designs.

In addition to the FO-BD7 series the FO-BD2 series and FO-BD6 series connectors are also being adopted into 5G base stations, allowing users to select from a wider variety of connectors solutions that meet their specific needs.
■ FO-BD2 Series | SFP Direct Connection Waterproof I/O Connector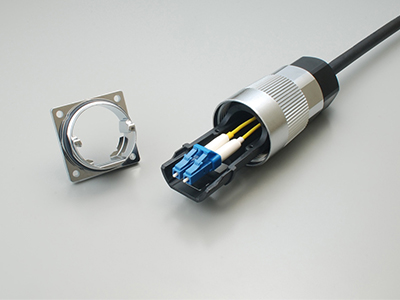 Features
Possible to connect directly to on-board SFP transceivers, modular jacks and others equipment.
Highly flexible and compatible connections with various types of SFP transceivers, modular jacks and others equipment.
Assembly of plug harnesses can be completed on site as plug can be built into existing harnesses.
Dual locking plug method: prevents excessive load on the connections of the inner connector during operation.
Possible to replace connector as the panel attachment is compatible with TE manufactured FullAXS.
Superior environmental resistance - ideal for outdoor applications.
■ FO-BD6 Series | SFP Direct Connection Waterproof I/O Connector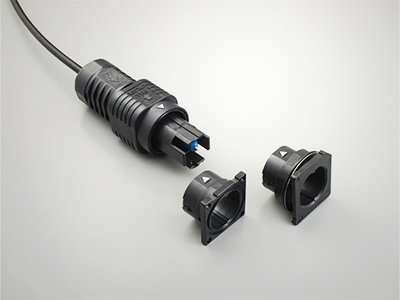 Features
Single-action connection - achieved with a three-axis floating structure.
IP67 rated dustproof and waterproof design, featuring excellent environmental resistance - ideal outdoor applications.
Compact and lightweight design achieved with plastic housing used within connector body.
Space-saving compact design, including applicable cable length.
■ FO-BD7 Series | Thermal Protection Waterproof Optical Connectors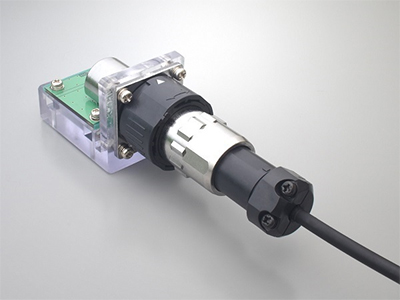 Features
Heat-resistant structure achieved by mounting an optical module into the plug connector.
Possibility to field service the optimal module.
Board of the optical module used for connection.
(Not necessary to clean the end face of the optical connector)
IP67 rated waterproof and dustproof design featuring excellent environmental resistance - ideal for outdoor applications.
Note: Subject to change without notice. Errors and omission excepted.