HDMI 2.1 Specification Compatible DC04 Series Connectors
With the introduction of the HDMI 2.1 specification, TVs and other A/V devices are adopting new features including high dynamic range and resolutions above Full HD. This has led to the increase in requirements for connectors which can support the new features introduced in the specification. The DC04 Series are HDMI Category 3 approved connectors which ensures the proper operation of these new HDMI 2.1 features being adopted in these new devices.
Overview of the DC04 Series
The new HDMI 2.1 standard has been established for support of new high resolutions, high refresh rates, and improved video quality including 4K120Hz, 8K60Hz, HDR (High Dynamic Range), etc.

The new HDMI standard is able to support these new features by increasing the maximum data rate from 18Gbps (HDMI 2.0) to 48Gbps (HDMI 2.1). To satisfy the new high-speed transmission specifications, the connector performance for three key Signal Integrity parameters impedance, attenuation, and crosstalk, are becoming crucial. While DC04 connectors carry over the same HDMI interface as conventional connectors, they incorporate a variety of innovations which will be covered in the following sections.

In addition, connectors that satisfy the high-speed transmission specifications have been registered as "Approved Category 3 Connector" on HDMI's website. The DC04 Series has been certified and registered as Category 3 connectors due to their excellent and stable high speed transmission capabilities.

※ HDMI, High-Definition Multimedia Interface is a trademark or registered trademark of HDMI Licensing Administrator.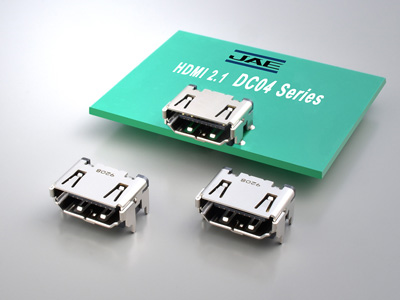 Features of DC04 Connectors
The features of DC04 connectors are described below.

◇ 1. Stable high speed transmission performance
The features shown below are incorporated to achieve stable high speed transmission.
- Improvement of Impedance Characteristics by using insert molding structure
- Changing the terminal position between each channel to reduce crosstalk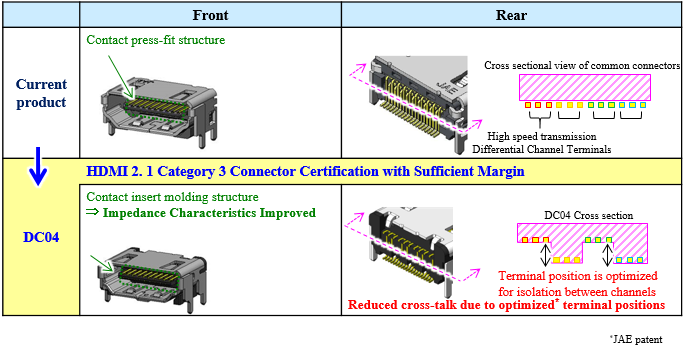 ◇ 2. Robustness During Use
By incorporating the following features, damage during handling can be reduced.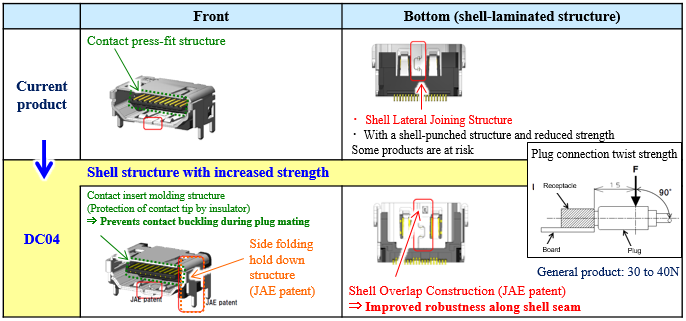 JAE manufactures various standards compliant, high speed transmission connectors,
Although many connectors are distributed as HDMI 2.1 standard compatible , it is very important to adopt the highest quality connectors on your devices to ensure consistent performance with adequate margin.

JAE offers a wide variety of high performance connectors, including DC04 series.

Please feel free to contact us

Subject to change without notice. Errors and omission excepted.