WP16RK Series
Fully Shielded Board-to-Board (FPC) Connector  [Concept Design]
With the increased computing power available within new mobile devices, users are creating and consuming more digital content than ever before. This has lead to an increase in the data which must be quickly transmitted both within the device, but more importantly between devices. New technologies for wireless and wired communication such as 5G and USB 3.2 have been developed to allow large amounts of data to be transmitted with low latency. These new technologies however also require advancements in associated component technologies, including interconnects, to enable them to operate as advertised.
Since these consumer devices must remain portable, it is also important to keep the size of the devices as small as possible to give the best user experience. With more technology and hardware features added continuously, size reduction of components inside of devices is further emphasized.
In order to meet all of these new requirements, JAE is developing the new WP16RK Series board-to-board (FPC) connector with excellent signal integrity performance and shielding to ensure high speed data can be transmitted with very little signal loss and EMI radiation.
Examples of Connectors Used in Major Small Portable Devices
The interior of small portable devices is becoming increasingly dense,
Design is becoming increasingly complex due to the increasing number of locations that transmit high-speed signals.

Support for 5G antenna modules
The WP16RK Series is designed to support high frequency RF and Intermediate Frequency (IF) signals up to 10GHz, making it ideal for connections to and from RF front end components. This connector also has the added flexibility of housing multiple signal pins in a single compact footprint whereas traditional coaxial connectors can only handle 1 signal per connector. This capability is important when a combinations of power, RF, and digital signals must be transmitted to the same locations within the device.
It is also critical that the accompanying PCB and FPC cable are properly designed, shielded, and use high performance dielectric material to ensure the entire connection performs as well as possible. The simulation results below show the excellent insertion loss and VSWR performance of the connector.

High Speed Differential Signal Transmission
The WP16RK series can also support transmission of high speed differential signals which are commonly used to transmit digital data between various modules and IC's. Below are simulation results for insertion loss, return loss, and near end crosstalk. The performance of the WP16RK is again very good due to the compact size.

Fully Shielded Connector Structure
There are metal shells included on both plug and receptacle connectors to create a 360 degree shield around the high speed signal contacts. This fully shielded structure is effective in reducing leakage of radiated noise outside the connector. For modern wireless devices which have multiple antennas in a confined space, reducing interference is vitally important.

Note: Simulation results for the connectors only
Compact Yet Robust Design
The WP16RK Series features a low profile mated height of 0.6mm and contact pitch of 0.35mm to reduce the space required for the connector in compact portable devices. However, in addition to being a very compact form factor, it also includes a metal armoring feature to improve robustness and reliability during assembly. The metal armor is designed to protect the connector from damage if the connectors are not aligned properly during the connector mating process. This great combination of connector robustness and small size are key reasons why this connector solution is ideal for new portable devices.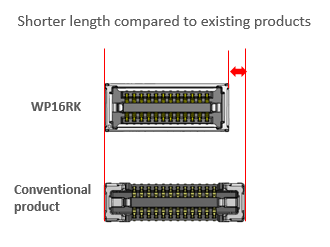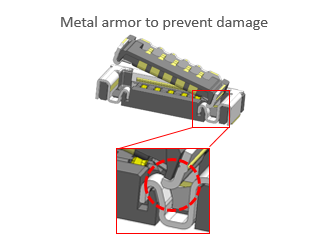 "WP16RK Series" Download Detailed Materials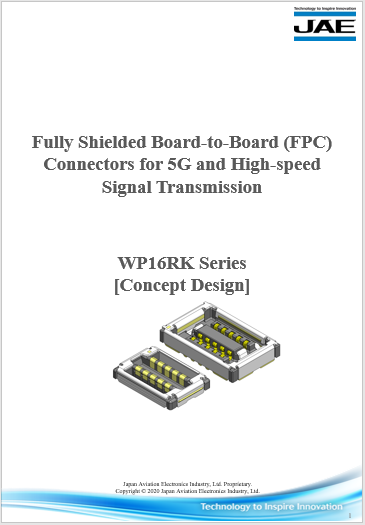 WE CONNECT
If you are interested in detailed information such as the transmission characteristics of WP16RK Series, please enter the form on the right and download the product materials.
---
Subject to change without notice. Errors and omission excepted.