2021/02/01

Implementation of Automotive Airbag Connectors for the SRS is Increasing as Safety Performance Improves
As the safety performance of automobiles improves, the number and variety of airbags used in a vehicle also increases. New and existing automotive airbag applications are supported in various places which include typical driver and passenger side airbags, curtain and thorax airbags throughout the vehicle, and newer applications such as knee airbags and pedestrian airbags that deploy externally to prevent injury to pedestrians. The trend for improved vehicle safety is expected to continue to increase over time.
JAE offers a wide range of airbag connectors that meet the safety requirements of automobiles. This page will define what a squib connector is and why it is widely used as an airbag connector.
What is a Squib Connector?
A squib is a controlled miniature explosive device integrated into an air bag or mechanical retraction system for the SRS. When the sensor detects a collision, an electric current flows through the igniter and the gas generator (inflator) is activated, causing the air bag to swell or mechanical system to retract.

The MX72 squib connector offers the option to choose whether a short terminal is used or not. The AK2 type has a short terminal or shunt installed. Generally, the interface types AK3 do not have a short circuit terminal (no shunt).

Looking outwards, there is a trend towards the installation of products without short-circuit shunt terminals, and the JAE MX72 C/D shunt-less series is available as on option.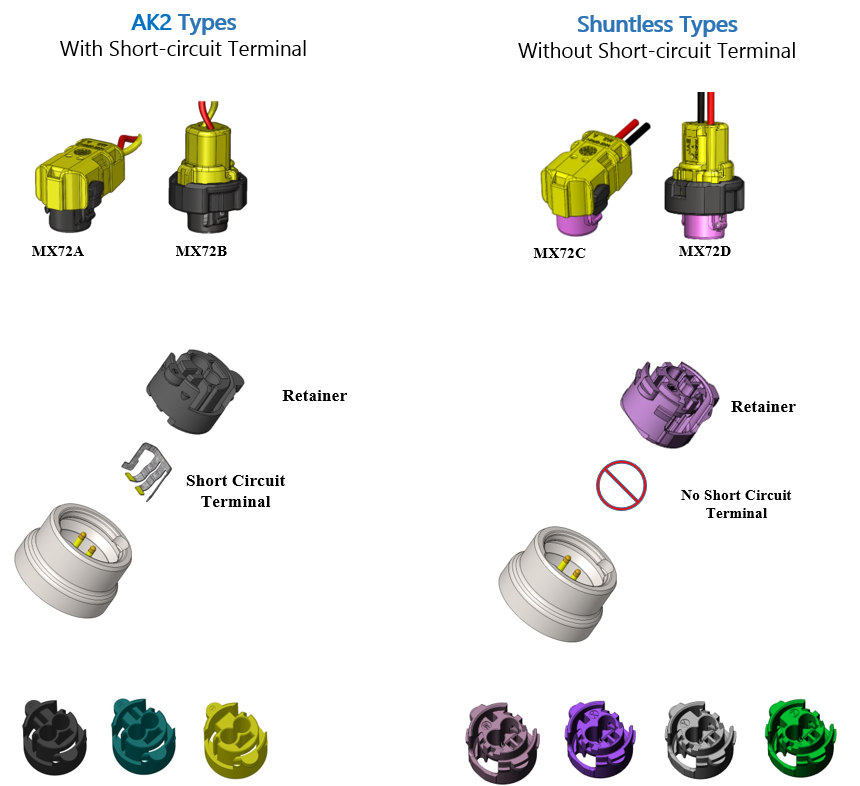 MX72 Series Application Examples
Airbag and retraction systems for the SRS ensure passenger safety in the event of a car collision and are installed in various places in the cabin. Refer to the following illustrations for global application examples using MX72 squib connectors within the SRS.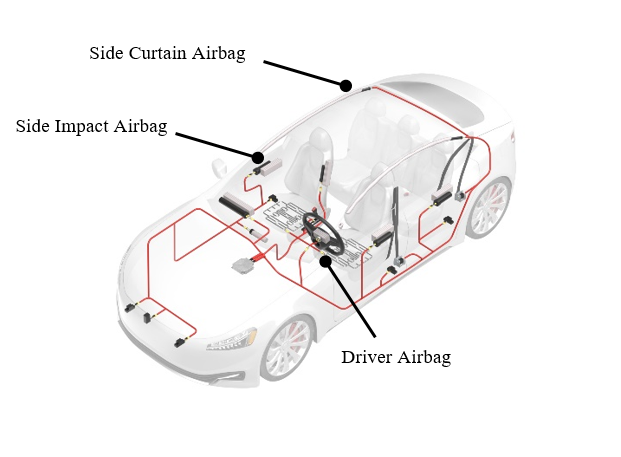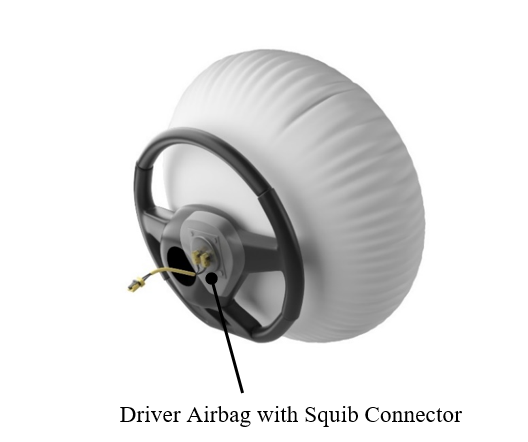 SRS devices installed in various locations typically require connector integration work confined to small space. JAE offers highly reliable squib connectors that facilitate installation in locations where it is difficult to make such connections. The following sections describes features of the MX72 squib series for the SRS.
MX72 Series Self-Rejecting Squib Connector with CPA Functionality
Typical squib connectors for the SRS require a two-touch step to engage mechanical CPA (Connector Position Assurance), holding the connector for mating and engaging the CPA push-button locking.

MX72 Series connectors have the advantage of conveniently engaging connector position assurance with a single, spring enforced push, that easily confirms successful coupling through an audible click and tactile feedback. In addition, incomplete engagement is prevented by the reaction force of the spring in the connector. Should the MX72 squib connector not be properly seated, the spring pushes away plug from receptacle.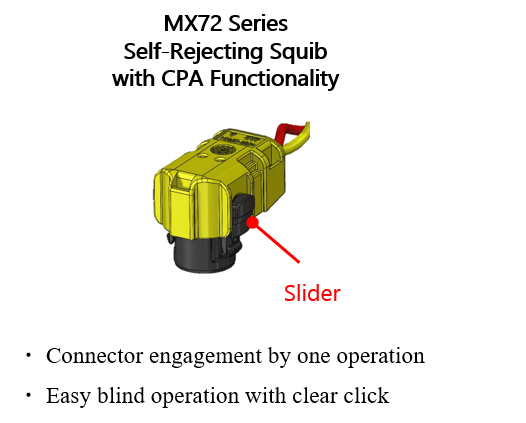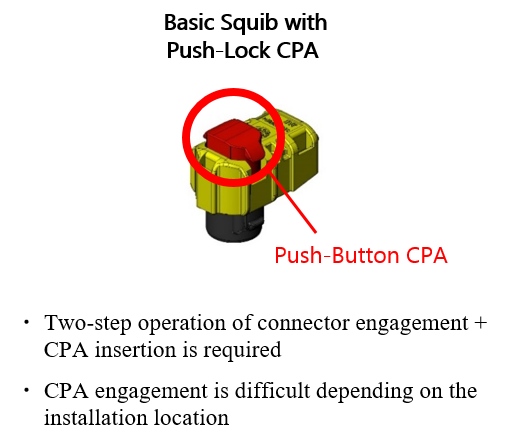 Refer to the video below for further comparison of the two locking mechanisms.
MX72 Series Squib Connectors
MX72A/MX72B Series | AK2 Squib Connector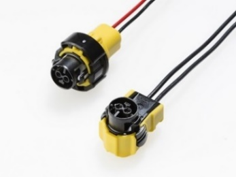 Compliant with ISO-19072-4, USCAR999-U-002-1-Z03
Self-Rejecting CPA function
Audible click and tactile feedback confirms successful mating
Three types of color coded key codes
FLRY A, B 0.35 sq, 0.5 sq, 0.75 sq* Wire compatible(*0.75sq will be developed)
MX72C/MX72D Series | Shuntless Squib Connector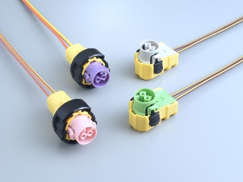 Compliant with ISO-19072-5, USCAR999-U-002-1-Z04
Self-Rejecting CPA function
Common design with MX72A/B connectors
Short terminal or shunt is removed from the receptacle retainer
Four types of color coded key codes
FLRY B, Supports 0.35 sq and 0.5 sq wires
MX72F Series | Squib Connector with Ground Terminals
Spring-based self-reject structure ensures complete mating and functions as a CPA
Grounding connection by ground terminal is possible with no need for grounding connection at the inflator side
Serviceable connection (insertion and removal possible) at any position of the cylindrical collar part
Terminal probe holes enable quick signal check on the connector
Two types of key codes (CODE IV, V) used to prevent incorrect mating
Reliable and stable contacting portion with three-contact-point and gold plating
Connector mating orientation can be identified by the flat surface of the cover
Related Links
The information on this page is as of the date of publication. Please note that the contents may have been changed at the time of reading.