Supplemental Restraint System (SRS) Connectors
As the number of expected vehicles on the road trends upward, so does the number of SRS devices found in the modern passenger vehicle. Application examples include front driver and passenger airbags located at the steering wheel and passenger dashboard. Thorax, curtain, knee and side impact airbags exist as well. Indeed, the safety requirements for the modern vehicle have become more stringent, with safety being the top priority. It is for this reason, that we've designed an extensive lineup of SRS type connectors that provide the safety requirements needed for today's vehicles.
SRS Market and Airbag Connector Trends
Improvements in passenger safety and legislation has increased focus on vehicle collision safety. As crash tests become more rigorous, new pyrotechnic applications are introduced. Some of these applications include knee, thorax, curtain, front driver and passenger airbags. JAE offers an extensive lineup of SRS connectors proven for reliability and performance that will help automakers fare well in the automobile industry in terms of safety.
The following sections describe examples of SRS connector use cases and specific features common to these types of connectors.
Examples of Supplemental Restraint System Connectors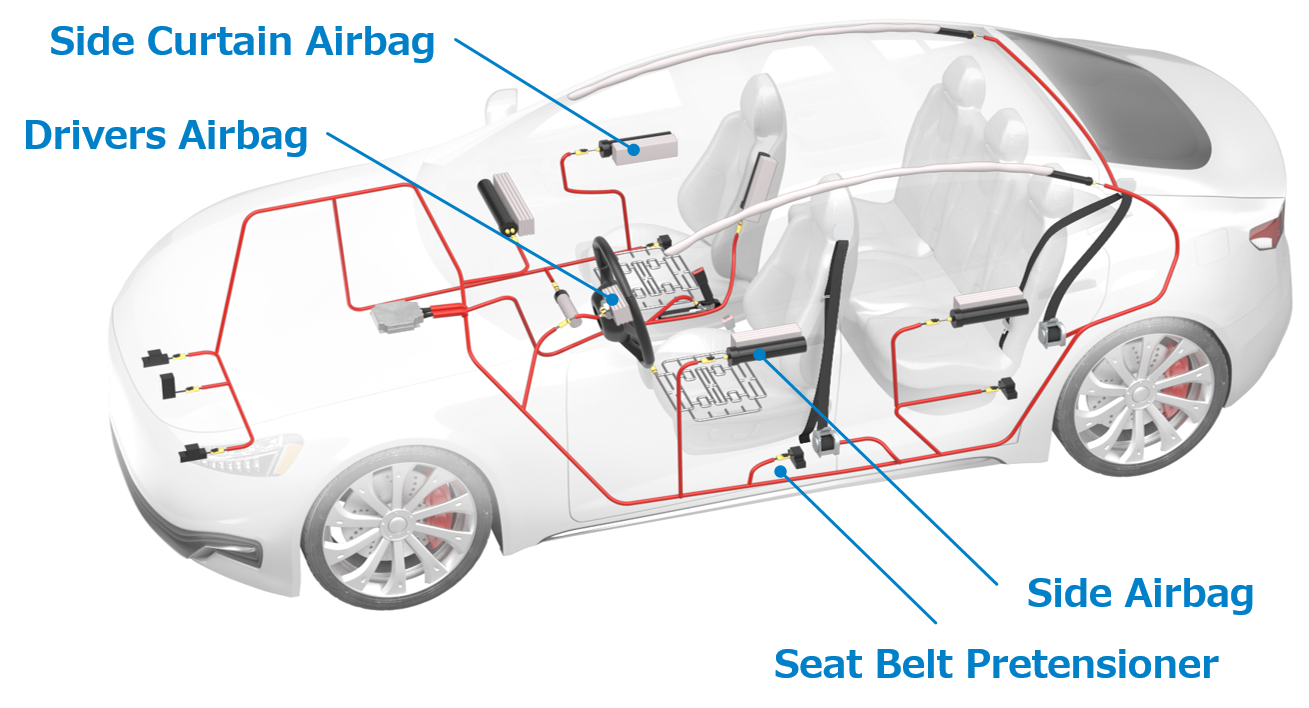 Vehicle safety systems typically are comprised of a series of pyrotechnic devices, crash sensors (for detecting sudden deceleration) and an ECU. As well as constantly monitoring the system to ensure it remains at low resistance, in the event of collision, the crash sensors provide crucial information to the ECU, including collision type, angle, and severity of impact. The ECU will trigger various firing circuits to deploy one or more device within 10-20 milliseconds. An inflator can also be used to provide force to pretension and retract mechanical systems. JAE has developed a wide range of automotive connectors to be used in connecting these components.

It is standard for passenger vehicle safety systems to have a degree of varying key options to prevent incorrect mating in complex installations containing several airbags and other pyrotechnic devices. JAE has developed an array of automotive connectors to meet these requirements, along with a strong track record in adoptions.
The following sections describe some of the key product features found in the connectors used in supplemental restraint systems.
Airbag Connector Solutions
JAE offers a wide variety of connector solutions for the supplemental restraint system.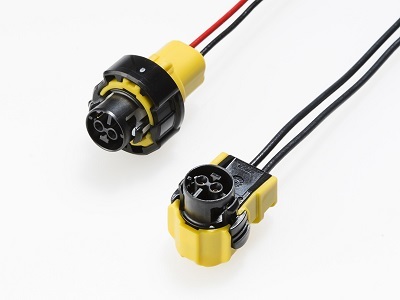 - Ensures complete mating without the use of a CPA
- Serviceable connection (removal possible)
- Probing apertures for continuity testing
- Three polarization / key codes with different colors
- Reliable and stable terminals with three gold plated contact points
- Applicable wire sizes are 0.35mm², 0.5mm² and 0.75mm² (*)
*Note : Wire size 0.75mm² is under development.
Type
Coding
Color
Appearance
Connector Part Number
Documents
Right Angle Socket Connector
I
Black
MX72A002SR1
II
Light Green
MX72A002SR2
III
Yellow
MX72A002SR3
Straight Socket Connector
I
Black
MX72B002SR1
II
Light Green
MX72B002SR2
III
Yellow
MX72B002SR3
Note 1) This product is sold only as a cable harness and is not provided as an individual connector.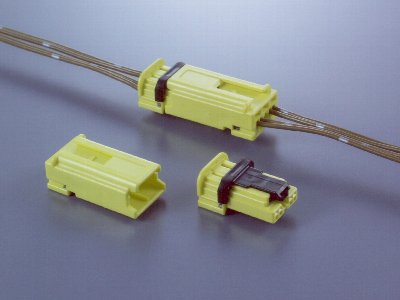 - Number of positions: 4
- Compact, reliable, non-waterproof connector in-line connector
- Locking tab is spring driven to ensure locking takes place
- Resistant to static discharge
- (TPA) Mechanical design detects incomplete contact insertion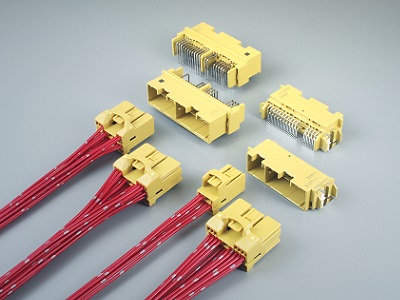 - High density pin count: 26 pos + 4 pos mating detection. (MX57A Series), 44 pos + 4 mating detection. (MX57B Series), 2 block combination
- 2.2mm pitch, staggered alignment, board-to-cable type
- ISO/JASO standard 0.64 mm terminal tab size
- Resistant to static discharge
- Electrical mating detection enabled
- Resin material compatible with reflow (MX57A Series)
- Selective gold plating is possible. (Please contact us for further information.)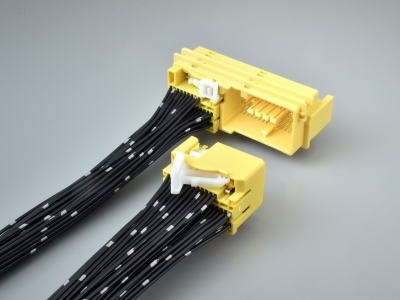 - High pin count lever type, 100 positions,2 blocks (43 positions + 57 positions)
- Electrical mating detection enabled
- Lever structure (operating force of 66.6 N or less) for easy mating
- Press-fit type terminals do not require soldering. The connector is fixed to the unit case flange area using press-fit method
- Applicable wire sizes are AVSS0.3sq to 0.5sq
- Terminal plating options available for Tin or Gold
---
Subject to change without notice. Errors and omission excepted.