EV/PHEV Connector Featuring Low Flammability Material
Electric Vehicles (EVs) and plug-in hybrid vehicles (PHEV) are center stage worldwide, as growing concerns related to resource constraints and environmental issues continue to emphasize the need for electrification. The extensive track record of EV and PHEV's in the automotive sector paired with the highly reliable connectors that make up the battery system within these vehicles are some of the reasons why many consumers are turning to this new technology in today's climate.
Japan Aviation Electronics Industry (JAE) offers a wealth of connectors to meet the reliability and safety requirements of today's automotive EV applications. This page introduces our MX84 Series connectors that are increasingly being adopted as UL Recognized Product 94 V-0 materials compatible connectors within the market.
The Increasing Demand for Flame-retardant Materials in Automotive Connectors
As we enter the age of "CASE", automakers are rapidly developing electric vehicles and plug-in hybrid vehicles that offer a wide spectrum of capabilities such as autonomous, shared, and electric functionality. With the electrification of automobiles, the demands for functional materials become increasingly stringent as the domain rapidly expands.

With this growing need, there is an increasing demand for flame retardant plastic materials to be used in connectors. Flame retardancy with respect to the connector refers to its resistance to burn in the event of a fire. There are various testing methods to determine flame retardancy, depending on the application. In the United States, the UL 94 Standard *1 is recognized worldwide as a standard for evaluating the flammability of plastic materials for parts found in electric and electronic equipment . The flammability test as specified by the UL 94, evaluates product flammability by holding the specified sample horizontally (HB rating) or vertically (V or 5V*2 rating) and performing the specified flame contact test.

In the automotive field, fire retardant measures have become more important in recent years for power supply systems and battery systems within electric vehicles (EV's), along with an increasing demand for the use of UL Recognized Product 94 V-0 materials from automakers in various countries and regions.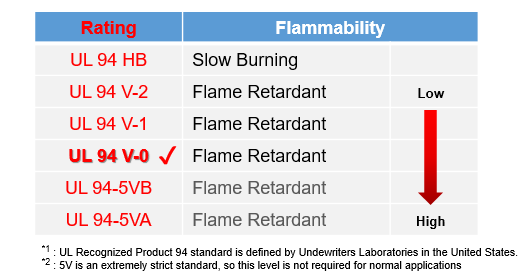 Wide Variety of MX84 Connectors Using UL Recognized Materials 94 V-0
JAE's MX84 Series connectors are made using UL 94 V-0 materials, which exhibit excellent flame retardant properties for insulator components in connectors due to the enhanced fire safety and reliability features. MX84 Series connectors are equivalent to our popular MX34 Series of compact high density automotive connectors, with the exception of flame retardant insulator materials. Both series use 0.64mm standard terminals, which are commonly used in the automotive market.

Similar to MX34 Series connectors, MX84 connectors feature a board connection type structure with a right angle pin header , a cable connection type for inline applications, and alternate mating key variations to prevent incorrect mating. These measures ensure safety and reliability to the point where there is no doubt that the connection is secure.
Connection Types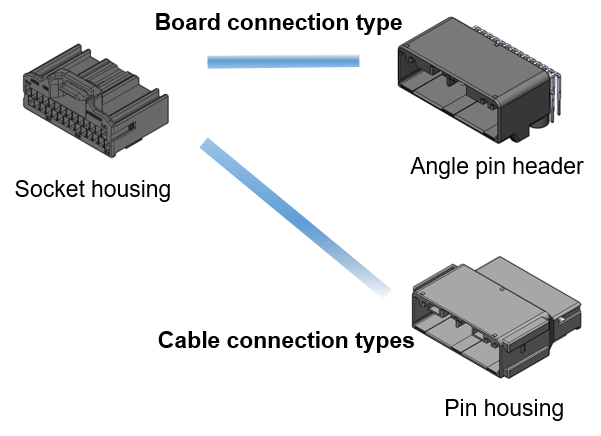 Multiple Key Options to Prevent Mating Errors

※The above examples feature a 32 pin header. 40 pin connectors mating key are under development.
Please refer to the list below for MX84 series-product combinations.
MX84 Connectors Use Case
A Battery management systems (BMS) monitors the status of the battery modules and battery cells integrated within the EV. MX84 Series connectors have been custom designed with low flammability material to enhance the performance of high voltage electronic devices found within these systems. They featuring alternate mating key options to prevent incorrect mating, and ensure a reliable connection that is essential for today's automotive applications.
The versatility and reliability of these connectors is supported by 65+ years of manufacturing experience as JAE continues to meet the needs of various customers within the automotive industry.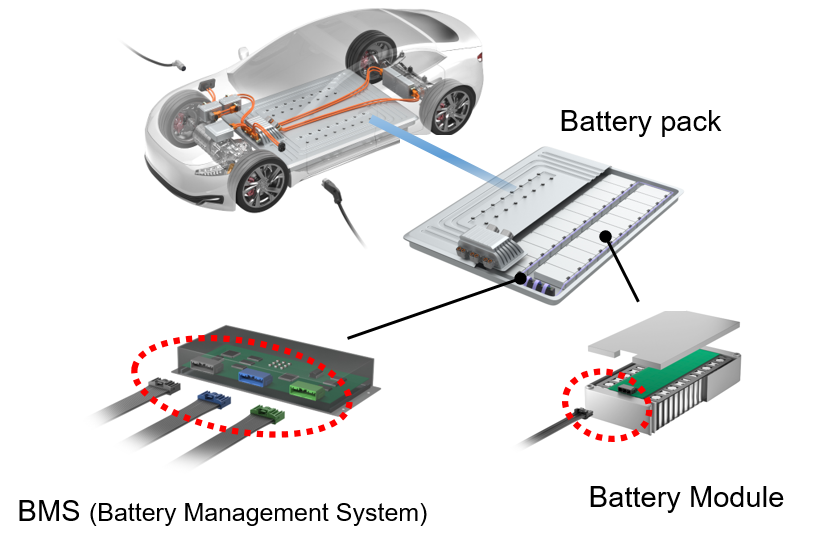 Product Page
MX84 Series | Using Low Flammability Material UL 94 V-0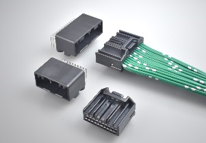 UL 94 V-0 material with excellent flame retardancy is used for insulator components
Construction and external dimensions are the same as MX34 Series connectors
Two types of pin connectors are available: a right angle DIP type for board connection, and a cable relay connection type.
MX34 Series | High-density Non-waterproof Automotive Connector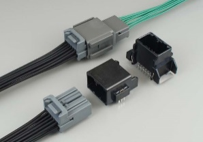 0.64mm standard tab size products meet various requirements for automotive applications
A broad selection available on the pin side with different connecting form factors
Related Links
Connectors for
Battery Systems
Download Our Automotive Connector Catalog Today
WE CONNECT
Connector Solutions for Automotive Applications
After completing the form on the right, your Automotive Catalog (PDF) will be downloaded.
---
Subject to change without notice. Errors and omission excepted.