Environmental Report 2018
Environmental Activities in and outside of Japan
Fiscal 2017 activities to contribute to local communities

JAE, Akishima Plant
Local Cleanup
Participated three times in cleaning up areas around the Akishima Plant, including the Akishima Clean Campaign. A total of 76 people participated. Overall, 13.5 kg of garbage was collected.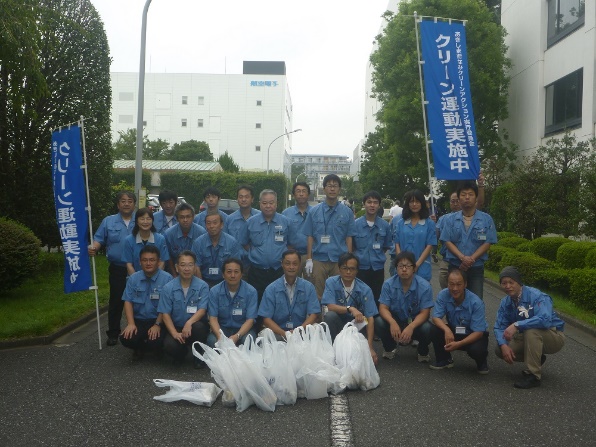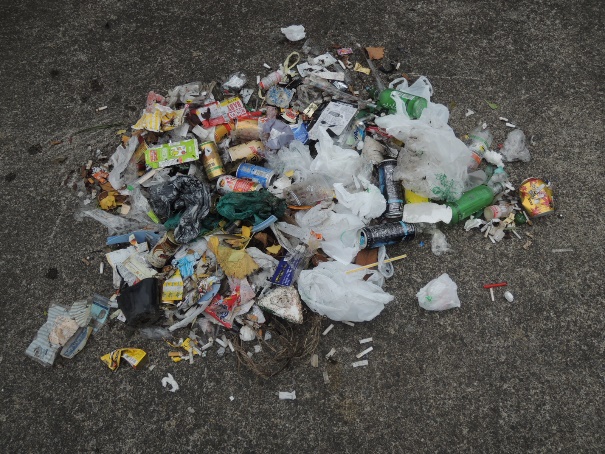 Forest Preservation Activities
Two employees participated as volunteers on the Tokyo Forestry Support Team in June and cleared underbush at the Ome City forest after receiving safety training.
(Sponsor: Tokyo Development Foundation for Agriculture, Forestry and Fisheries)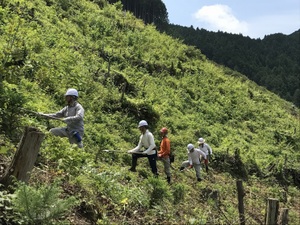 HAE
Local Cleanup
In June, 69 employees conducted the annual Bika-Pika Campaign timed to coincide with Environment Month and spent about one hour collecting 21 kg of garbage.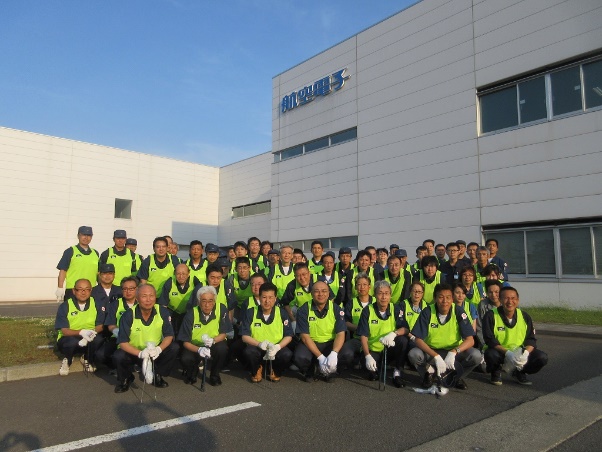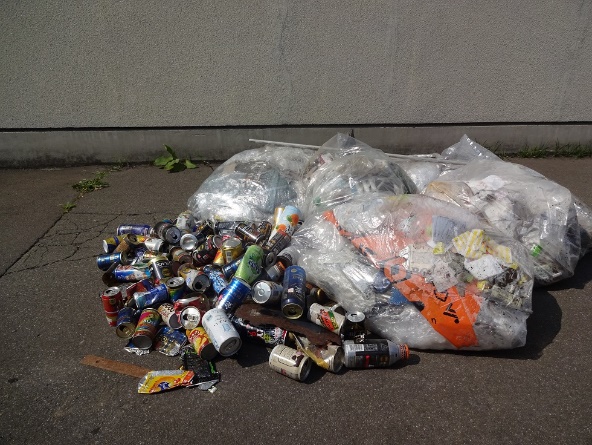 In September, volunteers participated in the in-house softball competition on the riverbed of the Iwaki River; 64 volunteers got together on their own to conduct a clean-up campaign covering 1 km around the competition site and collected 15 kg of garbage.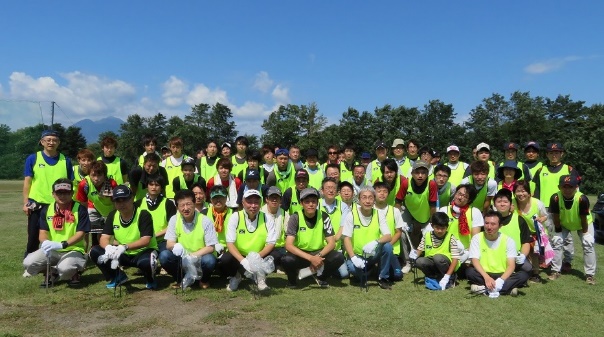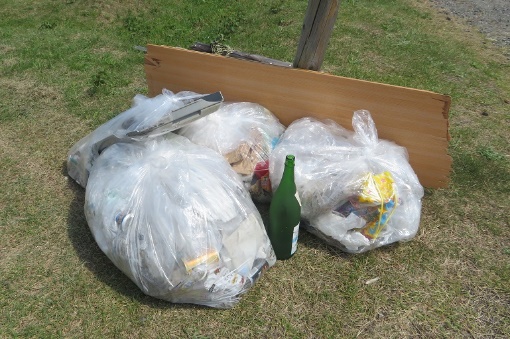 YAE
Biodiversity Preservation Activities
In September, five employee volunteers conducted a survey of water quality and aquatic organisms in the Izumita River, which runs through Shinjo City. In the water quality survey, a pack test and visibility study were conducted. In the aquatic organism survey, the aquatic organisms sculpin, stenopsyche sauteri, and crucian carp were collected and examined along the riverside. As a result, we confirmed that the river had clean water of the highest rank.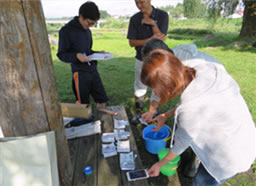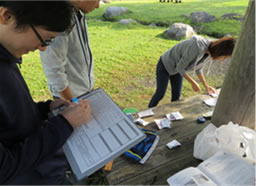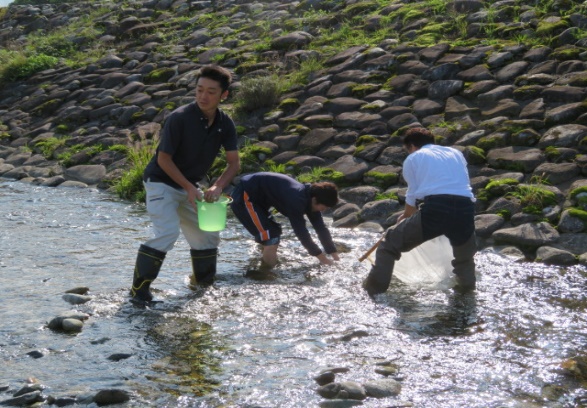 Beautification Activity 1
We registered the "Friends of Rivers and Roads Group" with the Ministry of Land, Infrastructure, Transport and Tourism, seven employees maintained flowerbeds along national roads near the company, and planted 350 catharanthus roseus.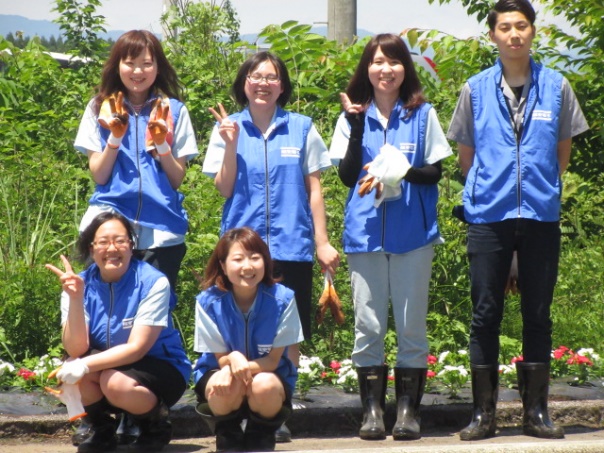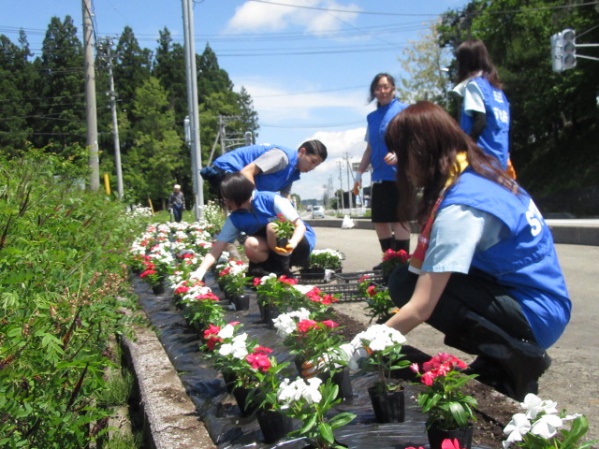 Beautification Activity 2
In June, 42 employees and their families planted trees at Kamuten Park and cleaned up the Shinjo Station parking lot and other areas.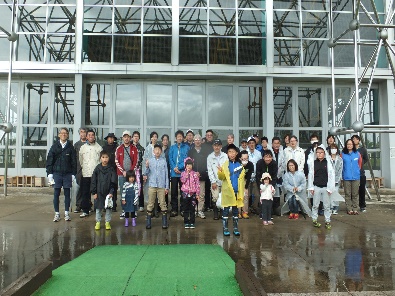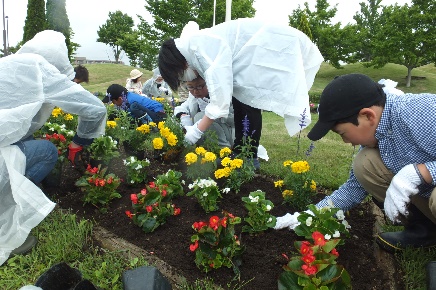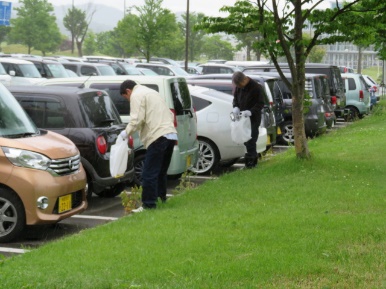 FAE
Beautification Activity
Fifteen people including the president participated in the "Mt. Fuji Environmental Beautification and Cleanup Operation for the First Half of Fiscal 2017" held in August. A total of 1,600 people cleaned mountain paths, distributed pocket tissue packs to mountain climbers, and collected 380 kg of garbage.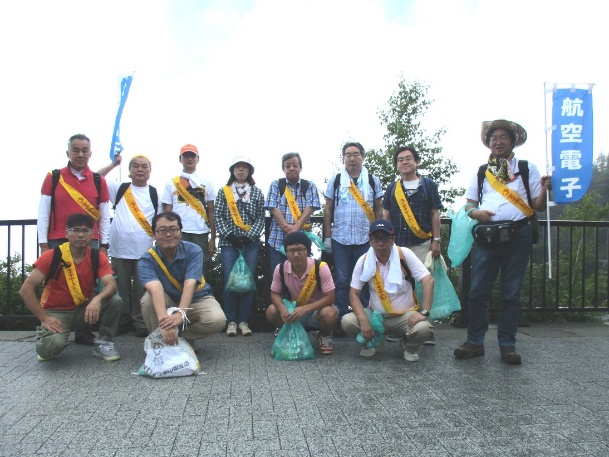 SAE
Local Cleanup
Thirty employees participated twice in a local cleanup around the company and along main roads nearby.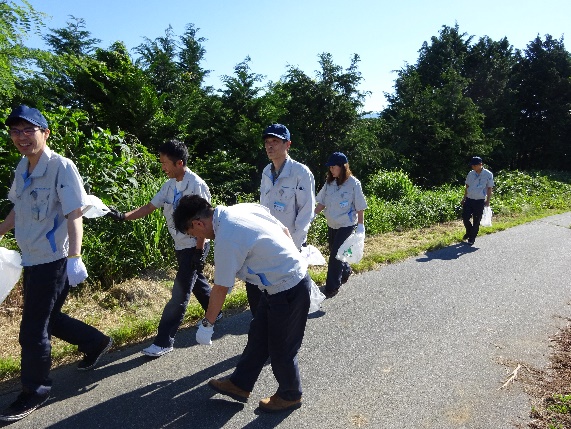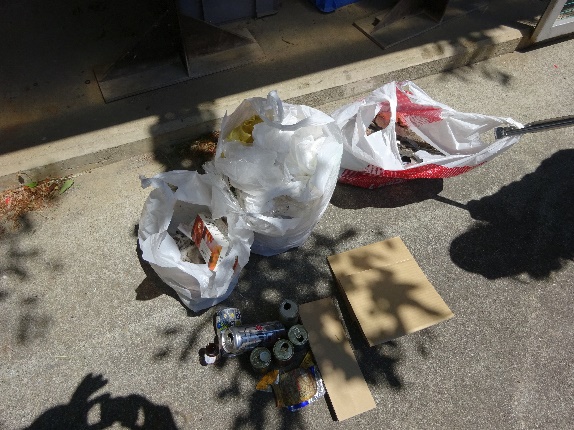 Beautification Activity
Thirty-seven employees and their families participated in the Tenryu River System Environment Picnic held in May and conducted riverbed beautification activities for the Tenryu River system.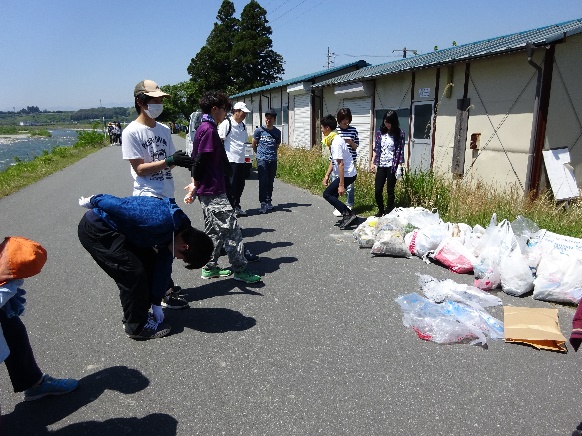 Maintaining trails on Mt. Eboshi
Nine employees participated in maintaining the trails of Mt. Eboshi and the summit of Mt. Kohachiro-dake, in July. The effort was sponsored by the town of Matsukawa-machi and the local Chamber of Commerce.

Eco-Cap Campaign
Boxes for collecting bottle caps were installed at employee entrances and vending machines, and 13 kg of bottle caps was collected in fiscal 2017. Our cooperation financed enough polio vaccine to inoculate 6.5 children. Meanwhile, we reduced the CO2 that would have been generated when incinerating the caps as garbage by about 41 kg.

JAE Philippines, Inc.
Forest Preservation Activity
JAE PH planted 300 hardwood seedlings in July 2017. The place is visited quarterly to check if the seedlings have been growing or clear the ground.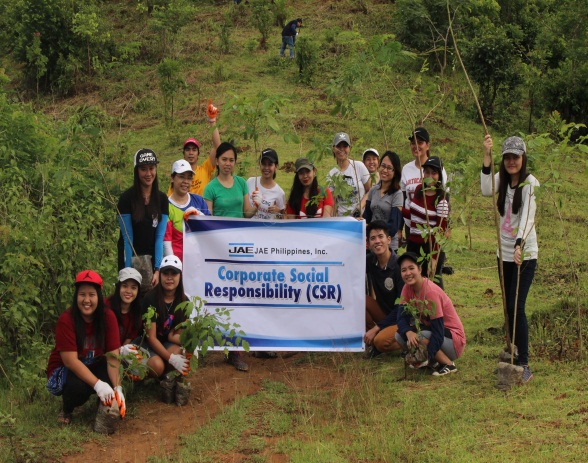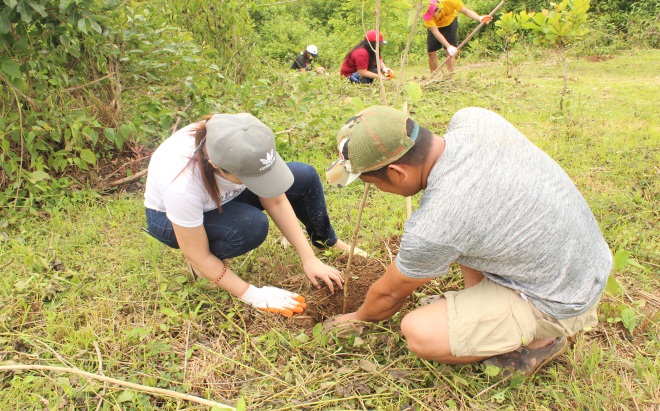 Coastal Beautification Activity
We conducted cleanup of coastal areas as part of the annual International Coastal Cleanup (ICC).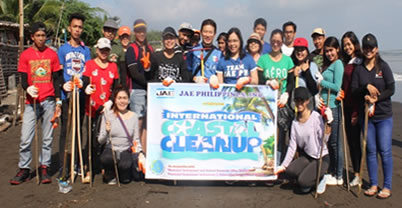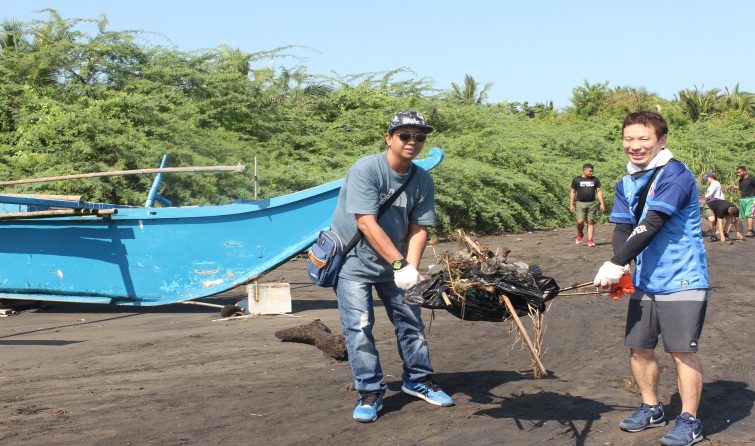 JAE Wuxi Co., Ltd.
Beautification Activity
Eighty employees participated in energy conservation and environmental protection promotion activities sponsored by the Industry Association of Xinwu District, Wuxi to clean up sidewalks and parks while raising environmental protection awareness.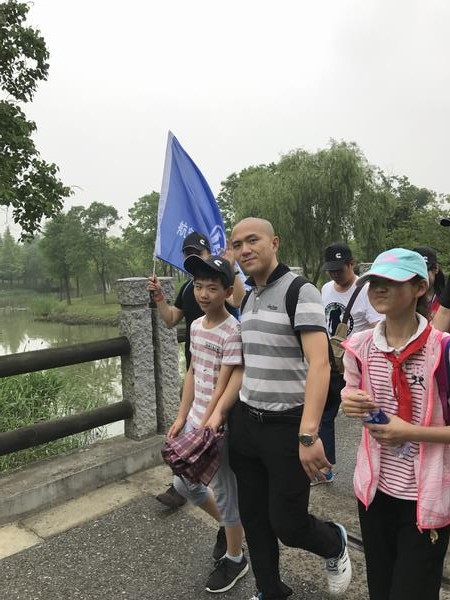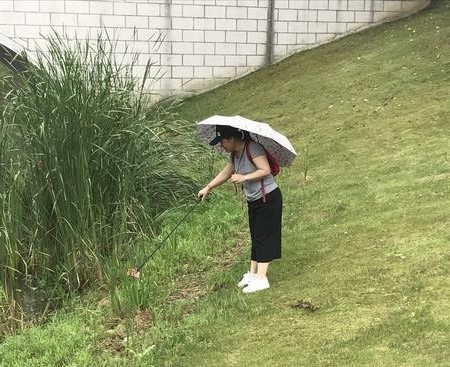 Symbol of the Group's Environmental Policies
Significance of the Environmental Report
Environmental Performance
Environmental Management
Environmental Accounting
Engaging with Society: Group Sites