Environmental Report 2017
Environmental Activities in and outside of Japan
Fiscal 2016 activities to contribute to local communities



●Japan Aviation Electronics Industry, Ltd., Akishima Plant

(1) Cleanup activities around the Akishima Plant
As part of its contribution to the local community, in fiscal 2016, the JAE Akishima Plant once again participated in the Akishima Clean Campaign, cleaning up areas around the Akishima Plant. Activities were held three times, on June 16, September 8 (canceled because of rain) and December 8, 2016, and again on March 9, 2017. A total of 89 people participated. Overall, 26.8 kg of garbage was collected. The garbage included items such as books, paper waste, vinyl goods, plastics, cigarette butts, bottles and cans, and other items. More than 20 kg of garbage is collected annually.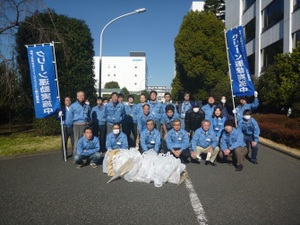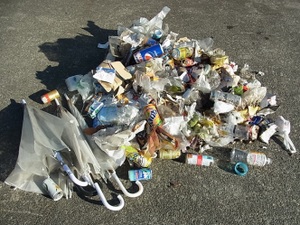 (2) Participated as volunteers on the Tokyo Forestry Support Team
(Sponsor: Tokyo Development Foundation for Agriculture, Forestry and Fisheries)
(Participants/Activity Time: Three people, August 6, 2016 all day)
Participants gathered at the Tokyo Forestry General Research Center, Hinode, and received safety training, such as how to use a sickle and precautions to take when working with multiple people.
Participants cleared underbrush at the Fukasawa Forest in Akiruno City.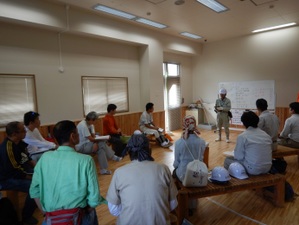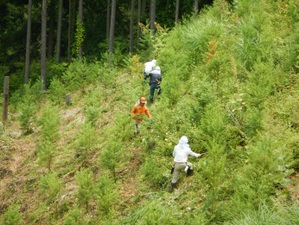 (3) Contributing to society with PET bottle caps
Since 2009, JAE has participated in programs that provide vaccines to the children of the world who need them through the collection and provision of PET bottle caps. During the year-long period from January 2016 to January 2017, we collected and provided roughly 200 kilograms of caps. This is equivalent to providing roughly 100 people with polio vaccines.


●JAE Hirosaki, Ltd. (HAE)

(1) The Bika-Pika Campaign
Timed to coincide with World Environment Day, on June 2, volunteers from HAE took part in the annual Bika-Pika Campaign after the workday. This activity started with Clean Walk in 1999, and since 2007 the company has participated with the objective of expressing gratitude to the area of Kita Watoku Kogyo Danchi, where it is located, and National Route 7, the road upon which employees commute. Another goal is to deepen employees' interest and understanding of environmental protection.
On that day, although the wind was strong and weather was cold, President Hashimoto made opening remarks and 61 employees separated into three teams and spent about an hour picking up empty cans and tobacco butts that had been discarded along the road. Among the approximately 53 kg of garbage, 3.8 kg of empty cans were recycled as iron scrap. This time, Aomori Prefecture covered the event and information on our company's activities was presented on Aomori Prefecture's web site. Information on these activities for this year and the past 10 years can be seen on the Hirosaki National Highway Office homepage (Aomori Office of Rivers and National Highways, Tohoku Regional Bureau, Ministry of Land, Infrastructure and Transport).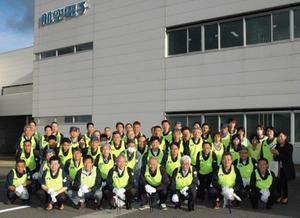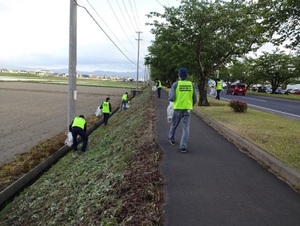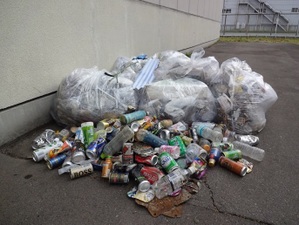 ●JAE Yamagata, Ltd.

(1) As activities to preserve biodiversity, which is also stated in the environmental policy, JAE Yamagata conducts a water quality survey of the moat in the castle ruins within the city and remove invasive non-native species of fish. Eight JAE employees participated in a fishing competition whose goal was to remove inhabiting non-native fish species (black bass and bluegill). Since this was the third competition and the number of participants is increasing, interest in the protection of ecosystems appears to be rising.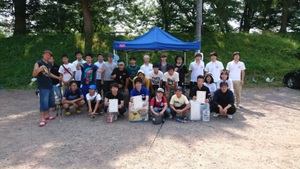 (2) Health check of the river and waterfront (sponsored by Beautiful Yamagata and Mogami River Forum)
(Participants/Activity time: 4 people, 10:00 am – 12:00 noon on June 4, 2016)
Survey of water quality of Izumitagawa River:
・Pack test (PH, COD, ammoniacal nitrogen, nitrite-nitrogen, nitrate-nitrogen, phosphoric acid)
・Water transparency test (transparency meter)
Four YAE employees conducted a water quality survey on the Izumitagawa River near YAE. Afterwards, they participated in an imonikai, a get together over a meat and potato soup.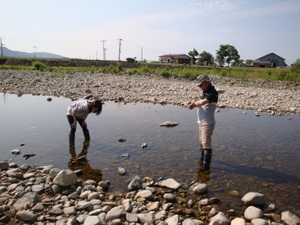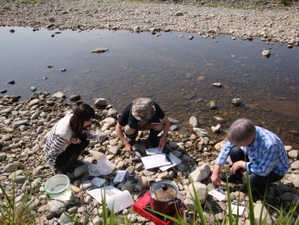 (3) Collection and provision of PET bottle caps
JAE Yamagata provided 22,198 caps (about 50 kg), which includes caps collected during the ecocap collection buildup period (July 11-31, 2016) and those collected during the past year, to Shinjo City Junior High School as a support activity, and on August 29 (Monday), it provided PET bottle caps to Shinjo Hagino Gakuen. This is the equivalent of providing about 25 people with polio vaccines.
(3) Planting flower beds along the national route near our company
(Participants/Activity time: 10 people, 10:00 – 11:00am, Thursday July 14)
Social Contribution Promotion Team of the JAE Yamagata Co., Ltd. registered with the Ministry of Land, Infrastructure, Transport and Tourism's "Road Protection Organization" and maintained the flower beds along the national highway and planted 250 trees and grass plants every day. The flowers continued to bloom until mid-October, to the delight of drivers and passengers.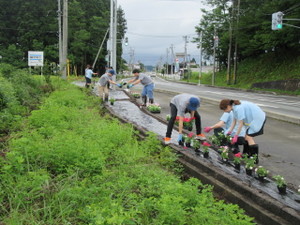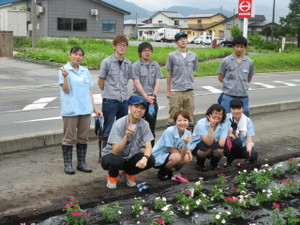 ●JAE Shinshu, Ltd. (SAE)

(1) Collective Mobilization in Autumn (Regional Environmental ISO Study
Group *1)
(Participants/Activity time: 168 people, October 20 (Thursday) – 26 (Wednesday), 2016)
With the aim of reducing CO2, we held car-free days, adjusted the air pressure of car tires, and improved refrigerator use.
*1:A study group that is working on creating a sustainable community under the principle of "environmental improvement" in the Shimoina area of Nagano Prefecture centered on Iida City.

(2) Collective Mobilization in Winter (Regional Environmental ISO Study Group)
(Participants/Activity time: 162 people, February 13 (Monday) – 19 (Sunday), 2017)
With the primary goal of reducing CO2 in homes, held car-free days, controlled heat temperature settings, set refrigerator temperature to "weak," and adjusted car tire air pressure.

(3) Prefectural Universal Car-Free Commute Week (Nagano Association for Conserving Environment)
(Participants/Activity time: 14 people, September 16 (Friday) – 30 (Friday), 2016)
This activity serves as an opportunity for employees who normally commute to work by car to voluntarily refrain from using their cars and switch to an environmentally friendly means of commuting such as public transportation, walking, or bicycle. SAE also entered and participated in the activities. SAE continues to participate since this activity was first conducted in fiscal 2009.

(4) Garbage collection around the company
(Participants/Activity time: (1) about 30 people, July 12, 2016, 7:30 – 8:00am, (2) about 30 people, November 2, 2016, 7:30 – 8:00am)
Employees collected garbage along three separate routes: (A) the company's perimeter/ and (B/C) the adjoining main road.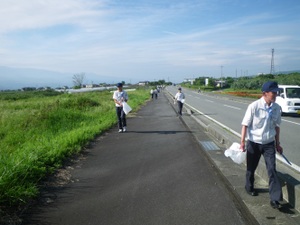 (5) Environmental improvement of the Matsukawa Sakura Festival (April 9, 2016) grounds
(Participants/Activity time: 3 people, March 25, 2016, 4:00-5:00pm)
Employees collected garbage along Katagiri Matsukawa near the festival grounds and sent people to support festival ground maintenance work.
(6) Tenryu River environmental picnic*
Garbage collection along the Tenryu River
(Participants/Activity time: 34 people, May 21, 2016, 9:30pm – 11:00pm)
Under the slogans, "Let's bring back a Tenryu River that we can swim in" and "Let's build a sustainable society," SAE employees participated in the Tenryu River environmental picnic. The event covers about 80 km of the river, from the center of Nagano prefecture to near the border to Shizuoka prefecture, and is done together with many other groups. (Sponsored by the Nagano Techno Foundation, approximately 4,700 people from the co-sponsor organizations and companies, including their families, participated in this environmental beautification campaign. This campaign fosters thinking about the significance and importance of garbage sorting. Together with getting a real feel for what the Tenryu River is today, it aims to promote a recycling society.) SAE jointly conducted the Tenryu River beautification campaign with two other companies.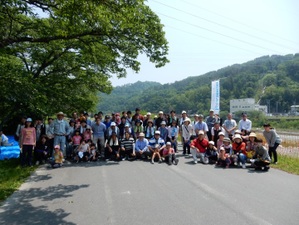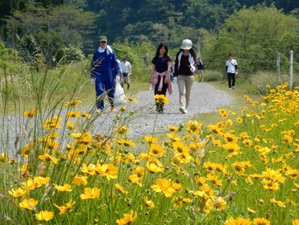 (7) Maintaining trails on Mt. Eboshi
(Participants/Activity time: 6 people, July 23, 2016, 7:00am – 3:00pm)
SAE employees participated in maintaining the trails of Mt. Eboshi and the summit of Mt. Kohachiro. The effort was sponsored by the town of Matsukawa-machi and the local Chamber of Commerce.

(8) Support for riverbed tree cutting (Matsukawa-machi)
(Participants/Activity time: 2 people, February 4, 2017, 8:30am – 12:00noon)
SAE employees participated in activities to return the Katagiri Matsukawa river to a clear stream and make effective use of the cut trees


●JAE Fuji, Ltd. (FAE)

Mt. Fuji Cleanup Campaign 2016 (Sponsor: Mt. Fuji Beautification Foundation)
(Participants/Activity time: 15 people, August 6, 2016)
At this seventh campaign, 15 people including President Horiguchi took part. A total of 1,700 people participated including general volunteers such as Yamanashi Prefecture, local municipalities, tourism organizations, private-sector companies. Volunteers cleared mountain trails and handed out pocket tissues to mountain climbers. The total amount of garbage collected was 330 kilograms of combustible material (of which 240 kilograms came from Yamanaka Lake) and 220 kilograms of incombustible material (of which 130 kilograms came from Yamanaka Lake).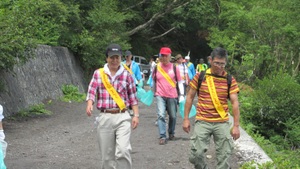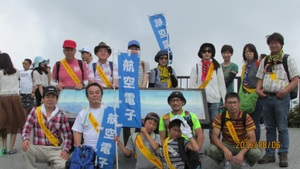 ●Kawazu Cherry Tree Planting

Volunteers planted Kawazu cherry trees at three domestic sites and observed the blossoming of the trees at each location. In a normal year, the trees reach full bloom in early March at JAE (Akishima), in mid-April at SAE, and in early May at YAE. The tree planting was performed as follows:
・December 2009 SAE: 30 trees
・November 2011 JAE (Akishima): 31 trees
・May 2012 YAE: 29 trees



●JAE Tijuana, S.A.de C.V.

Printer Toner Cartridge Donation (resource recycling)
Participants collected and recovered used Printer Toner Cartridges. (Full-year activities [donated to five schools and facilities in FY2016])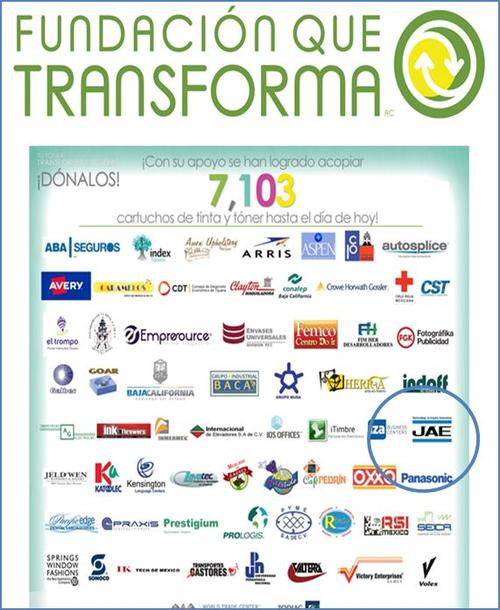 ●JAE Philippines, Inc.

(1) Annual Global Earth Day (April 23, 2016)
Volunteers cleaned up and planted trees in General Trias City. (Participants/Activity time: 11 people/1 day)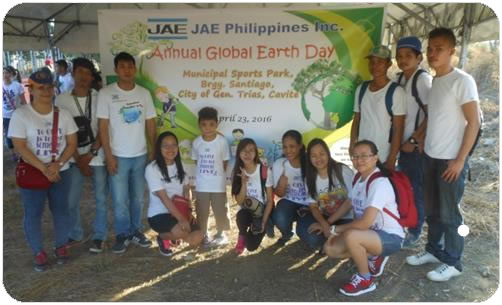 (2) Annual Global Earth Day (June 18, 2016)
Participants planted trees in the Ipus Mountains. (Participants/Activity time: 17 people/1 day)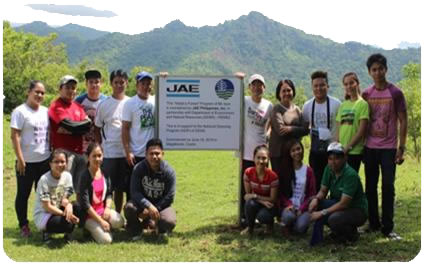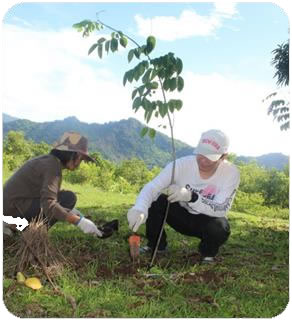 (3) International Coastal Clean-up (September 17, 2016)
Volunteers cleaned up coastal areas (International Coastal Clean-up Month)
(Participants/Activity time: 25 people/1 day)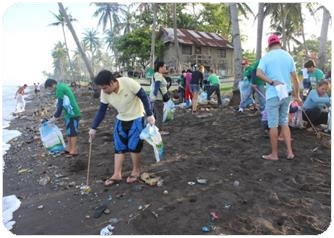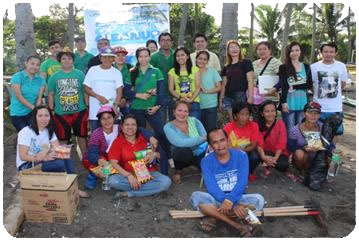 ●JAE Wuxi Co., Ltd.

(1) Routine greening activities around the factory (December 27, 2016)
Participants cleaned up garbage off-site and around the factory (Participants: 10)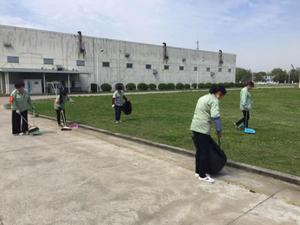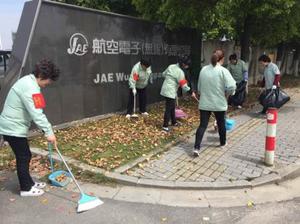 (2) Wuxi Lake Lihu public-interest activities (December 4, 2016)
Volunteers participated in a walk to collect garbage. They uplifted their spirits by contributing to environmental beautification activities, energy conservation, and environmental protection.
(Participants: 20 people)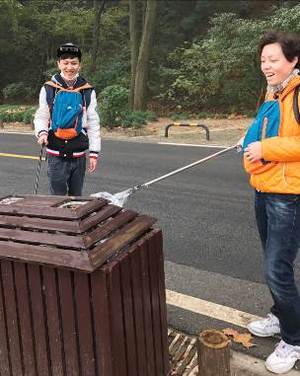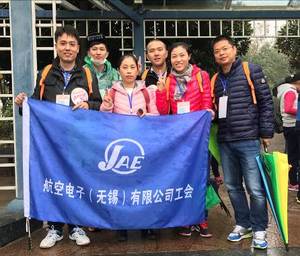 Symbol of the Group's Environmental Policies
Significance of the Environmental Report
Environmental Performance
Environmental Management
Environmental Accounting
Engaging with Society: Group Sites