Environmental Report 2009
JAE Group Forest
In June 2004, the JAE Group Forest was established in Tokyo's Okutama region as a symbol of the group's environmental policies.
Employees of various JAE Group companies have planted some 3,500 trees, including those that provide beautiful seasonal color such as Prunus jamasakura (Mountain Cherries), Acer mono (Painted Maple), and Magnolia kobus, and others that are native to Okutama forest and provide food for the animals that live there, including Quercus serrata, Japanese zelkova, Japanese horse chestnut, Japanese walnut, and Japanese cypress. This is expected to not only protect the forest, but also help preserve the biodiversity there.
The JAE Group Forest is primarily used for giving employees the hands-on experience they need to improve their environmental awareness. Over 300 group employees have participated so far, and through this sort of work to which they would not normally be exposed, they seem to develop a keen awareness about environmental issues and the importance of protecting the environment.
In July 2008, some 30 employees took part in clearing undergrowth that was over their heads and plants tangled around tree trunks.
The JAE Group Forest will continue to be used as a site for raising the environmental awareness of group employees together with other bodies concerned with protecting the forest and conserving it as a watershed.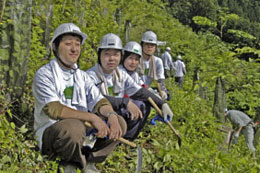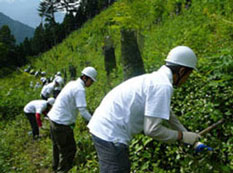 Grand Opening of Forest Therapy Base
The JAE Group Forest has been incorporated into a Forest Therapy Program in Okutama-machi, Tokyo. The JAE Group is also taking part in the Forest Therapy Promotion Council and its Executive Committee, and in April 2008, the group was certified as the first Forest Therapy Base in Tokyo. After a one-year trial period, a grand opening ceremony for the Forest Therapy Base and an opening ceremony/commemorative event for the Toke Trail (Therapy Station) were held on April 22, 2009, marking the start of their availability to the public.

Symbol of Group's Environmental Policies

Environmental Management

Environmental Performance

Environmental Accounting

Site Information

History