WP55DK Series Board-to-board (FPC) Connector with Small 0.5mm Height and 0.3mm Pitch Has Been Launched
July 19, 2023
Japan Aviation Electronics Industry, Ltd. has developed the WP55DK Series, a compact stacking type board-to-board (FPC) connector with power terminals. It has an extremely low profile 0.5mm mated height, 0.3mm pitch between terminals, and 1.6mm connector width. It is ideal for small wearable devices such as smart watches and smart glasses.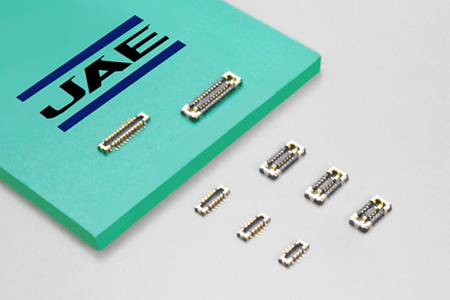 Smartwatches and other highly functional small wearable devices are becoming smaller and thinner. As more sophisticated devices become available in the future, the density of components on circuit boards will increase, and connectors will need to be lower profile and have a smaller footprint.
In response to these needs, we have added the WP55DK Series with the industry's smallest in class mating height to our lineup of compact board-to-board (FPC) connectors. The mating height of this product is 0.5mm, 0.1mm lower than conventional connectors, the pitch between terminals is 0.3mm, and the product width is 1.6mm. Compared to the WP27D and WP26DK series for smartphones (0.35 mm pitch and 1.9 mm width), this product offers a 27% reduction in mounting space, making it suitable for use in small wearable devices such as smartwatches that use even smaller circuit boards than smartphones.
In addition, the protective metal fittings on the mating surfaces provide a robust protective structure to prevent damage during mating. The guiding structure of the protective metal fittings improves alignment and provides good workability.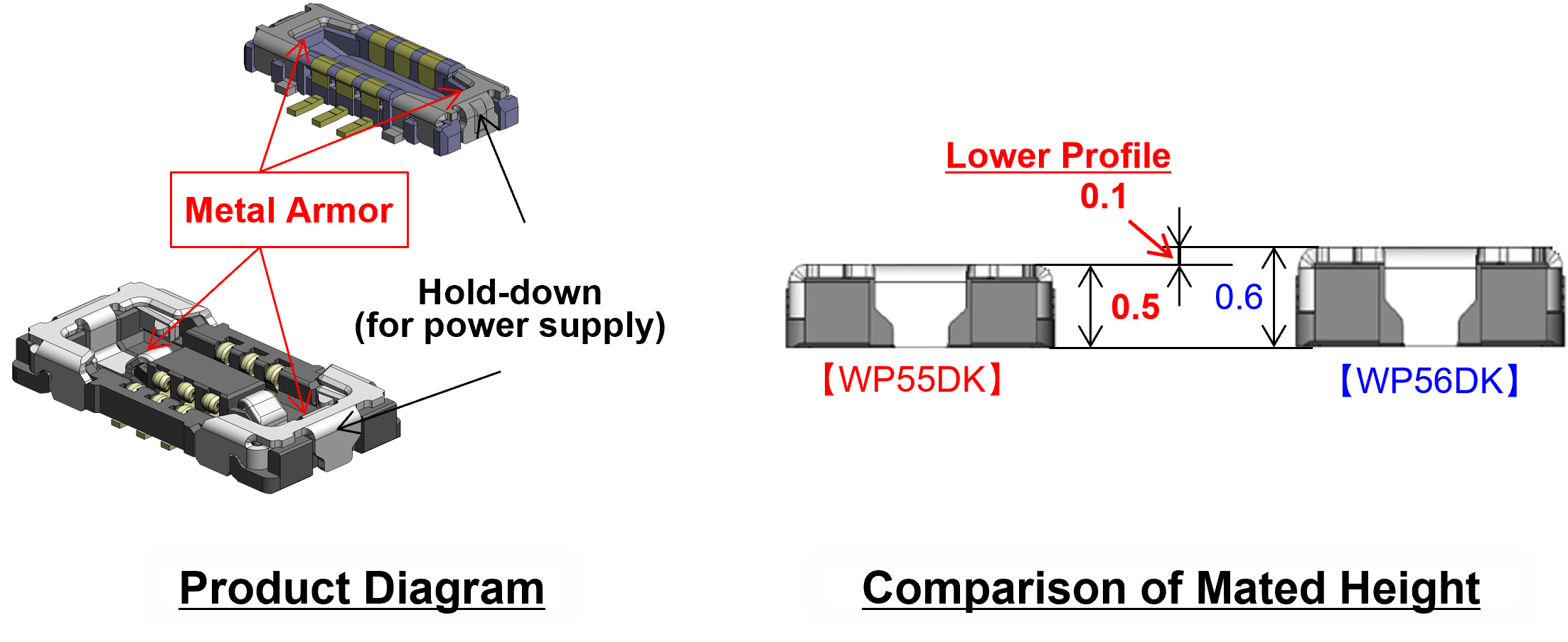 Board to Board (FPC) Connector Lineup
Special Features
Industry's smallest mating height of 0.5mm
2 rows, 0.3mm pitch, 1.6mm width
Two power supply terminals capable of carrying 3 A of power (also used as hold-down)
Robust hold-down structure protects mating surfaces and prevents damage to the insulator
Robust construction with metal fittings to prevent damage to the internal surfaces of the insulator when mating
Good workability due to click feeling when mated
Proven two-point contact structure with high contact reliability
Ni barrier on contacts to prevent solder wicking
Applicable Markets
Smartwatches, smartphones, wearable devices, tablet PCs, laptops, digital cameras,AR/VR headsets, other small portable devices
General Specifications
Pitch
0.3mm
Number of Contacts
6,8,10,22 poles (+2 power)
Mated Height
0.5mm
Operating Temperature Range
-40°C to +85°C
Contact Resistance
Signal terminal: 70mΩ or less (initial)
Power terminal: 20mΩ or less (initial)
Durability
30 cycles
Rated Current
Signal terminal: AC/DC 0.3A each/per pole
Power supply terminal: AC/DC 3.0A each/per pole
Rated Voltage
AC,DC50V
Insulation Resistance
100MΩ or more (initial)
Dielectric Withstanding Voltage
250V AC rms.
Material/Finish
| | |
| --- | --- |
| Components | Material/Finish |
| Contact | Copper Alloy / Gold Plating |
| Insulator | Heat-resistant plastic |
| Hold Down | Copper Alloy / Gold Plating |
Information and details given here are as of the date of publication. Please note that the details may be changed.