CHAdeMO-compliant V2H System Connector KW02 Series Has Been Launched
JAE has developed the "KW02 Series" CHAdeMO protocol compliant V2H (Vehicle to Home) system connector, which is highly durable, lightweight and provides superior operability.
Background
Recently the use of V2H system has begun; a system where utilizing the large-capacity of electric vehicles as renewable energy storage batteries to level energy demand into homes and office buildings. In addition, V2G (Vehicle to Grid) system is starting to get recognized, where energy flow is stabilized community-wide by connecting and linking electric vehicles to electric power grid systems.

Though supplying large amounts of power, this type of connection is intended to be used by the general public. Therefore, it is extremely important that the connector is designed with ease of use and safety in consideration. We have implemented our knowledge of designing connectors for high-power applications and our experience working with EV fast charge connectors to develop the KW02 series connector.

The KW02 Series uses resin for the outer shell which offers a highly robust yet lightweight configuration. The connector also has a superior operability with single action insertion/removal and a grip shape with good workability. All the features combined makes the connector easy to use with the assurance of safety and security.

*CHAdeMO is a brand name of the fast charger protocol proposed as a standard specification by the CHAdeMO Association.
*The KW02 Series is scheduled for general sales starting October 2017.
Features
Compliant with the Electric Vehicle Charging and Discharging System Guidelines (EVPS-002) Ver.2.1
Convenient single action insertion and removal procedure for ease of operation.
Grip design for easy workability.
Highly reliable design using materials which are tough against various environmental conditions.
Achieves both high-durability and light-weight at the same time.
Applicable Markets
Electric Vehicle Charging and Discharging System (CHAdeMO Protocol) V2H (Vehicle to Home), V2G (Vehicle to Grid), and others
General Specifications
No. of Contacts : Power (power supply) 2 pos., 12V 2pos. of power, 6 pos. for signal
Rated Current : Power (power supply) 25A, 12V power 6.4A, signal: 2A
Rated Voltage : DC450V
Insulation Resistance : 100M ohms min.
Dielectric Withstanding Voltage : AC 3,000V per minute
Durability : more than 10,000 times
Insertion Force : 100 N max.
Operating Temperature Range : -30 Deg. C to +50 Deg. C
---
KW02 Series (For more details) >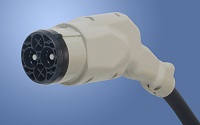 ---
Information and details given here are as of the date of publication. Please note that the details may be changed.