New All-plastic, Low-profile, Waterproof Connector "JN14 Series" for Compact Servomotors
JAE has developed the "JN14 Series" low-profile connector ideal for metal box casing type compact servomotors. This all-plastic connector provides a lightweight and low-cost solution.
As robotics and other industrial machinery becoming increasingly compact, multi-axis, and multi-functional, the installation space allotted for devices such as servomotors are rapidly decreasing. There is particular demand for low-profile connectors that can be thread mounted directly to the box casing of metal shell type compact servomotors.
Catering to industry requirements, the "JN14 Series" utilizes a screw lock and low-profile mounting method, offering a highly secure IP67 waterproof connection. The connector was also designed to be easily mounted to the metal box casing of a servomotor.
Receptacle and plug mating of the "JN14 Series" is simple yet secure, where the plug is screw mounted to the box casing over the receptacle. In spite of its compact form-factor and low-profile the connector offers exceptional connection and waterproof performances. The connector series was designed with superior and ease of assembly and harnessing with secure mounting condition, as well of having a 180 degree reversible cable exit structure to suit the users orientation preference.
The "JN14 Series" line-up includes a 4-position connector for power, 2-position connector for brakes and 9-positon connector for encoders, all compatible with the specification of an I/O connector for compact servomotors larger than 40mm x 40mm. The 4-position power receptacle is equipped with a threaded hole for secure mounting, where the screw is also connected to the ground contact allowing for grounding directly to the metal box casing. The 2 and 9 position receptacles snap-in securely with ease by top-mounting directly to the metal box casing of the servomotor.
The JN14 Series connectors have been designed to be compact and lightweight, able to securely mount to a metal box casing compact servomotors, while being compatible with the TÜV, UL / cUL safety standards.
Features
All-plastic, light-weight and low-cost connector.
Low-profile screw mounting connector with superior connection strength, with resistance to shock and vibration while being waterproof.
IP67 rated waterproof in the mated condition.
Structure which enables automatic ground connection by screw directly to the metal box casing.
Plug hood structure that allows user preferred cable exit orientation.
Compatible with TÜV, UL / cUL recognized (to be certified, October 2017)
Applicable Markets
Servomotors
Machine tools
Robotics
Communication devices
Various industrial equipment
General Specifications
Items
Specifications and Performance
Number of Contacts
4 position
2 position
9 position
Rated Current
7A / position max.
1A / position max.
1A / position max.
Rated Voltage
220VAC
100VAC
100VAC
Dielectric Withstanding Voltage
1500VAC, 1-minute
500VAC, 1-minute
500VAC, 1-minute
Applicable Wire Specification
18-22 AWG
22-24 AWG
26-28 AWG
Applicable Cable Diameter
⌀6.6 to ⌀7.0
⌀6.6 to ⌀7.0
⌀3.6 to ⌀4.8
Insulation Resistance
100M Ω min. (500VDC applied)
Waterproof Performance
IP67 (in mated condition)
Operating Temperature Range
-40℃ to +125℃
Durability
50-cycles
Materials and Finish
Receptacle
Part Number
Component
Material / Finish
JN14AH04NJ1(4 position)
Pin Contact
Copper alloy / Au plating
Ground Contact
Copper alloy / Au plating
Insulator
Synthetic resin
Screw
Stainless steel
JN14CR09PM1(9 position)
JN14CR02PM1(2 position)
Pin Contact
Copper alloy / Au plating
Insulator
Synthetic resin
Plug
Part Number
Component
Material / Finish
JN14FH04SJ1(4 position)
JN14FR09SM1(9 position)
JN14FR02SM1(2 position)
Socket Contact
Copper alloy / Au plating
Insulator
Synthetic resin
Hood
Synthetic resin
Gland Nut
Synthetic resin
Cable Clamp
Synthetic resin
Gasket
Synthetic rubber
Bushing
Synthetic rubber
Spring
Stainless steel
Screw
Stainless steel
---
JN14 Series (For more details) >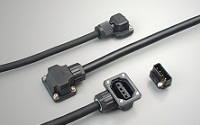 ---
Information and details given here are as of the date of publication. Please note that the details may be changed.