New Robust Waterproof USB Type-C™ Receptacle Added to the DX07 Series
JAE is excited to announce the addition of a new waterproof USB Type-C receptacle to the expansive DX07 Series line-up. The new receptacles are compact and provide a solution to the ever growing trend of waterproofing portable devices.
From a global standpoint, there is no denying the implementation of USB Type-C connectors continues to rise within established markets such as personal computers, mobile devices, audiovisual equipment, and portable gaming device accessories.

For high-end smartphones and other premium devices, waterproofing and a compact form factor are critical expectations from consumers. In a bid to serve these requirements, JAE unveils compact DX07 series waterproof receptacles that are USB Type-C compatible with increased level of robustness.

The new DX07 series waterproof connector offers a 20% profile reduction compared to conventional waterproof connectors through the use of LIM (Liquid Injection Molding) gaskets. This process injects silicone rubber directly onto the metal shell and reduces the number of components assembled in the connector. In addition, the use of an extruded compound shell eliminates fragile seams and offers increased durability.

As a manufacturer who takes part in the development and standardization of the USB Type-C global specification, JAE continuously works to offer expanded product variations of receptacles, plugs, and cable harnesses within the DX07 Series.

Note 1) USB Type-C is a trademark of USB Implementers Forum, Inc.
Note 2) Gasket: A sealing material used to provide waterproofing
Features
USB Type-C compatible waterproof receptacle
Waterproof performance rating of IPX7 (1.0m for 30 minutes)
Supports up to 5A as power supply. (Compatible with USB Power Delivery 3.0)
Enhanced board retention strength with 4 through-hole legs
Height reduction through the use of LIM
Extruded compound shell eliminates fragile seams
Applicable Market
Smartphones, tablets, waterproof speakers, Bluetooth earphones / headphones, action cameras, VR / ARs, etc.
General Specifications
| | |
| --- | --- |
| Form | Waterproof DX07 Receptacle Connector |
| Part Number | DX07WH24JA3 |
| Rated Current | 5 A max. |
| Waterproof Performance | IPX7 (resistant to submersion at a depth of 1.0m for 30 minutes) |
| Number of Contacts | 24 position |
| Rated Voltage | AC20V r.m.s. |
| Contact Resistance | Initial 40mΩ max. |
| Dielectric Withstanding Voltage | AC 100V r.m.s (1 minute) |
| Insulation Resistance | 100 MΩ min. |
| Operating Temperature Range | -30℃~+80℃ |
| Mating Cycles | 10,000 times |
---
DX07 Series (PLUG) (For more details) >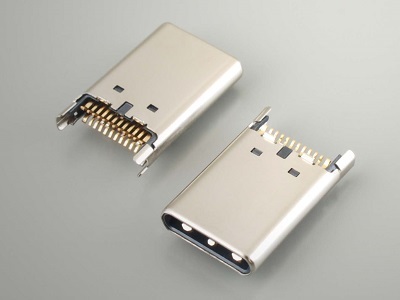 ---
Information and details given here are as of the date of publication. Please note that the details may be changed.