Participated in the "Monozukuri Experience Stadium 2023" Workshop
August 28, 2023
On August 26 (Sat.) and 27 (Sun.), 2023, we participated in the "Monozukuri Experience Stadium," and our workshop offered visitors the opportunity to experience "Let's 'connect' electricity and drive an EV car. "

The "Monozukuri Experience Stadium" is a hands-on workshop organized by the Monodzukuri Nippon Conference to stimulate children's interest in manufacturing and science, as well as to foster creativity, communication skills, and problem-solving abilities in the next generation.

In our workshop, "Let's 'connect' electricity and drive an EV car," we showed the role of connectors that connect electricity and information, conducted an experiment to understand the flow of electricity, and completed an EV car by making parts using actual tools, allowing participants to experience the fun of making things.

As a manufacturing company, we would like to support the development of children who will lead the next generation through this event as part of our corporate citizenship activities.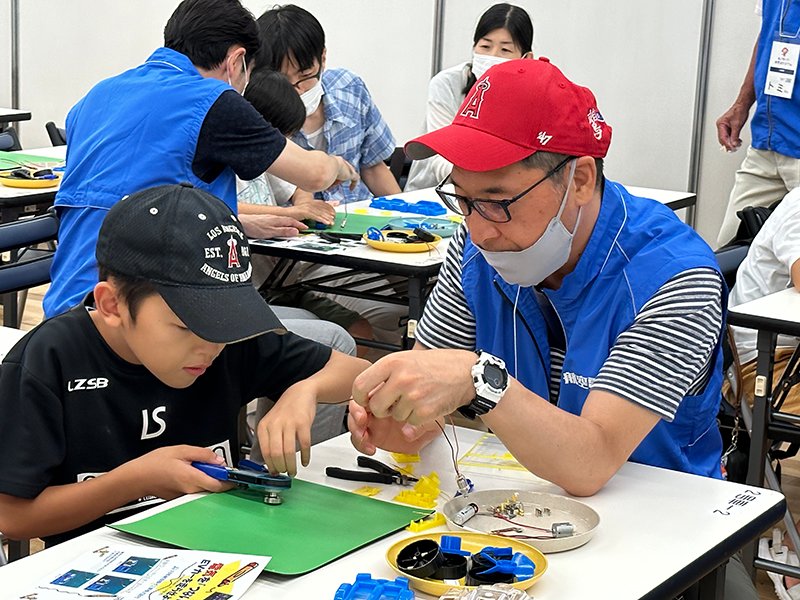 Contact Us
Feedback
Japan Aviation Electronics Industry, Ltd.
Corporate Planning and Investor Relations Div.
21-1, Dogenzaka 1-chome, Shibuya-ku, Tokyo 150-0043, Japan
Tel : +81-3-3780-2711 Fax : +81-3-3780-2733
Information and details given here are as of the date of publication.
Please note that the details may be changed.