New and Improved Global JAE Website
New and Improved Global JAE Website
JAE aims to improve the website user experience with brand new features,
like the sophisticated connector search function and the ability to compare multiple products at a glance.

Recognizing the importance of our website as a global communication and informational tool, JAE has improved the website experience for new, existing, and future customers. The newly launched multi-language global website unifies the corporate site and the Connector site into one.



1. New features on Homepage

New navigation tabs and a convenient technical resources page now make it easier for customers to navigate and find what theyfre looking for faster.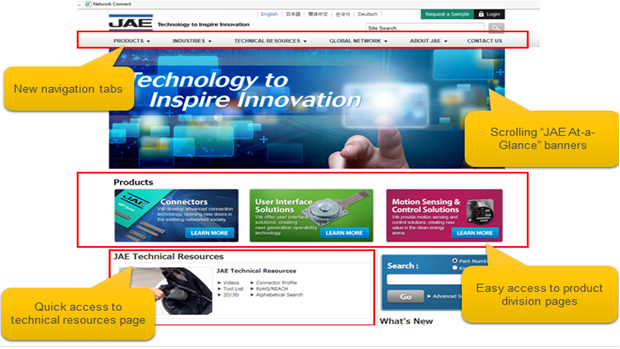 2.Connector search improvements

"Quick View (Slide in)", "Comparison feature", "Filter" and "Sorting" features were implemented so users can find product information easier and faster with "less clicks."

New "Quick View" Button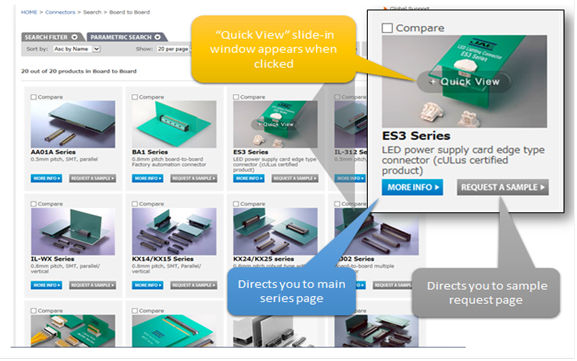 ◊browser

Minimum browser requirements: Internet Explorer 8/ Firefox 4 / Safari 5/ Chrome 10
For users with browsers below the minimum requirements, you will be automatically directed to the old website.


We plan to continuously update our website and increase resources provided on the website for our users.

Contact Us
Feedback
Japan Aviation Electronics Industry, Ltd.
Corporate Planning and Investor Relations Div.
21-1, Dogenzaka 1-chome, Shibuya-ku, Tokyo 150-0043, Japan
Tel : +81-3-3780-2711 Fax : +81-3-3780-2733
Information and details given here are as of the date of publication.
Please note that the details may be changed.