Completion of a New Plant at JAE Hirosaki
– Guaranteeing response to the growing demand in the markets for smartphones and automotive devices –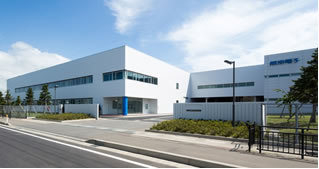 On August 23 (Friday), a ceremony was held to celebrate the completion of a new plant at JAE Hirosaki (Hirosaki City, Aomori Prefecture, President: Mamoru Okamoto), the primary production base of the JAE Group's connector business. The construction project was launched in December 2012.

JAE Hirosaki is a major production base that specializes in the manufacture of high value-added advanced small connectors with utilizing automation and labor saving features. The new plant is two-storied, with a total floor area of 18,200 m2. It was constructed with the objectives of responding to the increased connector demand for smartphones and automotive devices, and establishing the groundwork for future business development and growth.

The projects for building of a new plant at JAE Yamagata (Shinjo City, Yamagata Prefecture, President: Katsumi Watanabe) and a second plant at JAE Philippines (Cavite, Philippines, President: Shinichi Kimura), which commenced around the same time as the construction of the new plant at JAE Hirosaki, are proceeding smoothly, and the new facilities are scheduled for completion in September and November, respectively.

By expanding the production systems at these facilities and boosting global marketing and sales, the JAE Group will maintain its firm grip on demand in growing markets and prospective devices, such as smartphones and automotive equipment, and will aim to improve its business performance further.
Contact Us
Feedback
Japan Aviation Electronics Industry, Ltd.
Corporate Planning and Investor Relations Div.
21-1, Dogenzaka 1-chome, Shibuya-ku, Tokyo 150-0043, Japan
Tel : +81-3-3780-2711 Fax : +81-3-3780-2733
Information and details given here are as of the date of publication.
Please note that the details may be changed.