HDMI 2.1 Specification Approved DC04 Series Connectors Have Been Launched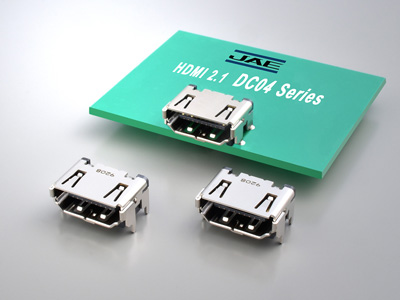 July 18, 2019
JAE has launched the DC04 Series which are approved Category 3, Type A connectors compatible with the latest HDMI 2.1 Specification.
HDMI is widely used as a standard interface for televisions and other audiovisual applications. Recently, interface connectors compatible with higher video resolutions and faster refresh rates are being required in the audiovisual market. New 4K/8K satellite broadcasting has started recently in select markets, and high-definition video applications are expected to grow further. To cater to these trends a new HDMI 2.1 Specification, which supports 4K120Hz, 8K60Hz, and dynamic HDR format has been developed.
The DC04 Series are some of the first connectors approved for HDMI 2.1 use. This product ensures stable high-speed transmission characteristics and quality. It reduces crosstalk by optimizing the position of each channel's terminals and improves impedance characteristics with molded-in contacts. In addition, the original shell tip design enhances the strength of the cable when it is connected, providing sufficient robustness.
JAE has taken part in the development of the HDMI connector specification from the early planning phase and has contributed to the standardization, and will continuously work to expand product variations of receptacles, and cable harnesses in the DC04 Series.
Note 1) HDMI (High-Definition Multimedia Interface) is a registered trademark of the HDMI Licensing Administrator Inc.
Features
HDMI 2.1 Specification approved connectors (supporting 48Gbps bandwidth)
Reduced crosstalk by optimizing the position of each channel's terminals
Impedance characteristics improved with molded-in contacts
Enhanced robustness with original shell tip structure
Applicable Market
Audiovisual applications such as TV's, monitors, projectors, AV receivers and soundbars, set-top boxes, BD players, gaming system, digital cameras, graphics cards, and video boards
General Specifications: Receptacle (Type A connector)
| | |
| --- | --- |
| Number of Contacts | 19 positions |
| Dielectric Withstanding Voltage | AC 500V r.m.s |
| Rated Current | 0.5A |
| Insulation Resistance | 100MΩ min. |
| Operating Temperature | -20℃~+85℃ |
---
DC04 Series (For more details) >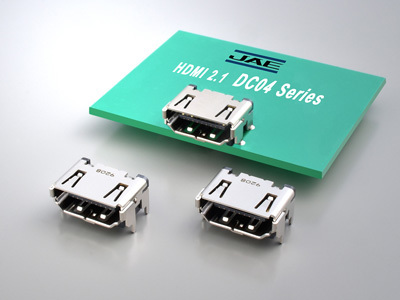 ---
Information and details given here are as of the date of publication. Please note that the details may be changed.