Line-up of the MX77 Series Compact, Low-profile Automotive ECU Connectors Has Been Expanded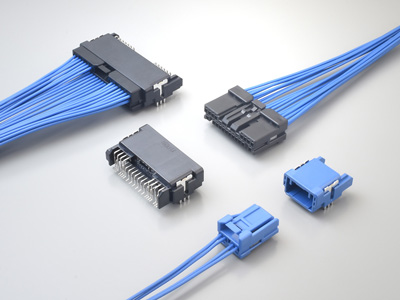 Octoer 6, 2020
JAE announces the launch of a new cable-side socket connector to add to the MX77 Series of compact, low-profile board-to-cable connectors for automotive ECU applications. The new MX77D achieves a 30% lower profile than the conventional MX77 Series products, offering further connector miniaturization for the automotive and relative markets.

Together with the existing MX77A connector series, the MX77D will be available within the MX77 Series.

Installation of ADAS (Advanced Driver Assistance System) sensors and ECU (Electronic Control Units) communications equipment for connected cars continues on the rise. Due to limited integration space manufacturers now face, a need for smaller and thinner ECU modules developed. This trend continues as justification to prioritize miniaturization for ECU connectors. In response to these needs, JAE launched the MX77A of compact, low-profile connectors for automotive ECU's. JAE is currently providing these to the Japanese, European and American automotive manufacturers and Tier 1 suppliers.

More recently, an increased demand for larger battery capacity in EV's (Electric Vehicles) and PHEV's (Plug-in Hybrid Electric Vehicles) has led to a particularly strong need for smaller and lower profile connectors that ultimately secure space for components used in battery modules.

To cater to these needs, we have added the new MX77D cable-side socket connector. It offers a 30% lower profile than the current MX77A, included in the MX77 Series lineup of in-vehicle board-to-cable connectors.

The MX77D connector has a height of 9.5mm. By simplifying the connector locking structure, a 30% height reduction is achieved when compared to the MX77A.

In addition, ISO thin wall wire of 0.35sq is now applicable to all cavities when using the MX77D.

Despite the MX77D socket height reduction, the conventional MX77A is compatible as its socket terminal and board side mating connector.

The MX77D is available from 4 positions to 40 positions and contained within the MX77 Series.

ADAS: Advanced Driver Assistance System MX77A Series:

EV/PHEV Battery Systems Connector Solutions:

Use Case Example of Connectors for Battery System ECU's

Compatibility with MX77A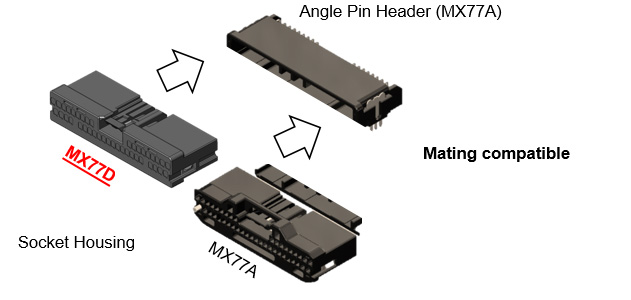 Features
Ultra compact connector with a terminal size of 0.4mm (contact pin width)
Height reduction of 9.5mm on MX77D cable-side socket
Compatible with MX77A compact angle SMT pin header (mounting height 9.7mm)
Durable socket terminal structure (same as MX77A).
MX77D cavities now compatible with ISO thin wall wire of 0.35sq nominal cross-section.
USCAR-2 Tested
Applicable Market
Various ECU modules such as body electronics systems, telematics control systems, user interface systems, and battery management systems.
General Specifications
Number of Contacts
4, 8, 12, 16, 20, 24, 32, 40
Operating temperature range
-40°C ~ +85°C
Maximum temperature
130°C (ambient temperature + temperature rise due to conduction)
Applicable Wire
CHFUS 0.13 mm², CIVUS 0.13 mm²
CHFUS 0.22 mm², CIVUS 0.22 mm²
CHFUS 0.35 mm², CIVUS 0.35 mm², AVSS 0.3 mm²
Materials and Finishes
Socket Housing
| Component | Material |
| --- | --- |
| Socket Housing | PBT |
| Retainer | PBT |
*The material of the socket housing and its component retainer is the same for both MX77A and MX77D types.

Height Comparison


Note 1) The MX77A is available in 4-position, 12.5 mm in diameter.
Note 2) The MX77A and MX77D width and depth dimensions are the same
---
MX77 Series(SMT, Compact, Low-profile Connector)
(For more details) >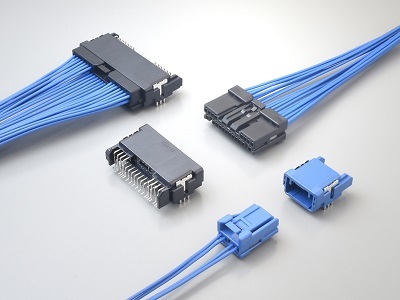 ---
Information and details given here are as of the date of publication.
Please note that the details may be changed.