Donation of CO2 Reduction Credits to the Tokyo Metropolitan Government
Support for the "Zero Emission Tokyo" Initiative
October 8, 2020
Japan Aviation Electronics Industry Ltd. (JAE) have donated 12,314t worth of CO2 Reduction credits based on the Cap-and-Trade Program to the Tokyo Metropolitan Government ("TMG") in support of "Zero Emission Tokyo", an initiative by the TMG to make Tokyo a city that does not emit CO2.
These credits were generated through efforts by boosting the efficiency of energy utilization and introducing highly-efficient equipment in our Akishima Plant, a facility covered by the program.
*For further information on "Zero Emission Tokyo", please refer to the following official website of the TMG Bureau of Environment.
■Tokyo Metropolitan Government Bureau of Environment official website "Zero Emission Tokyo"
https://www.kankyo.metro.tokyo.lg.jp/en/about_us/zero_emission_tokyo/index.html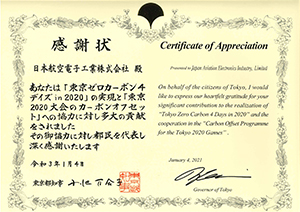 Certificate of Appreciation from the Tokyo Metropolitan Government
Based on an ESG perspective, and with "Harmony with the Environment" now a part of the "JAE Group Charter of Corporate Behavior," the JAE Group delivers products that save energy and resources to build a smarter social infrastructure and operates a next-generation environmentally responsive business by respecting the natural environment and practicing environmentally friendly business activities. Going forward, as a responsible corporate citizen that benefits from the global environment, the JAE Group is committed to reducing the environmental impact generated by its business activities, and helping to build a safe, secure, prosperous, and sustainable world.
JAE Group Environmental Report
https://www.jae.com/en/csr/eco/report/
Contact Us
Feedback
Japan Aviation Electronics Industry, Ltd.
Corporate Planning and Investor Relations Div.
21-1, Dogenzaka 1-chome, Shibuya-ku, Tokyo 150-0043, Japan
Tel : +81-3-3780-2711 Fax : +81-3-3780-2733
Information and details given here are as of the date of publication.
Please note that the details may be changed.