Capacitive touch panel & Overlay
Description of product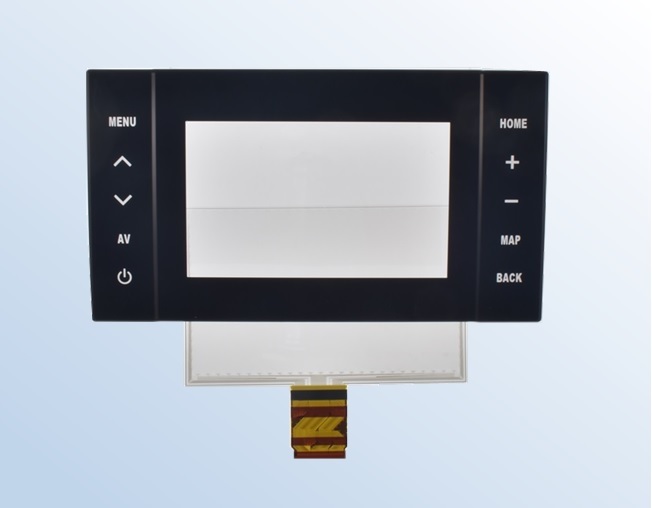 JAE's automotive capacitive touch panels began mass production in 2012, which is earlier than other companies, and have more than seven years of results.
The basic configuration of our capacitive touch panel is a structure in which the sensor unit (glass type, film type) and an overlay cover are bonded.
In addition to stable operation under harsh environments such as high temperature and humidity required for automotive, medical and industrial equipment, we commercialize with high sensing technology such as input with gloves attached and malfunction prevention with water droplets. In addition, with the overlay cover, we are responding to optical needs, such as measures against fingerprint adhesion and suppressing external light reflection, as well as design support such as black frame printing and icon lighting.
Line up
Type
ITO Glass Sensor
Metal Mesh
Standard Type
Fully Transparent Type
Standard Type
Frameless Type
『 Full Touch Sensor™ 』
Base material
Glass
Glass
Glass
Film
Glass
Film
Appearance

under
development
Features
Abundant in-vehicle results
High transparency using ITO
High sensitivity
High rigidity
High sensitivity
Flexibility resistance
Thin and light
Frameless
High sensitivity
High rigidity
Frameless
High sensitivity
Flexibility resistance
Thin and light
Overlay cover bonding
JAE unique bonding technology ensures high bonding reliability even with heavy glass and curved surface shapes.
Resin
Flat

●

●

●

●

●

●

Curve

-

-

-

●

-

●

Glass
Flat

●

●

●

●

●

●