2020/07/31

Connector Solutions for Space Saving in Small Devices
As modern computing devices continue to become more portable for ease of use and convenience, they are simultaneously incorporating more advanced functions and features. These new additions, such as 5G wireless communication and multiple sensors for collecting information, require more components to be housed in what are very compact devices.
Based on these trends, JAE has introduced connector solutions that save space while adding new connector features and capabilities.
Small Devices and Compatible Connectors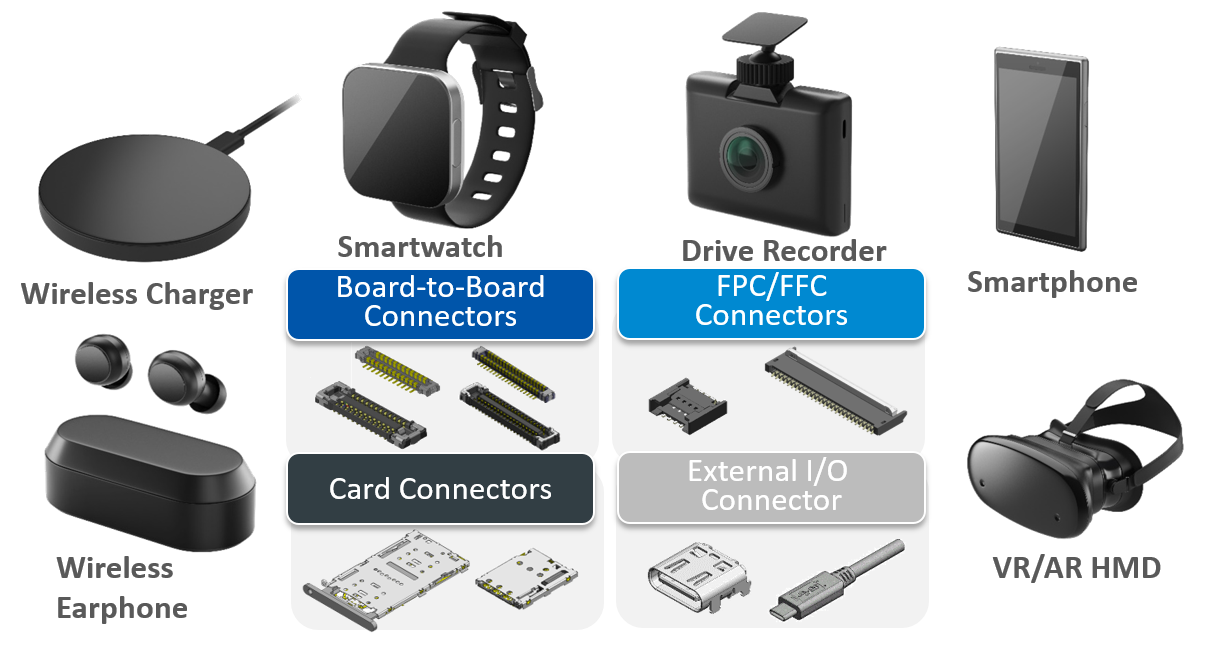 Typical Connector Usage Examples for Small Devices
Below are examples of common connector usage in small devices.
Modern small devices have a limited amount of space inside, so it is important to keep components as small as possible. Depending on the mounting location, the connector footprint and height are essential to allow engineers the ability to stay within their desired package size. The connectors provided by JAE meet these requirements for size reduction while maintaining high reliability and ease of handling.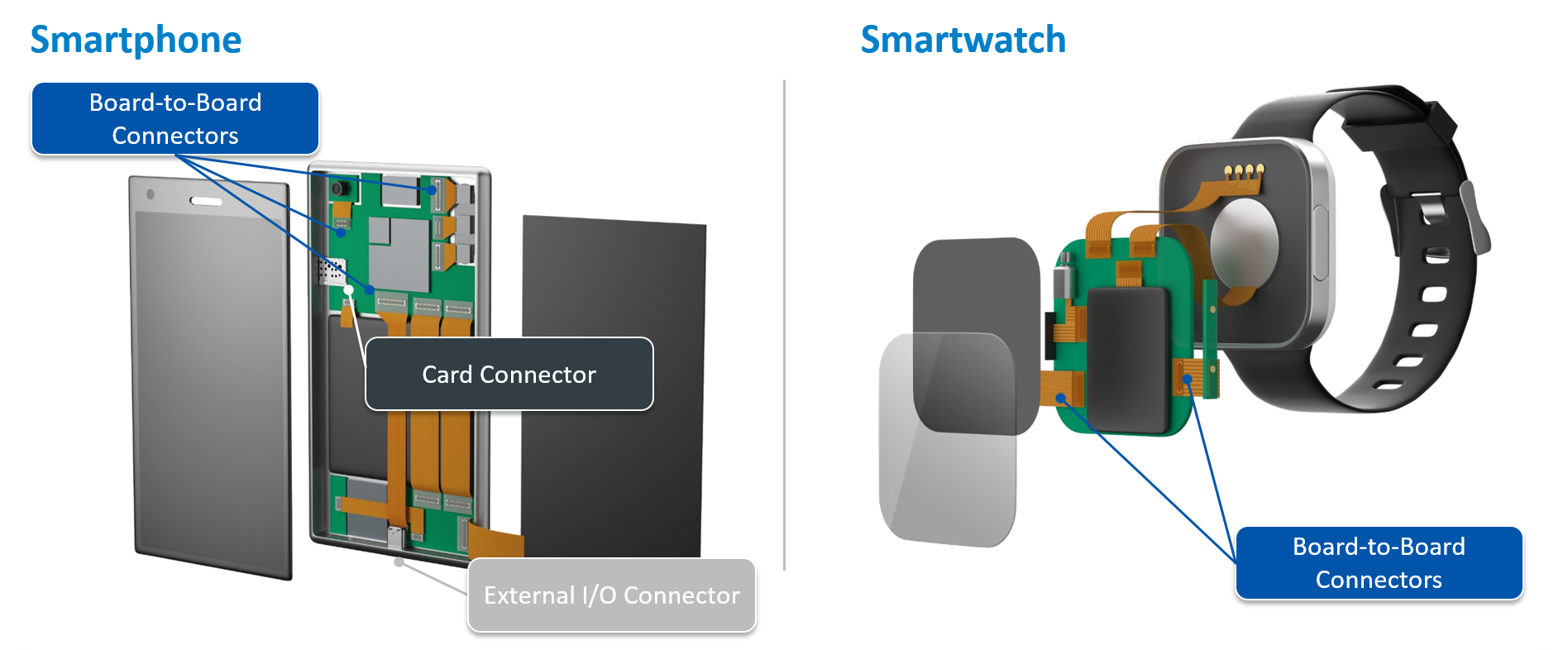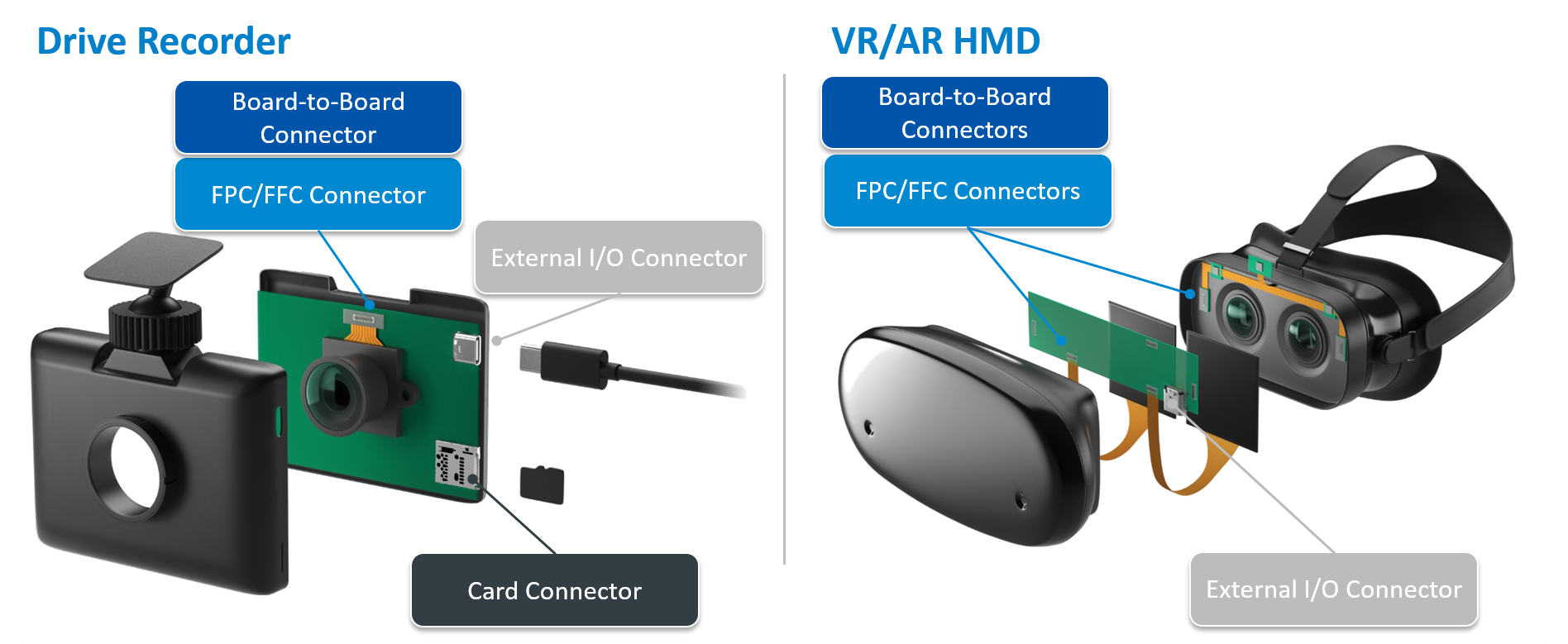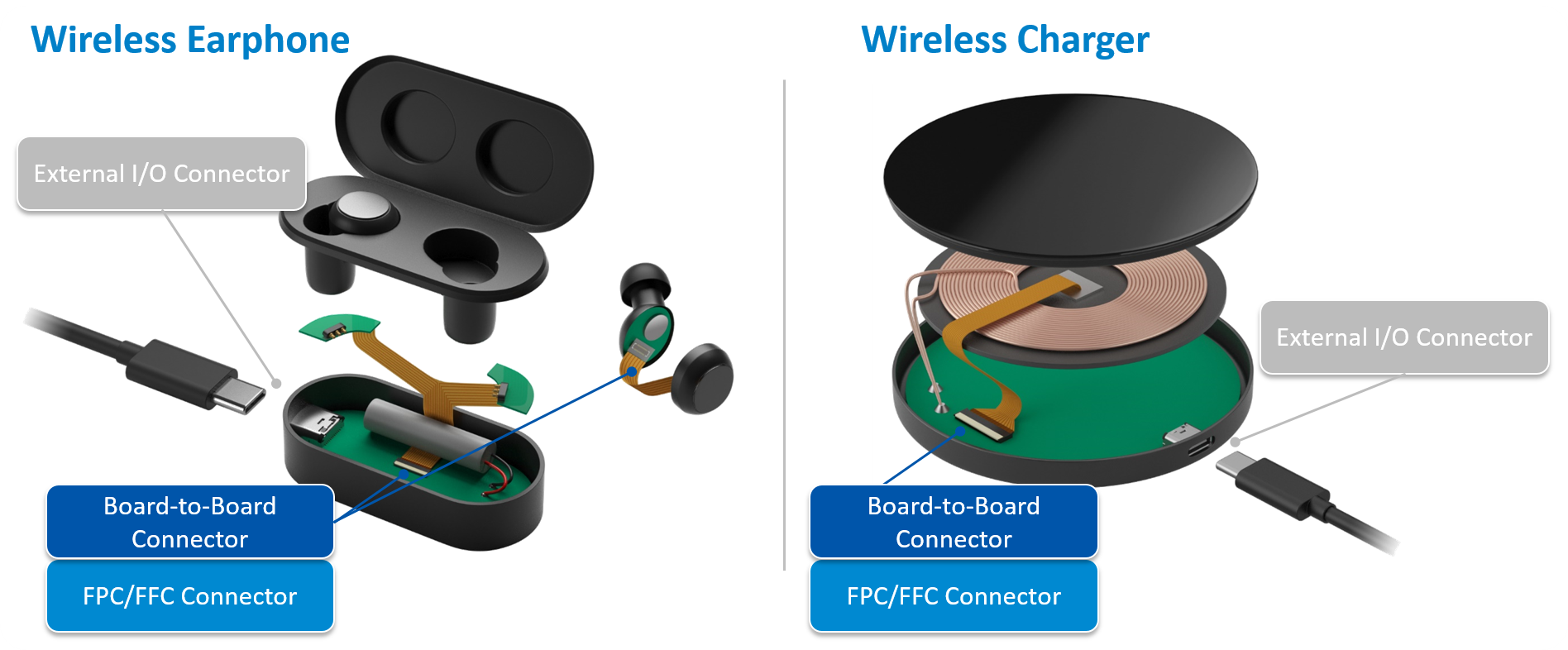 Catalog Download
For Small Devices
Connector Line-up for Small Devices
JAE offers a wide variety of connectors ideally suited for small devices.
The entire manufacturing process for these connectors, which have contact pitches between 0.2 and 0.5mm, are performed in-house, including the molding, stamping, plating, assembly, inspection, and packaging processes. It is critical that these processes are closely controlled in-house in order to achieve stable quality and connector specific manufacturing innovation.
We are able to deliver extremely high volume production while maintaining high-quality by using advanced automated equipment for connector assembly, video inspection, and embossed tape and reel packaging.
Connectors for External Interfaces
As a leading connector manufacturer, JAE was a contributing member of the working group which created the USB Type-C™ connector standards. We have a wide variety of connector and cable options that meet all of the requirements in the USB Specifications.
Applicable
Standard
Type
Series
Appearance
Features
USB Type-C
USB 3.2
Thunderbolt™3*
USB 2.0
USB4
Receptacle
DX07

Wide variety of options including mounting height, SMT or hybrid contact termination, and waterproof.

Vertical
Docking Plug

Ideal plug design to allow docking of portable devices for data transfer and charging. Lock spring is removed to ensure easy undocking.
Edge Mount Plug
(For harness)

Low profile plug body design to allow for smaller cable hood. Shell seam is welded to increase strength.
Harness

Complete harness assembly solution supporting high speed transmission as well as fast charging. Ultimate reliability and quality to ensure maximum advertised performance of connected devices.
Board-to-Board Connectors
Ideal connectors for connecting FPC cables to various subassemblies or modules. Clear click feeling and high retention force is incorporated to make the connectors easier to assemble and more reliable.
Pitch
(mm)
Series
Appearance
Dimension (mm)
Area
(30 pos.)
mm²
Volume
(30 pos.)
mm³
No. of Contacts
Features
Mated
Height
Width
(30 pos.)
Depth
(30 pos.)
0.4
WP7A/B

0.7
2.5
8.6
22
15
10, 16, 20,
24, 26, 28,
30, 32, 34,
40, 50, 60,
70
High retention force for low pin count, low insertion force for high pin count.
0.35
WP27D

0.7
1.9
7.8
15
10
10, 24, 30,
34, 38, 40,
50,60
Armor to protect insulator.
2 power contacts (3A).
0.35
WP26DK

0.6
1.9
7.8
15
9
10, 16, 24,
30, 34, 40,
48
Armor to protect insulator.
2 power contacts (3A).
0.35
WP66DK

0.6
1.6
7.5
12
7
6, 8, 30
Ultra small footprint.
Armor to protect insulator.
2 power contacts (3A).
FPC/FFC Connectors
0.2mm and 0.5mm pitch products are available with a low height of less than 1mm.
The depth is also minimized to save space.
FPC
Connection
Pitch
(mm)
Series
Appearance
Dimension (mm)
No. of Contacts
Features
Height
Depth
Width
Applicable
FPC Thickness
Upper and Lower
Contacts
0.5
FA10

0.9
3.2
0.5(n-1)+2.0
0.2
4
5
6
10
Automatic locking mechanism to reduce errors during FPC insertion.
0.2
FR02

0.82
2.96
0.2(n-1)+1.3
0.2
23
41
51
61
High strength actuator for easy operation. Tapered mating face for easy FPC alignment.
Card Connectors
Push-push and push-eject tray items are available for nano SIM and microSD cards. All designs take into consideration ease of use for the end user operating the connector.
Card
Card Ejection Type
Series
Appearance
Dimension (mm)
Area
(mm²)
Volume
(mm³)
Features
Width
Depth
Height
nano SIM
Push-Push
SF72

11.20
14.35
1.25
161
201
Low profile height.
Card eject length of 3.9mm.
Push-Eject Tray
SF78

17.15
21.4
1.30
367
477
2 nano SIM cards can be installed in a single connector.
nano SIM
&
microSD
Push-Eject Tray
ST19

17.49
28.15
1.30
490
637
Either 2 nano SIM cards, or 1 nano SIM card and 1 microSD card can be installed in a single connector.
microSD
Push-Push
ST50

13.7
16.3
1.35
223
301
Compatible with conventional micorSD cards and UHS-II compatible microSD cards
Download Our Connector Catalog for Small Devices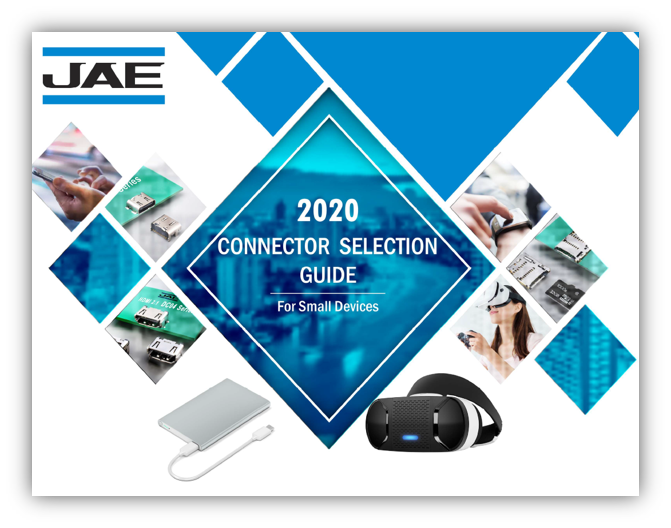 WE CONNECT
Connector Solutions for Small Device
Please complete the form on the right and your catalog will be downloaded.
---
Subject to change without notice. Errors and omission excepted.
* USB4™, USB Type-C™, USB-C™ are trademarks of USB-IF (USB Implementers Forum, Inc.).
* Thunderbolt is a trademark of Intel Corporation.