Environmental Report 2011
Eco-friendly Products
Eco-friendly Design
When introducing product designs and new manufacturing methods, all processes are assessed, from design to manufacturing and shipment. In addition, the introduction of a new chemical substance or piece of equipment, construction work, increased waste volume, and other changes require an environmental safety assessment under JAE's in-house pre-assessment system. In this manner, JAE is practicing business activities that are environmentally friendly.

The following table shows the activity status of the company's environmental safety assessments.
*Assessments for chemical substances are explained in the section entitled "Reducing Environmental Risks."

■JAE Akishima Plant
| | | | |
| --- | --- | --- | --- |
| Year | 2008 | 2009 | 2010 |
| Number of assessments | 319 | 240 | 284 |
Product Assessment
At the product development and design stage, products are pre-assessed, taking into consideration features such as resource conservation, energy saving, and recycling. In examining designs, the assessment by the division assigned to product development (Assessment I) is followed by another independent assessment (Assessment II) to decide whether the work should proceed to the next phase.


Examples of Assessment Items
| | | | | |
| --- | --- | --- | --- | --- |
| Downsizing | Recycle | Ease of disassembly and treatment | Safety and environmental preservation | Ease of recovery and transportation |
| Longer service life | Power conservation | Packaging and crating | Provision of information | Protection of intellectual property rights |
Assessment of Production Methods
To lower the environmental impact of manufacturing processes, new or modified processes are pre-assessed to determine their environmental impact.


Product Efforts
Environmentally friendly efforts are underway, starting from the design stage, in order to reduce environmental impacts at each stage (product manufacturing, use, and disposal). In product design, materials with low toxicity are being used and products are being made more energy efficient, and in mold design, too, efforts are being made, including improving the utilization rate of mold materials and increasing the life of the molds themselves. The environmentally friendly efforts for each product are introduced below.

CONNECTORS
ES3 series of card edge connectors for LED light power supplies
(1)For LED lighting equipment
Connectors for LED lighting equipment that do not use mercury and contribute to reductions in power usage.
(2)Reduction in number of parts mounted and assembly man-hours for customers
Directly connecting the convertor board with the LED mounting board without using wires reduces the number of parts and man-hours that customers must expend. And since surface mounting technology (SMT) is used, they can be mounted at the same time on LED-mounted boards.
(3)RoHS directive-compliant product
No materials prohibited by RoHS regulations are used.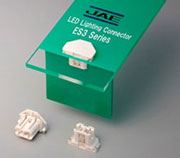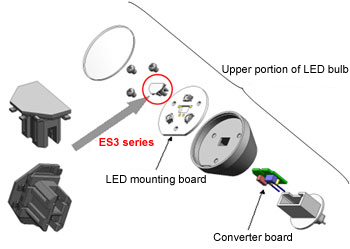 User Interface Solutions
LCD touch panels (UT3 base model series)
(1)Reduction in amount of substances that have an environmental impact [LCD touch panels (UT3 base model series)]
In addition to RoHS directive compliance through the use of lead-free solder, trivalent chromium surface treatment, and other means, mercury-free manufacturing is made possible by using LED backlights.
(2)Energy savings
Energy savings of 15% over previous products were achieved by improving power circuit efficiency, reducing internal operating voltage, and using LED backlights.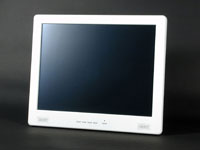 AEROSPACE
VR resolvers and R/D converters
(1)Applications for hybrid vehicles
These environmentally friendly products are used in hybrid vehicles.
(2)Lead free
The electrical junctions within VR resolvers do not use solder (hence, are lead free) thanks to the use of a fusion welding process and a resistance welding process, along with arc welding.
(3)Resource conservation
Resource conservation was achieved through a boost in production efficiency achieved by automating the assembly process in VR resolver products in the following manner:
1. Manufacturing parts compatible with automation.
2. Developing automated assembly lines.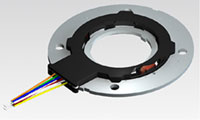 Symbol of Group's Environmental Policies
Environmental Management
Environmental Performance
Environmental Accounting
Group Sites