Environmental Report 2009
Zero Emissions
JAE complies with Japan's Fundamental Law for Establishing a Sound Material-Cycle Society in its waste countermeasures. Specifically, it effectively uses resources and promotes recycling and sales of valuable resources through the exhaustive sorting of waste, such as scrap plastic and metal.
Zero Emissions Activities
After launching its zero emissions efforts in FY 2000, JAE achieved a recycling rate of 95% in FY 2001 and 99% in 2004, and kept it at the 99% level thereafter. Furthermore, the sales rate of all reusable valuable resources exceeded 60% in FY 2006 and remained at that same level in FY 2007. Although the figure remained about the same throughout FY 2008 as well, from November until the time of this report, the company has been unable to sell some of its waste plastic due to the impact of the global recession. It will strive to rectify this situation at the earliest possible opportunity.

The JAE Group defines zero emissions as achieving a recycling rate of 99% or higher for all waste other than that accepted for incineration and simple landfill disposal under local ordinances.

Change in Waste Treatment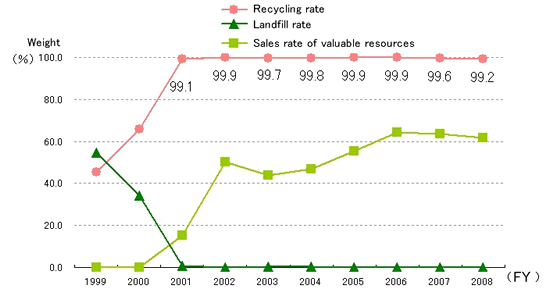 Efforts toward Proper Disposal
The JAE Group regulates and strictly enforces proper sorting, storage, and the use of industrial waste manifests in accordance with Japan's Waste Disposal Law. The group also checks subcontractors involved in industrial waste, general waste, and valuable resources at the time of contract signing and periodically thereafter to ensure they have the proper licenses and that their site is being properly operated. It also properly complies with the two legal reforms that went into effect on April 1, 2008.

(1)Wooden pallets were changed from general waste
to industrial waste.

(2)Reporting of industrial waste manifests is now
mandatory.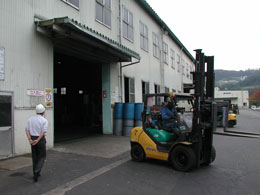 Symbol of Group's Environmental Policies
Environmental Management
Environmental Performance
Environmental Accounting
Site Information
History